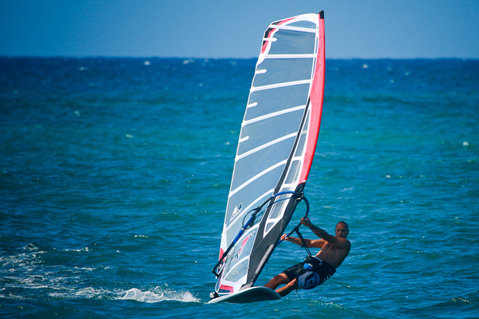 Nell'articolo dedicato allo Slalom, che trovate sul numero di dicembre/gennaio di Wind News, in distribuzione da domani, il buon Cassik ha scritto parlando delle vele da slalom 2011 che "… foto e specifiche della Hot Sails GPS, della Maui Sails TR-7, della Severne Reflex e della Simmer SC-R dovrebbero essere rese note al pubblico nei dettagli entro gennaio."
Beh alla MauiSails hanno deciso di prenderlo in contropiede ed hanno presentato ufficialmente stamattina i nuovo motori da Slalom e Formula…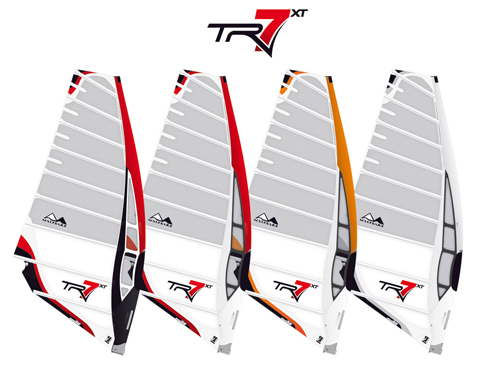 The 2011 MauiSails Slalom and Formula Windsurfing race sails, the TR-7 and TR-7 XT, are well worth the work it takes to change a number of design characteristics successfully, and create a racing tool that is the best ever. With specific goals in mind, Artur Szpunar has creatively shifted outlines down through the sizes while still maintaining our well known soft feel and easy handling. The rider's requests for improved stability when powered, and increased range and glide thru lulls drove these changes, and the results have been consistently successful. Crowded starts and mark roundings in gusty conditions demand maximum rig efficiency, and the TR-7 delivers as desired.
An increase in the lower sleeve width allows additional cam pressure and more tension for smoothing the luff area. Using flexible materials in specific areas of the sleeve, and TechnoraTM in the film portion for even loading, has made it possible to keep smooth rotation regardless of the added pressure. Deeper sections around and under the boom develop useful power that is never a struggle while in a jibe or tacking.
The shortened luffs and the shift to shorter masts brings the power lower, naturally. Refinements in body shaping combined with a flattening of the middle of the luff curve have allowed us to create a very smooth and progressive leech twist that aligns the sails profile for optimum efficiency and light handling. This makes the control while at speed correct for stable acceleration with a reserve of power.
A moderate recessed clew (Yes, we did it. but our own way) keeps the handling sweet, even with the added chord length of the lower aspect ratio and 'hides' the boom tail away nicely without affecting rigging ease. It's a no-fuss solution that allows quick boom attachment without weighty or fragile closure systems. Rigging is simple with cams off, and the sail stays smooth and clean while inserting or removing the mast.
To keep weight low, all batten pockets are now TechnoraTM, as well as all sleeve film laminate inserts. Graphic elements that only add weight are limited, and details of finish are as always, minimal in the spirit of maxed out racing.
TR-7 is designed, developed, and tested with the SRS Carbon Race masts. Over the past year we have done a number of things to make these masts the best you can have for our sails, both in performance and durability. Each mast is now measured for bend, cataloged to the serial number, and bent under compression to at least 70cm, before packaging and shipping. Small changes to the material orientation and quantity in select areas have resulted in added resiliency and strength, while maintaining the desired bend character.
To make the TR-7 rig complete, a MauiSails full carbon race boom is absolutely the best there is. Incredible stiffness, durability, and perfect function make these bright blue booms the choice for getting the maximum out of any sail. Unique bends and tube tapers, a proprietary head design that adds stiffness to the connection point with maximum bearing surface and light pressure closure, make the transfer of power instant and dependable.
The TR-7 range can do the whole gamut of racing tasks, from speed sailing with the smaller sizes, slalom in the middle of the range, and Formula racing to the size limit. TR-7 XT is the absolute best for the larger Slalom sails and Formula Windsurfing sizes. The additional cost is more than justified by the enhanced handling and low end performance that comes with the use of this dense TechnoraTM laminate. We are confident this year is going to be the best ever and expect you will find that as well. Maybe just a little bit of seventh heaven on the water.