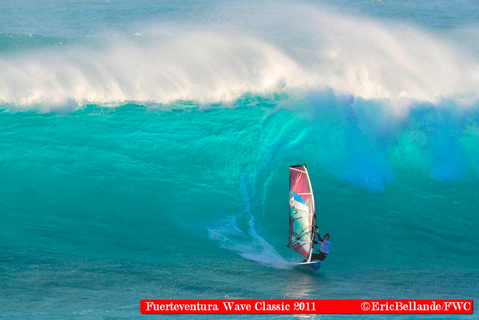 L'appuntamento anche ieri è stato al Puertito… dove le onde erano di nuovo masselle, un doppio albero di altezza a centro baia, ma il vento in spiaggia è sempre rimasto intorno ai 10/15 nodi. Qualche riders, visto il protrarsi di questa situazione e con previsioni ancora di vento leggero, ha abbandonato sia la disfida che l'isola, ma molti altri come Yannick Anton, Mikey Clancy, Thomas Traversa, JB Caste, Tom Hartmann, Eleazar Alonso, Aleix Sanllehy, Stephane Etienne… chi con le proprie forze, chi aiutato dal jetski per uscire, hanno tentato la fortuna… ripagati alla fine della giornata dal fatto di aver surfato forse le onde più grosse dell'evento.
Eventwebsite http://www.fuertewaveclassic.com/
FWC on Twitter  http://twitter.com/FWC2011
Around 11am all competitors and the Fuerte Wave Classic organization met at Puertito. Huge north-westerly swell, for sure the biggest of the whole event, welcomed all people on the beach: riders, organizers, spectators. The wind was pretty light in the morning hours, but already blew from a good direction. Mikey Clancy from Ireland reckoned the waves are double mast high breaking into the bay. Alex Mussolini and Jonas Ceballos already decided to leave the island and travel back home, because of the bad wind forecast for the last day tomorrow.
While midday the wind picked up. We measured around 9 to 15 knots with an average of 12 knots next to the water. Several sailors already thought about to make it out on the water.
The tide went down and the waves came in order. The sideshore to sideoffshore gusts blew a lot of white water off the waves just before they started to break. Yannick Anton drove up the beach, also Mikey Clancy. Thomas Traversa decided for a new version to enter the ocean by jumping in from the cliffs next to the harbour wall. Tom Hartmann assisted him getting the gear down over the cliff. More about this action later!
Yannick Anton failed to sail out in his first attempt. But Mikey made it out without the help of a jetski as well and had some super nice rights next to Thomas Traversa, who really scored big today.
Yannick also made it out in his second attempt and could ride double masthigh monsters till the late evening.
JB Caste, Tom Hartmann, Eleazar Alonso, Aleix Sanllehy and Stephane Etienne made it out with the help of the jetski. They started from the little harbour of Cotillo and had to pass the little entrance. It was tricky to find the right timing with the massive whitewater and strong current.
Thomas Traversa, Yannick Anton, Mikey Clancy and Stephane Etienne made most out of it and had awesome rides. Yannick crashed twice in a critical situation, but was back on his gear quickly. Also no other rider did break any gear today. Thomas sailed back straight into the little bay of Puertito, which was a very tough move all others were brought back with the jetski.
Yannick Anton stayed out till the end and proofed again, that he likes and knows Puertito!
Overall it was an 8 hour long day at the beach. But the waiting paid off and some of the participants sailed their biggest waves of the whole event.