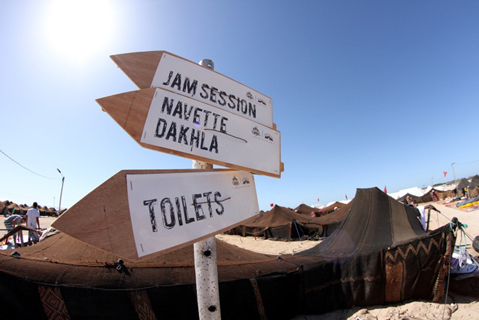 Mentre in Vietnam, gli slalomari del Pwa ed il vento si prendono una pausa, il buon Steve Palier, addetto stampa del Dakhla Festival 2011, ci manda un riepilogo dell'evento che quest'anno non avrà visto la partecipazione di troppi campioni del mondo delle varie specialità, ma ha registrato un incredibile successo di action… i tanti riders del windsurf, kitesurf, stand up paddle, surf e bodyboard hanno fatto vedere il lato migliore di ogni disciplina. Quando stile, passione, location, la giusta miscela tra young guns e campioni affermati… riescono a decretare il successo di un evento: anche quest'anno un grande Dakhla Festival!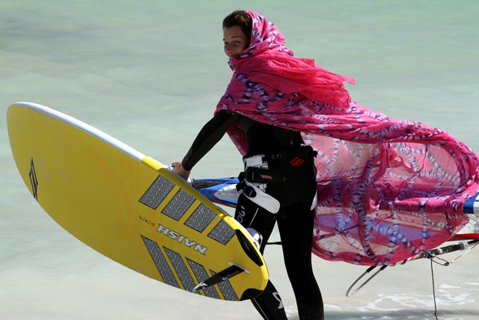 Full watersports action on the 2011 Dakhla Festival
Now everybody know what it's all about. Since the second edition, watersports (windsurf, kitesurf, stand up paddle, surf and bodyboard) have integrated the musical part of the Dakhla Festival, making this event unique in the world for its originality. This year, the "sport side" of the festival was simply outstanding with dream conditions allowing all disciplines and their respective champions to deliver 6 days of uninterrupted action. Back on the highlights of a week full of emotion, sharing, exchange and sensations.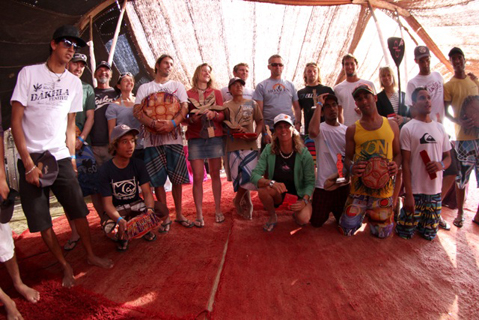 Stars… a great bunch of international racers
They are not all World champions. Sometimes they do not even really have a Prize list, but all the athletes invited to this event have a history, a style, a vocation, an aura or a passion to share. Impatient to meet and discover, all answered positively to the call of the desert and the conditions that were waiting for them to practice their discipline. They came from far this year, as the young waterman Bernd Roediger who made the trip from Hawaii, Venezuelan Diony Guadagnino, Slovenian Tine Slabe, South African Sjoukje Bredenkamp, Australian Harley Ingleby or Californian Colin McPhillips. There is a long list, but we greet the efforts of everyone involved for making us dream throughout this  week!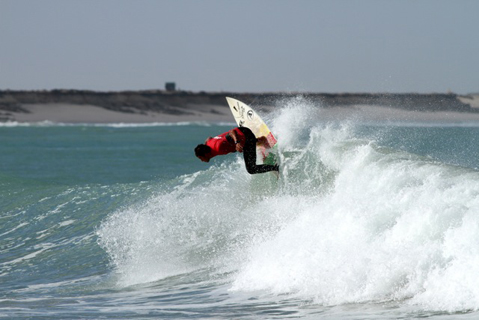 Surfing…World class waves
This year, the "surf" category incorporated many disciplines: shortboard and longboard, stand up paddle and bodyboarding. The big news in 2011, are the "trials" that took place during the festival to welcome and integrate the best Moroccan local of the shortboard and longboard disciplines. The anecdote will come from young Dakhla kid, Zoher, which will integrate the semi-finals shortboard alongside the best international as Australian Harley Ingleby (winner) or the Moroccan Abdel El Harim. A very high level also in longboard, with the final victory of English Ben Skinner who succeeded last year to reach the 2 ° place. In stand up paddle, plenty of good action too with an incredible list of riders practicing both surfing and windsurfing as paddleboard! Among them, Frenchy Remi Quique won the 1st place on this new event.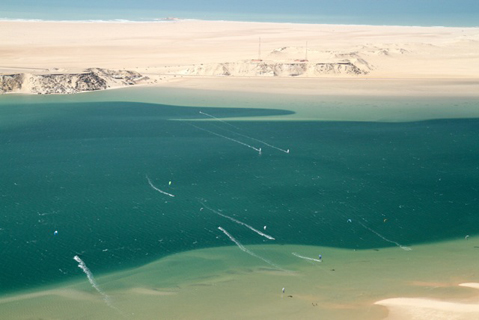 Windsurfing… a playground for all disciplines
Dakhla is a peninsula and on each side, windsurfers can take advantage of a perfect playground for all disciplines and levels. On the desert side, the lagoon is perfect for endless runs on a flat water and in a breathtaking environment. On the other side, the ocean offers endless waves for those who like to deal with the power waves of the Atlantic. On this fifth edition, the strong wind made the windsurfing challenges a bit more spicy than last year. Launched at more than 60 km/h on the water, slalom champions have suffered on 2 long-distance courses of about 65 km ! Also included in the race thanks to the "trials" organized before the festival, a few young Moroccans have experienced rare moments they are not about to forget. Venezuelan Diony Guadagnino and French Gerald Pelleau have battled for the 1st place and finish ex-aequo. With optimal conditions in the waves, the official competition crowned for the first time hot local from Essaouira Boujmaa Guilloul, while the organization improvised another competition for all young Moroccans eager to show the full extent of their talent in "waveriding." The beautiful story is that the winner of this challenge is Fettah Ahlamara, considered by all these young kids as their "big brother".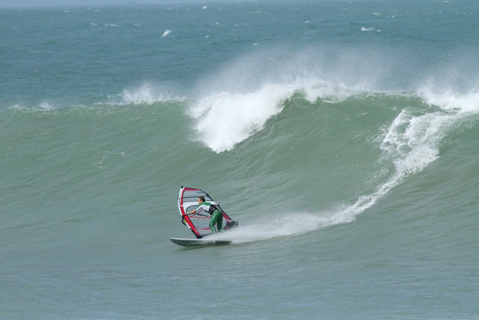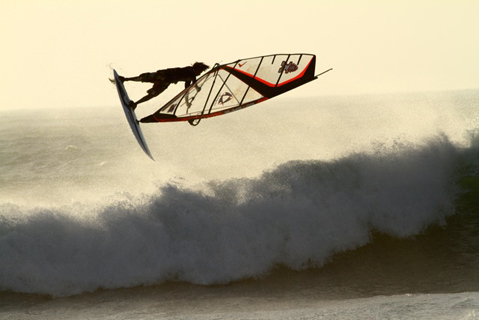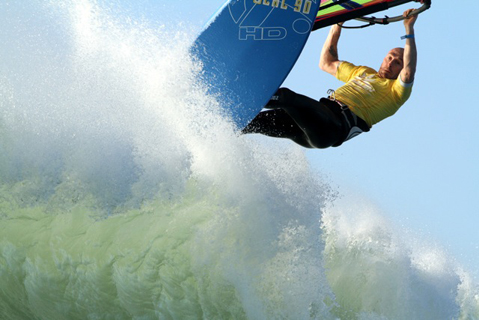 Kiteboarding… A tough long distance
With 20 to 25 knots of wind, the kitesurfers who ran on the long distance in the Dakhla lagoon have suffered somewhat. With a very choppy water in the mid-bay, strong currents and a total of 65km downwind in 2 days, strong legs and endurance were needed! French speed champion Alex Caizergues (1st kitesurfer to have exceeded the 100km/h on water) has good stamina and a perfect physical. He wins over the whole fleet of kitesurfers. Among girls, we would have expected a victory of speed world champion, South African Sjoukje Bredenkamp, but it seemed like a simple affair to French Fabienne D'Ortoli who likes to take on such challenges, she wins the overall race. Great race for young Moroccan of Dakhla, Soufiane Hassouni, qualified during the trials to be part of this contest.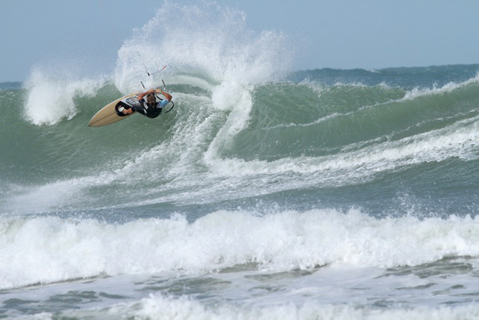 Exhibitions… Modern Wave sailing
On the sidelines of the competitions, the organization offered exhibitions of "modern sailing. With their boards equipped with a foil, Frenchies Bruno Andre and Renaud Madier were able to demonstrate the potential of such a toy that allows them to float above the surface of the water, on a stand-up paddleboard or a kiteboard in the waves, or on a windsurfboard on the flat water of the lagoon. Surprising and interesting!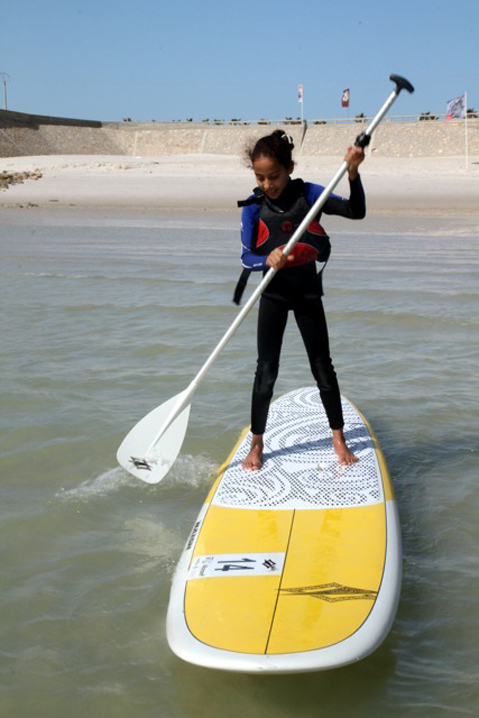 Culture… Clinincs and women's meetings
Fettah Ahlamara, winner in the 100% moroccan windsurf wave competition, is also the manager since the last 4 years of « watersports clinics » set up with the instructors of his surfschool "Bouj 'Windsurf Aventure" in Essaouira. Arranged on the beaches around Dakhla, these workshops have hosted all week more than 400 children from local schools and have initiated them to watersports, sometimes with the support of champions. A great initiative always rewarded by the smiles that we could then read on the faces of those children. For culture, the champion Marion Raisi has initiated the meetings "women from here and elsewhere" between Saharawi women and sportwomen: from a hammam session, exchange and complicity, all will remember these intense moments of sharing.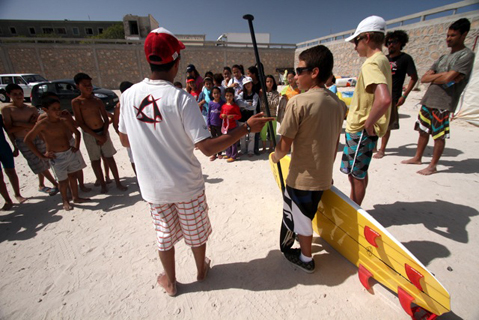 Music…  A show interrupted but not completely
All these champions do not just come on the festival for the waves and wind. They also know that music plays a very important part of the event. Guest appearances like Younes, Sahara Street or Rouicha could show up on the scene before the concerts had to be canceled due to incidents. So, some musicians who were staying in the camp of Foum Labouir offered to nightclubbers sacred moments with impromptu concerts. Ruben Petrisie, windsurf champion but also hip-hop singer, was so pleased by improvising a groovy song while last night, some were lucky enough to attend a unique representation of Alpha Blondy on the beach!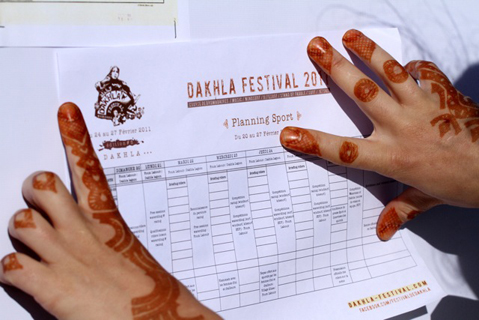 Dakhla Festival 2011/Sports results
Windsurf Wave contest - Internationnal
1 / Boujmaa Guilloul
2 / Bernd Roediger
3 / Bruno André
Windsurf Wave contest - Morocco
1 / Fettah Ahlamara
2 / Ayoub Belakhil
3 / Younes Elabdi
Windsurf Long Distance International - Men
1 / Diony Guadagnino
1 / Gérald Pelleau
2 / Bieuzy Mauffrey
3 / Tine Slabe
Windsurf Long Distance International - Women
1 / Sarah Hébert
2 / Faustine Merret
3 / Marion Raïsi
Windsurf Long Distance - Morocco
1 / Fayçal Hmidi
2 / Jaouad Mali
3 / Youssef Gournit
Kitesurf Long Distance International - Men
1 / Alex Caizergues
2 / Renaud Madier
Kitesurf Long Distance International - Women
1 / Fabienne D'Ortoli
2 / Marie Desandre
3 / Sjoukje Bredenkamp
Kitesurf Longue Distance - Morocco
1 / Soufiane Hassouni
2 / Khalid Faiz
3 / Lacheladore Benguit Med
Stand Up contest - Men
1 / Rémi Quique
2 / Colin Mc Phillips
3 / Tommy Lloyd
Stand Up contest - Women
1 / Nicole Boronat
2 / Sarah Hébert
3 / Fabienne D'Ortoli
Shortboard Internationnal
1 / Harley Ingleby
2 / Abdel El Harim
3 / David Leboulch
Shortboard Morocco
1 / Abdel El Harim
2 / Selim Barakat
3 / Hassan Saber
Longboard Internationnal
1 / Ben Skinner
2 / Alexis Deniel
3 / Damien Castera
Body Board Morocco
1 / Soufiane Bensmail
2 / Anass Adli
3 / Reda Benhima