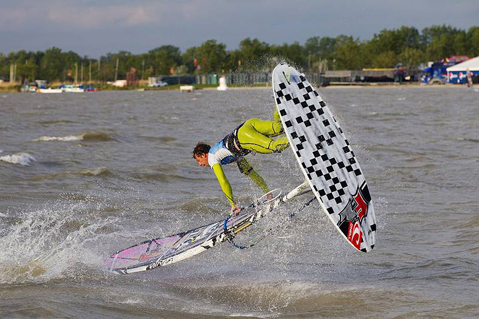 E il quinto giorno arrivò finalmente il vento un po' più serio! Fuoco alle polveri… ed i fuochi artificiali non sono mancati in questa prima single elimination, compresa una spock-kono mai vista prima d'ora in gara, provata da Kiri Thode in finale… finale che però finisce nella capienti mani  del belga volante Steven Van Broeckhoven!
Single elimination results from day 5:
1st Steven Van Broeckhoven (F2 / Gaastra)
2nd Kiri Thode (Starboard / Gaastra)
3rd Jose Estredo (Fanatic / North)
4th Taty Frans (Starboard / MauiSails / Mystic)
Photo © PWA/Carter - text by Andrew Buchanan
Dedicated event website http://www.surfworldcup.at
For more information http://www.pwaworldtour.com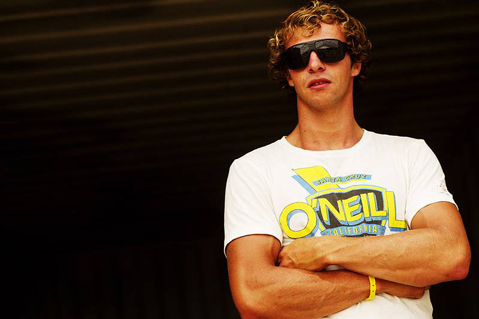 THE 2011 PWA SURF WORLD CUP, NEUSIEDLER SEE
Day 5: Lake Neusiedler comes alive as 25-knot winds power the PWA freestyle fleet through the first single elimination in style.
Competition's penultimate day in Austria stood poised at the mercy of a rogue forecast which looked so utterly impossible to turn into reality, many had written the day off before it had even started. However, as is so often with this unpredictable location, the unexpected proved to be the order of the day.
As the forecasts had so accurately predicted, at midday the wind swung a full 180 degrees in a matter of minutes, and built from a leisurely 10 knots, to a hammering 25-30 knot cross onshore gale. Time to cue the freestylers and let the games commence.
Competition resumed with the first round heats of the single elimination, narrowing the fleet down as the non seeded riders went on to do battle with the seeded sailors in round two. The first seeded sailor to fall was Italy's Mattia Pedrani (Simmer / Starboard / Dakine / AL360) who departed the elimination at the hands of the UK's Max Rowe (Fanatic / North), who was reveling in the challenging conditions.
Entering round three we witnessed both the highest scoring heat of the day, courtesy of Steven Van Broeckhoven (F2 / Gaastra), who set the bar skyward when he dominated his heat against Deivis Paternina Teran (Fanatic / North), and the closest heat of the day, when France's Nicolas Akgazciyan (Starboard / Gun) sneaked past Bjorn Saragoza (Starboard / Hot Sails) with a mere half point advantage on tie-break.
In the quarterfinals, Van Broeckhoven continued to assert his dominance when he took down the Stella Tonky Frans (Tabou / Gaastra) to seal himself a place in the final four. Joining him were the familiar faces of Jose Estredo (Fanatic / North), who put an end to Dieter Van Der Eyken's (Severne / Starboard) hopes of advancing further, Kiri Thode (Starboard / Gaastra), who defeated Holland's Davy Scheffers (Tabou / Gaastra), and Taty Frans (Starboard / MauiSails / Mystic) who left Akgazciyan in his wake.
With the green flag flying high, it immediately became apparent that Van Broeckhoven wasn't going to be happy with a place in the losers' final, and despite going head to head with freestyle's most highly decorated athlete, he dug deep to deliver a truly world class performance, leaving Estredo to question where he'd gone wrong as he failed to take up his usual place in the winners' final. In the second half of the semi final, Kiri Thode appeared to still be riding the high of his recent event victory in Vietnam. His super polished routine had the crowds gasping at the sheer audacity of some of his creations, which rightfully earned him the remaining place in the final.
Roll on the finals, and in the battle for third place, Estredo showed his mettle as he held his head high to defeat Taty Frans in the gusty, onshore conditions. That left the battle royale between Thode and Van Broeckhoven. To put the heat into context, the PWA's head judge rated this one as up there in his top three best freestyle finals ever. For a man that's witnessed hundreds of world-class freestyle finals, that gives you an idea of just how spectacular this heat was.
Thode pulled what we believe to be the first ever spock-kono in competition. In reply, Van Broeckhoven laid down what was as close to a perfect run as you could get in the conditions. The two protagonists were both hell-bent on securing victory, but the day ultimately went to Van Broeckhoven, who had a slight edge on the magnitude of his maneuvers.
Single elimination results from day 5:
1st Steven Van Broeckhoven (F2 / Gaastra)
2nd Kiri Thode (Starboard / Gaastra)
3rd Jose Estredo (Fanatic / North)
4th Taty Frans (Starboard / MauiSails / Mystic)
As the penultimate day of competition drew to a close, there was just enough time to squeeze in the first two rounds of the double elimination before the light began to fade, and the temperatures started to drop. We will pick up the action where it left off bright and early tomorrow morning, starting with the riders skippers meeting at 6.00am, in an effort to complete the double elimination before the event runs out of time.