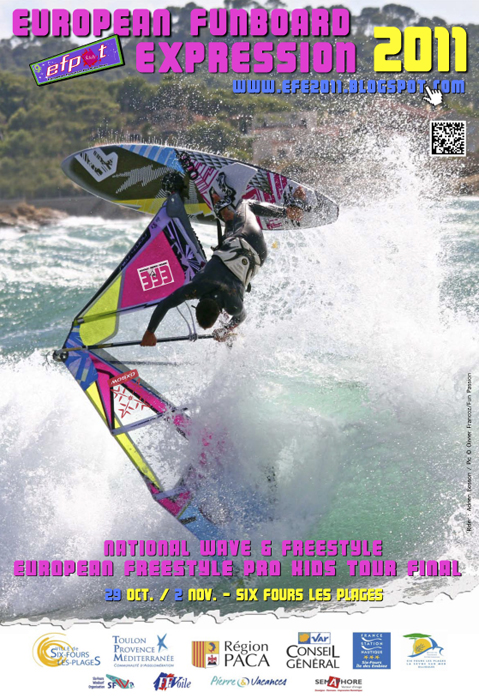 Anche quest'anno, andrà in onda a Six Fours la terza edizione dell'European Funboard Expression… prendete nota che durante i cinque giorni dell'evento che interessa il ponte di inizio novembre (29 ottobre/ 2 novembre), probabilmente gli spots più gettonati della zona saranno parecchio… "trafficati"!
Vi daremo info dettagliate nelle prossime settimane.
Six Fours gets ready to welcome the 3rd edition of the European Funboard Expression
The wave & freestyle windsurfing championships will take place on the shores of Six Fours les Plages (South France), from October 29th to November 2nd. The 2 most expressive disciplines in windsurfing will again be highlighted on this 3rd edition of the European Funboard Expression.
This event is organized by the dynamic local windsurf club "Six Fours Windsurf Organisation" and managed by Fred Bosson, It also gathers professionals and amateurs not only from all over France but also Germany, Italy and even the Netherlands. Open to all levels and all ages, the "European Funboard Expression" is a great meeting for all nationalities addicted to windsurfing.
During the 5 days, the organization will adapt the championships schedule and rules according to the local conditions, in order to launch either a wave contest or  freestyle battles. This will count for both the "National Funboard" and the "European Freestyle Pro Kids".
The « National Funboard Expression » gathers the 2 extremist windsurfing disciplines wave & freestyle open to all nationalities, levels and ages. This race allows the riders to compete either in the freestyle discipline or in the wave discipline and they may also do both discipline during this event.
Issued from the famous european Freestyle championship EFPT, the "European Freestyle Pro Kids Tour" (EFPkT) is all about Freestyle ! The race only concerns the young freestylers bellow the age of 20. After tour stops that had been run in England, Netherlands, Belgium and Turkey this season,  France and the city of Six Fours les Plages have been chosen again to organize the finals of this European circuit.
At this final tour stop, the winners will be crowned with the attribution of "EFPkT European Champions" titles for each category.
So stay tuned from October 29th to November 2nd as we again expect a 5 days showdown on the Southern shores of France. If the local "Mistral" is here to play, be sure to expect a bunch of cool wave & freestyle action from riders like Adrien Bosson (EFE 2010 overall winner), Vincent Mellouet (EFE 2009 overall winner), German Valentin Böckler (2010 EFPkT european champion -20), Italian Mattia Fabrizzi (2010 EFPkT Six Fours winner) or young Dutch Tim Ruyssenars (2010 EFPkT european champion -17) !
Our website is already online: http:/www.efe2011.blogspot.com.
You may find more informations (press Kit to download as well as the EFE logo, official poster, banner, pics and videos of last year's event…).
You can also find us on facebook to stay up to date : www.facebook.com/EuropeanFunboardExpression.