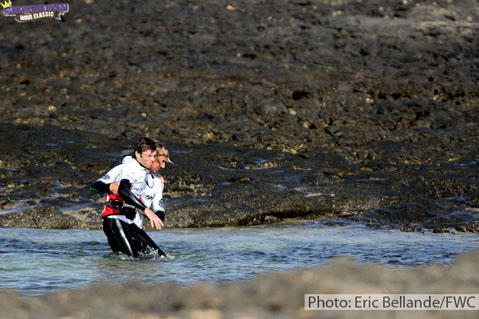 Ed anche il quinto giorno il vento rimase troppo leggero per riprendere la gara vera e propria. Nel pomeriggio, diversi riders danno vita all'ennesima free session  nello spot di Punta Blanca… Federico Infantino, Justin Denel e Albert "Mandrillo" Ferroni sugli scudi, anche se il nostro giovane conterraneo, alla fine, si è distorto per bene il ginocchio sinistro surfando un'onda bella spessa! Per fortuna, dopo visita medica, infortunio non così grave, come si temeva…
Eventwebsite: http://www.fuertewaveclassic.com/
Fuerteventura Wave Classic Facebook account:
https://www.facebook.com/fuertewaveclassic
FWC on Twitter:  http://twitter.com/#!/FWC2011
The windforecast for the fifth day of the event did not look as good as on the previous days. The riders stayed until 12:00 in the hotel. At 12.00 all riders and the media crew drove to Majanicho. The wind was very light and was onshore with 5-7 knots and the waves were about 1,5 metres high. There was no chance to run any competition.
The organizer decided to drive further west to the well known jumping spot of Punta Blanca. Punta Blanca is a beautiful place with a little sandy beach and crystal water. When arriving at 13.45 the tide was up and it was easy to cross the reef. The wind blew a bit stronger compared to all other spots, we measured 12 - 15 knots, with some stronger gusts. As the wind did not improve, several riders decided to go out for a free session.
Federico Infantino, Justin Denel and Albert "Mandrillo" Ferroni had probably the best rides on the backside and even on the frontside. Later Amanda Beenen as well touched the water testing her new 2013 sail.
Federico was unlucky. He got caught by a bigger wave and twisted his left knee while a cutback. Yannick Anton, some other riders and the crew immediately ran to the little bay, where Federico drifted inside, and gave him the necessary first aid support. "I used a bigger board from Tom Hartmann - a 95 liter one - and this was very different. I can walk, but it hurts." Federico stated after. Back at Corralejo, the organizer Orlando Lavandera immediately drove Federico the physiotherapist. The diagnosis was not too bad and Federico got taped his left knee.
In the evening most riders and the media crew met at the Avenida restaurant in downtown of Corralejo to eat some fantastic fish. For the 6th day of the event the annual beachcleaning and a barbecue at Majanicho are planned.