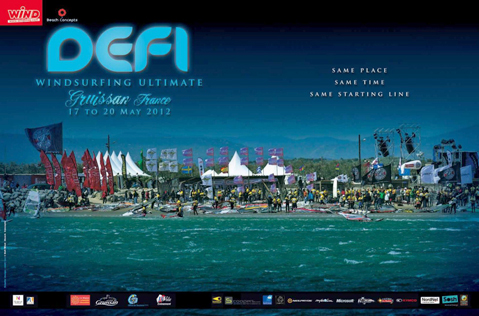 La dodicesima edizione della Defi Wind è ormai alle porte… dal 17 al 20 maggio stessa spiaggia, stesso mare! Più di 850 riders sono attesi sulla linea di partenza, ma Philippe Bru quest'anno ha curato in modo particolare anche il "contorno"…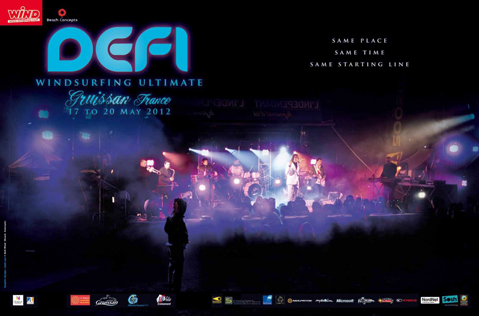 Sea, Wind and Fun !
With 850 défieurs and 25 countries represented, the Défi is the most important worldwide windsurfing meeting. But it goes further… For this 12th edition, Philippe Bru extends the event to the music universe. Indeed, three stages will be set up. The urban stage will gathered Hip Hop and Street Art lovers, while on the beach stage local musicians will play in front of thousand people. This "First Stage Experience" will take place during the event's afternoons with more than 15 music groups. Metal, Pop Rock, Jazz, Samba, Electro and Rumba will shake you all day long. Later at dusk, Las Vegas Wedding, Rinôçérôse DJ Club and some Batucadas will follow their lead on the Main Stage.
Hip'n Rock
Exclusive news on the Urban Stage: Sang Salé and Rar-Krew both from the Hip Hop culture will prove that French rap has lyrical flow. DJ Tortuga will come right after with his mixes. Then, a group of dancers will do some breakdance and show choreographies of hip hop steps, just to make you thrill about your own suppleness.
Inspired by American rock'n roll vibes, the French trio Las Vegas Wedding arrives in Gruissan full of their Pop Rock influence. They're travelling across Europe but they will be in time for the Défi's launch. This year they're opening the first evening with their famous covers of great bands such as Black Eyed Peas, White Stripes or even AC/DC. Get ready for Party Rocking…
Drumroll…
The Défi loves to be surrounded by rhythm and beats, that's why 4 Batucadas are coming on the beach Saturday night. Oaï Spirit, Kore Percu, Zuka Samba, Fouzils will all twang together. Batucadas formations are very important in Gruissan's culture, they bring all generations around an enjoying and playful music. Be sure to see this impressive meeting!
Lights, Motors, Action!
Friday night, it's movie time. First, pro windsurfers will be on screen, showing their best and exclusive shootings with beautiful images from all over the world. The Windsurf Movie Festival is still a big time on the Défi, gathering in front of the Main Stage, défieurs, artists and public. The concept is basic: people send their tapes, 6 minutes maximum, and then they're projected on the Big Screen to be elected thanks to public applause. Fettah Ahlmara, famous Moroccan windsurfer, will introduce "Land" a Dutch-Moroccan-German coproduction. The film tells the story of a young man (leading role by Fettah) who sets off on an adventurous journey across the Atlantic coast on his windsurf board. A poetic and visually stunning film about the desire for freedom to go where you please, to be who you want to be. A film about longing, about absence and love. Later in this Movie Festival, Oxbow joins the stage with a video of the greatest ride sessions in Hawai this winter, with their star riders. Carine Camboulives and Manu Bouvet made a movie about their "Family Trip" around the world, a movie about sharing culture and discovering new way of life. Those sea lovers will bring to light unknown amazing spots from the Earth. If you like discovering foreign civilisation's different way of thinking, you should come and watch this astonishing film.
Now you know everything about the Défi, you just can't miss this crazy adventure!