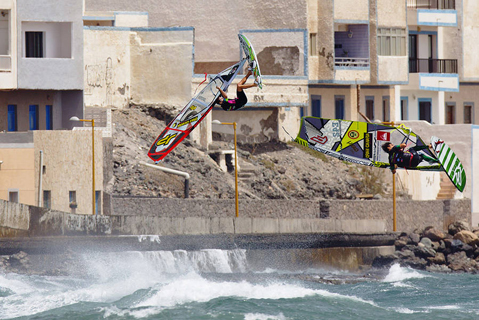 O belingi… in un mercoledì bestiale Iballa finalmente fa il "mazzo" a Daida! E' infatti la prima volta che prevale a Pozo sulla super sorella! In una giornata contraddistinta dal vento nucleare… a proposito apro un parentesi: se date un'occhiata alle previsioni di Windfinder per ieri, annunciavano vento sui 20 nodi, sotto raffica 25! Beh mi diceva il buon Max, che è approdato anche a Gran Canaria durante il suo anno sabbatico in barca a vela, che le carte nautiche segnalano di prestare molta attenzione alle "botte" di vento nei pressi di Pozo, visto che nel periodo estivo può raddoppiare la sua intensità. Sarà per questo che Iballa si è giocata le sue carte in acqua con la 3,0! E dire che la giornata era iniziata con gli uomini a darsele di santa ragione per accedere alle finali del single elimination con circa 40 nodi di vento ed onda… "salente"!
A fine giornata oltre il verdetto del primo single delle donne che ha visto Iballa prevalere su Daida nella finale vincenti e Karin Jaggi su Laure Treboux in quella perdenti, sono stati "nominati" i fantastici 4 per le finali degli ometti. Manca a dirlo, alla fine delle danze, a giocarsi oggi, con previsioni di vento ed onde in aumento, la finale vincenti ci saranno gli heroes degli ultimi anni: alla destra del ring… lo stiloso, il più elegante in surfata, lo sfidante pronto a riprendersi lo scettro…. Viiiiiiiiiiictor Fernandez! Alla sinistra del ring… il super local, il più giovane campione del mondo wave, il degno l'erede di Terminator… Phiiiiiiiiiiiilip Köster! Nella gara di "contorno" all'evento di oggi, nella finale perdenti, se la vedranno Dario Ojeda e Dani Bruch!
Gli ingredienti ci sono tutti per un mix… esplosivo! Pwa TV è on line…
Foto © PWA/Carter - More info http://www.pwaworldtour.com
Results After Single Elimination - Women's Wave
1st Iballa Ruano Moreno (Starboard / Severne)
2nd Daida Ruano Moreno (Starboard / Severne)
3rd Karin Jaggi (Patrik / Severne)
4th Laure Treboux (Fanatic / North)
DAY THREE : POZO GOES OFF, BIG TIME!
The third day of the PWA Gran Canaria Wind&Wave Festival turned out to be 'Big Wednesday' and we certainly weren't left disappointed, as the women's single elimination was completed in nuclear winds and powerful waves. By the end of an exhausting day it was Iballa Ruano Moreno (Starboard / Severne) who was declared the winner, whilst Philip Köster (Starboard / NeilPryde / Maui Ultra Fins) and Victor Fernandez (Fanatic / North) secured their places in the men's winners' final. The losers' final will feature Dany Bruch (Starboard / Severne / AL360) and Dario Ojeda (Tabou / Gaastra / MFC).
Men's Single Elimination
The men's semi-final saw the level go quite literally sky high, as the wind hit forty knots or more and the waves continued to increase. Victor Fernandez set the tempo of the heat from the outset, as the Spaniard launched into an astronomical stalled forward followed by a perfect double forward to put himself in a brilliant position. Fernandez's wave riding was also out of this world, and his consistency at times was scary. He was able to pull off textbook goiters, time and time again with consummate ease, as well as landing an unbelievable one handed, one footed backloop. Fernandez's performance was duly rewarded as he defeated Bruch, who was suffering with a back injury after landing his own one handed, one footed backloop during his quarter final, to book his place in the winners' final. The B-side of the heat saw Köster versus the local boy Dario Ojeda. Just like Fernandez, Köster's sailing was in a league of its own. The wonder kid landed an amazing wave 360, which most people would have settled for alone, but Köster wasn't content with that, and he rotated straight into a flawless taka to score nine and a half points on this one wave. Ojeda tried to respond with a wave 360 of his own, but Koster put the remaining nails in his coffin by nailing a quite brilliant goiter and one of his trademark double forwards, off almost no ramp, to secure his place in the winners' final. This now sets up a mouth-watering final between Fernandez and Köster.
Head judge Duncan Coombs speaking after the men's semi-final "I've never seen anything quite like it."
The closest heat of the day was between Marcilio Browne (Goya / MFC) and Victor Fernandez, in the quarterfinals. The two riders were inseparable as they tied the heat. In the end it was Fernandez who advanced after it was revealed that the Spaniard received the highest wave score. However Browne deserves a special mention as he landed an outrageous pushloop forward as well as a fully planing forward off the lip, and he was extremely unlucky not to advance. If it wasn't for an inform Fernandez there is no doubt the Brazilian would have been marching on in the single elimination. As it happens now though, Browne will have to fight his way back through the double elimination.
Britain's Ross Williams (Tabou / Gaastra) performed brilliantly to knock out the three times World Champion Kauli Seadi (JP / NeilPryde) in the third round. The Brit is renowned for his slick wave riding style and today proved no different. However, Williams was stopped in his tracks by Ojeda in the very next round. Meanwhile, Phil Horrocks (Tabou / Gaastra) pushed Köster all the way in his third round heat with his table top forward being one of the standout moves of the day. Unfortunately for Horrocks, Köster was in formidable form as he nailed a pushloop forward and an unreal reverse, which he landed right in the critical section of the wave, to advance past the Brit.
Women's Single Elimination
Winners' Final
The winners' final once again saw the legendary Moreno twins lining up against each other as Iballa Ruano Moreno and Daida Ruano Moreno (Starboard / Severne) commenced battle on three meter sails. Daida quickly racked up her jumps as she opened the heat with a perfectly executed backloop and a massive stalled forward in the crazy winds. Iballa on the other hand began the heat by hunting for waves and she quickly found a set wave to let loose on. Iballa wasted little time in throwing an awesome backside shuvit before going frontside to deliver a devastating top turn to leave the heat finely balanced. Daida was now the one hunting for the waves and once she found them she unleashed her trademark backside airs along with numerous powerful front and backside turns. At this point Daida looked as though she had taken control of the heat, especially after she landed a super tweaked pushloop. However Iballa wasn't going to let her sister have it all her own way and she began to mount a fight back, which started with a radical pushloop before pulling off a stunning stalled forward. As the heat entered the dying moments, Iballa sailed the wave of the day as she threw an outstanding wave 360 as well as linking a couple of slick turns to leave things in the balance. This final wave proved to be pivotal, as Iballa went on to win the single elimination by way of a 3-2 judges decision in her favor.
Iballa Ruano Moreno speaking after winning the women's single elimination:
" I'm feeling really good, this is one of the first times that anyone has beaten Daida in Pozo. I was really lucky with my final wave, I managed to pull off a wave 360 and link together a couple of nice turns, which I think made a difference to the points. We still have the double to run, where I expect to be waiting for Daida, so we will have to wait and see."
Losers' Final
The losers' final was a strictly Swiss affair as Laure Treboux (Fanatic / North) took on Karin Jaggi (Patrik / Severne). As the heat unfolded it was Treboux who scored the best waves and Jaggi who excelled in the jumping. The stand out moment of the heat though definitely belonged to Jaggi. She showed absolutely no hesitation in throwing herself into a super end over end forward to wow the judges. Treboux looked confident on the wave but on this occasion she couldn't pull off a backloop to retaliate, so she was left to settle for fourth place.
The forecast for tomorrow is even better than today, with a bigger swell being predicted and even stronger winds. The skippers' meeting has been called for 9:30am with the action commencing from 10am. Thursday promises to be an epic day don't miss a thing by watching the live stream at www.pwaworldtour.com.