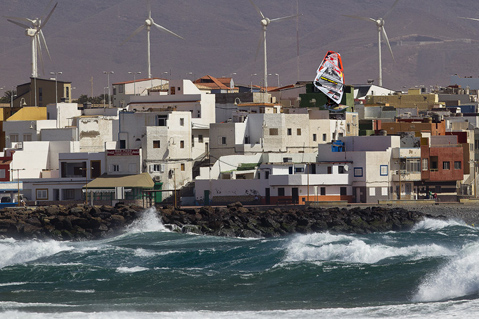 Giovedì niente male quello di ieri con il vento che ha raggiunto i 60 nodi ed onda un po' più grande rispetto ai giorni precedenti. Ligio al dovere di un buon reporter, ieri pomeriggio ho lasciato il buon Max davanti alla PWA TV a seguire la gara e me ne sono andato a spiaggia ad allenare i nipoti per la gara di sup di sabato. In una bella serata estiva, davanti ad una birra e dopo una session di 1,5 km di nuoto, Max ci ha aggiornato sulla situazione… uno dei soliti briefing di alto livello della nostra redazione (!). Bando alle cavolate… più o meno all'ora di pranzo Philip Köster armato di 3,7 si è aggiudicato il Single Elimination battendo Victor Fernandez che nei giorni precedenti era apparso tra i più in palla dei riders. Più pulito e stiloso in surfata lo spagnolo mediterraneo, nulla ha potuto sulla "cattiveria" del "bimbo" Koster che durante la finale è riuscito a beccare le onde migliori per staccare i suoi soliti salti stratosferici. Il nostro "esperto" in  wave (… era ancora sobrio!), mi ha anche raccontato dei diversi stili nei salti: mentre Fernadez, Ojeda e Bruch saltano ed iniziano le rotazioni all'apice dei loro high jump, Philip va così in alto nei suoi salti che prima di iniziare le rotazioni varie, in avanti o indietro, aspetta di cominciare a scendere qualche metro.
Nel pomeriggio sono iniziate le danze del double sia per gli uomimi che per le donne con diversi contusi ed acciaccati visto l'uragano di vento… il nostro "corrispondente esclusivo" è rimasto impressionato dalle prestazioni aeree di Mussolini e Swift, ha visto uscire un pur bravo Traversa e pure Ricardo Campello e Kauli Seadi non sono riusciti a mettere a segno la zampata giusta per andare avanti. Oggi si continua: ho già legato Max davanti al computer a godersi lo spettacolo, io qualcosetta da fare ce l'ho! Aspetto con ansia (?!) il briefing serale, assaporando già la mia "tangò" media che ieri sera, a stomaco vuoto, mi ha fatto tornare a casa barcollando… se non sapete cos'è la tangò, beh, non siete mai andati a surfare nella zona di Marsiglia!
Foto © PWA/Carter - More info http://www.pwaworldtour.com
Results After Single Elimination - Men's Wave
1st Philip Köster (Starboard / NeilPryde / Maui Ultra Fins)
2nd Victor Fernandez Lopez (Fanatic / North)
3rd Dario Ojeda (Tabou / Gaastra / MFC)
4th Dany Bruch (Starboard / Severne / AL360)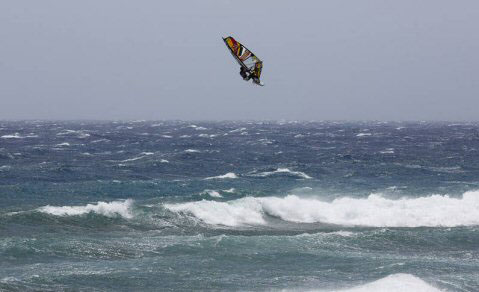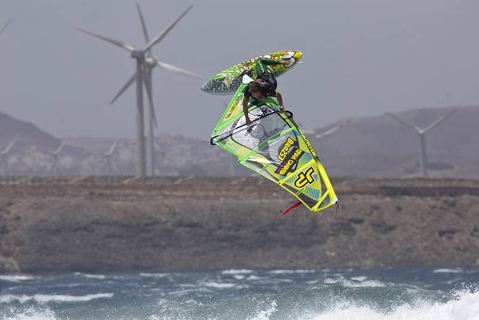 DAY 4 : KOSTER CONQUERS THE STORM
Yesterday may have been windy, but today's wind was on a completely different scale. The wind at times was gusting to sixty knots, but this didn't deter the world's most radical sailors from launching into rocket-propelled stunts as they delivered a truly breathtaking display. In the morning Philip Köster (Starboard / NeilPryde / Maui Ultra Fins) was able to win the single elimination ahead of Victor Fernandez (Fanatic / North) after a monumental battle between the two riders.
Men's Single Elimination: Winners' Final
The top two riders from Pozo last year prevailed once more as the first winners' final of the year took place. The conditions were epic and the action that ensued was astonishing. Philip Köster opened the heat with an absolutely monstrous stalled forward to set the tone. Fernandez replied with a wave 360, before searching out a ramp to land his own massive forward loop. The caliber of the sailing witnessed was out of this world and the pair continued to push each other for the duration of the heat. Fernandez was sailing incredibly as he landed one handed goiters, double forwards and an amazing backside 360. However Köster was fully in his stride and he soon delivered one of his trademark ankle dry double forwards before going onto nail huge wave 360s and backloops which were close to leaving the atmosphere. As the judges score cards were tallied up it was revealed that Köster was the champion of the single elimination. We will now have to wait and see if he can defend his crown in the double elimination tomorrow.
Philip Köster: "I was fully powered up on my 3.7 and the conditions were crazy. I crashed a double forward and a pushloop forward but I'd landed some big jumps by that point. I feel really happy, it was a great final against Victor. Now I will wait for the double elimination and see what happens."
Losers' Final
The losers' final was also a sight to behold as Dany Bruch (Starboard / Severne / AL360) and Dario Ojeda (Tabou / Gaastra / MFC) gave their all in the fight for third place. The action was relentless right from the word go and Ojeda launched straight into an astronomical backloop. As the heat progressed, it was clear that the local boy was reveling in the nuclear winds and the Canarian threw an absolutely insane stalled forward as well as delivering some astonishing wave rides, which included amazing front and backside aerials along with his usual backside 360s and takas to take control of the heat. Bruch delivered an outstanding performance as well but on this occasion his silky smooth wave riding and perfect backloops weren't enough to beat Ojeda, who claimed his place on the podium.
Men's Double Elimination
The epic conditions continued for the entire day, which meant the first three rounds of the double elimination were completed before the close of play. The first round went according to plan, as did much of the second. However there were a couple of talking points. First up was heat thirty four, which saw Britain's Adam Lewis (Patrik / Point-7) taking on the youngsters champion Alessio Stillrich (Fanatic / North / AL360). Both sailors sailed brilliantly as they pulled off big backloops, super tweaked pushloops and some super fluid wave riding, by the end of the heat only half a point separated Lewis and Stillrich such was the closeness of the battle. Fortunately for Stillrich the decision went in his favor and the seventeen year old Spaniard advanced into the third round. Peter Volwater (Fanatic /Avanti) also missed out on the third round by the narrowest of margins to Leon Jamaer (Fanatic / Hot Sails Maui) in heat thirty four.
Ben Proffitt (Simmer) battled his way back through double elimination today after his early exit in the single. The Brit, who is also our commentator extraordinaire, found his form as he defeated the hugely talented Jonas Ceballos to advance into the third round. Proffitt sailed a great heat landing super tweaked pushloops as well as linking some exceptional waves, unfortunately though he was up against Kauli Seadi (JP / NeilPryde), who was on fire. The Brazilian looked like a different sailor compared to Wednesday as he landed almost any move he wanted. Seadi landed amazing one handed goiters, wave 360s and a whole host of aerial maneuvers, as he unleashed his full repertoire of tricks to book his place in the fourth round at the expense of Proffitt.
The standout sailor of the double elimination thus far though has to go to Alex Mussolini (Tabou / Gaastra). The Spaniard sailed exceptionally as he defeated Jamie Hancock (Tabou / Gaastra) and the Vice World Champion for the past two years, Ricardo Campello (JP / NeilPryde / MFC), to secure his place in heat forty six. Mussolini's jumping was outstanding today, but it was his wave riding that really separated him from the rest of his opponents. Against Campello, Mussolini caught the wave of the day as he scored eleven points for the single wave. He pulled an amazing wave 360 and taka along with an extra couple of backside smacks to leave the crowd and judges astounded. Advancing from the other side of heat forty five would be Marcilio Browne (Goya / MFC), who sailed an unbelievably, landing a perfect double forward and a backside 360 right in the pocket of the wave to dispatch of his fellow Brazilian Kauli Seadi. Elsewhere Voget (Fanatic / Simmer / MFC) had too much Klaas for Thomas Traversa (Tabou / Gaastra), whilst Robby Swift (JP / NeilPryde / Maui Ultra Fins) sailed through the pain of a broken toe for three successive heats, to defeat Ross Williams (Tabou / Gaastra) in the all English affair.
Women's Double Elimination
There were two heats completed today in the women's double elimination, as they proved that they are more than capable of handling the extreme conditions, even though some of them were on bigger sails then their male counterparts. Heat forty-four saw Steffi Wahl (Patrik / Sailloft Hamburg) defeat Fanny Aubet (JP / NeilPryde), whilst Carmen Afonso Martin sailed extremely well to knock out Alice Arutkin (Starboard / North).
The only sour note of the day came in heat forty-five, which featured Eva Oude Ophius (Fanatic / North) versus Hester Anderiesen (Fanatic / North) and Olga Raskina (JP / NeilPryde) taking on Astrid Muldoon (Fanatic / North). Oude Ophius was able to successfully navigate her way past Anderiesen, but the real story of this heat involved Raskina. Having already landed a very end over end forward, Raskina found a perfect ramp and showed no fear in launching herself straight into another forward. Unfortunately this time she wasn't so lucky as she went super end over end again and she landed extremely flat. It appears she has injured her knee, how badly remains to be seen but we wish her a speedy recovery and hope to see her back competing again very soon.
Tomorrow promises to be another day filled with epic action as the latest forecast predicts yet more wind and waves. This means we should see the completion of the men and women's double eliminations. The skippers meeting has been called for 10am with the first possible start at 10:30.Make sure you tune into www.pwaworldtour.com to see the action unfold as it happens via the live stream.