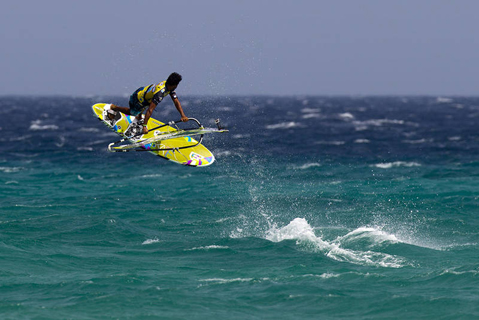 Finisce anche la prova di freestyle di Fuerteventura e prima di godersi un mesetto di vacanza (fino al 27 agosto ad Alacati, quando riscenderanno in acqua gli slalomisti…)  la "truppa" della world cup incorona Gollito e Offringa vincitori dell'evento. Per gli uomini Gollito ha aspettato, nella finale del double elimination, Steven Van Broeckhoven ed anche in questa occasione ha dimostrato di essere, in questo momento in uno stato di forma mostruoso. In una finale giocata con manovre di livello altissimo, Gollito ha, prima controllato la heat, con una serie di manovre incredibili skaka, spock culo, una velocissima shopu, air chachoo per chiuderla con il suo nuovo asso nella manica la "Pasko", così Jose ha voluto chiamare la nuova "mostruosa" air flaka shaka. Gollito ha così commentato la sua vittoria: «I feel incredibly happy to win the double elimination against Steven (Van Broeckhoven). It was difficult at the beginning of week with the light winds but finally today we got the strong winds. I'm delighted that I have won the opening two events, but it's not over yet, we'll see what happens in Germany.»
Tra le ragazze, dopo lunga battaglia, Sarah-Quita Offringa è riescita a tenere a bada le brame di una ritrovata Laure Treboux e nella finale del double eliminaton ha sfoderato una prestazione che non ha lasciato nessun dubbio ai giudici.
Foto © PWA/Carter - More info http://www.pwaworldtour.com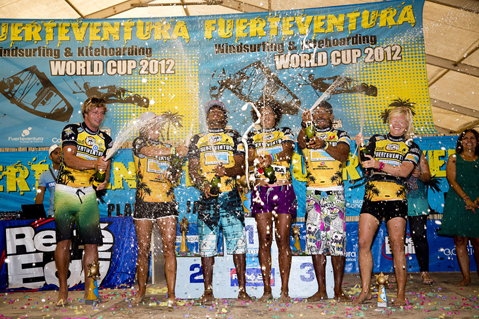 Overall Results of The PWA Freestyle Fuerteventura - Men's
1st Jose 'Gollito' Estredo
2nd Steven Van Broeckhoven (JP / NeilPryde / Different)
3rd Tonky Frans (Tabou / Gaastra)
4th Kiri Thode (Starboard / Gaastra)
5th Dieter Van Der Eyken (Starboard / Severne)
6th Bjorn Saragoza (Starboard / Hot Sails Maui)
7th Taty Frans (Starboard / MauiSails / Mystic / Maui Ultra Fins)
7th Anthony Ruenes (Tabou / Gaastra)
9th Nicolas Akgazciyan (Starboard / Point-7 / Maui Ultra Fins)
9th Yegor Popretinskiy (JP / NeilPryde / Maui Ultra Fins)
9th Youp Schmit (JP / NeilPryde)
9th Philip Soltysiak (Starboard / Sailworks)
17th Jacopo Testa (RRD)
17th Mattia Fabrizi (North Sails / Fanatic)
25th Nicola Spadea (Starboard / Gun Sails)
33th Francesco Capuzzo (RRD)
Overall Results of The PWA Freestyle Fuerteventura - Women's
1st Sarah-Quita Offringa (Starboard / Gaastra / Mystic / Maui Ultra Fins / Chris Benz)
2nd Laure Treboux (Fanatic / North)
3rd Arrianne Aukes (RRD / Simmer / AL360 / Maui Ultra Fins)
4th Yoli Freites De Brendt (Fanatic / North)
5th Eva Chiochetti
5th Svetlana Martynova
DAY 10 : GOLLITO AND OFFRINGA SHINE IN FUERTEVENTURA TO WIN THE EVENT
The howling winds of Fuerteventura finally returned on the last day of the event, as the best freestylers in the world delivered a breathtaking display to leave the crowd and judges in awe. By the end of an enthralling day of competition Jose 'Gollito' Estredo (Fanatic / North) had won his second successive event of the year, as he continued his perfect start to the season in his quest for a fifth world championship title. Whilst Sarah-Quita Offringa (Starboard / Gaastra / Mystic / Maui Ultra Fins / Chris Benz) stomped her authority over the women's fleet by winning the opening female freestyle event of the year in convincing fashion.
Men's Double Elimination - Winners' Final
Jose 'Gollito' Estredo faced Steven Van Broeckhoven (JP / NeilPryde / Different) in the winner's final, after the reigning world champion fought his way back through the double elimination to recover from his surprise early exit in the single elimination. Both men were in outstanding form as the winners' final proved to be the highlight of the contest. Gollito opened the final with a monstrous shaka to set the tone right from the off, whilst Van Broeckhoven threw a perfect one handed burner and from here the two men just went bigger and bigger in their bid for victory. However the four times world champion showed his title winning credentials by storming to victory come the end of the heat. Van Broeckhoven racked up some amazing moves such as an incredible gravity defying air shuvit it spock and a radical pushloop off almost no ramp, but it wasn't enough to force a super final. Gollito was in irresistible form as he landed a huge spock culo and a super fast skopu to take control of the heat, and from here he continued to excel as he landed a quite brilliant air chachoo as well as landing his amazing new move again, the air flaka shaka which he has called the 'Pasko'. Both sailors were sailing so well that they had completed their score sheets with a couple of minutes remaining, but it was Gollito who reigned supreme after another awe-inspiring display.
Jose 'Gollito' Estredo speaking after his victory: "I feel incredibly happy to win the double elimination against Steven (Van Broeckhoven). It was difficult at the beginning of week with the light winds but finally today we got the strong winds. I'm delighted that I have won the opening two events but it's not over yet, we'll see what happens in Germany."
Steven Van Broeckhoven returned with a vengeance in the double elimination as he produced a devastating performance to finish in second place overall. The King of pop was back to his best today as he exploded his way through the most impressive tricks on the planet. The Belgium maestro won successive heats to prove any critics wrong. On his was to the final he defeated; Taty Frans (Starboard / MauiSails / Mystic / Maui Ultra Fins) and Bjorn Saragoza (Starboard / Hot Sails Maui), before exacting revenge on his fellow countryman Dieter Van Der Eyken (Starboard / Severne). Van Broeckhoven then secured his place on the podium as he defeated Kiri Thode (Starboard / Gaastra), however he was not done here as he also managed to beat the other man from Bonaire Tonky Frans (Tabou / Gaastra) as he landed huge air funnel burners and monstrous skopus to name just a couple.Elsewhere in the double elimination Yegor Popretinskiy (JP / NeilPryde / Maui Ultra Fins) was on fire as the Russian first defeated Maarten Van Ochten (JP / NeilPryde / MFC) before causing an upset as he knocked out Davy Scheffers (Tabou / Gaastra), who finished sixth here last year. Meanwhile, Andy 'Bubble' Chambers (JP / NeilPryde) and Anthony Ruenes (Tabou / Gaastra) battled in out in heat forty-one, with Chambers sailing a brilliant heat as he landed a full repertoire of tricks ranging from a superb spock-culo to radical konos. Unfortunately for the Brit though his astronomical shaka was out of time and Ruenes progressed by the narrowest of margins.
Women's Single Elimination 2 - Winners' Final
Sarah Quita-Offringa didn't look her usual perfect self in her first winners' final of the day, as both she and Laure Treboux (Fanatic / North) battled the strong winds. Offringa, who is usually super consistent, crashed a number of her early moves, but she managed to maintain her composure to come out on top once more. The lady from Aruba was able to land a perfect e-slider as well as a massive toad and switch kono to keep her unbeaten record. The Swiss Styler, Treboux, completed several impressive moves as she landed silky smooth clew first spocks and an incredibly controlled puneta on the outside but it wasn't enough to dethrone Offringa.
Losers' Final
Arrianne Aukes (RRD / Simmer / AL360 / Maui Ultra Fins) delivered a sterling performance to defeat the talented Yoli Freites De Brendt (Fanatic / North). On her way to victory the Dutch woman rotated through a super fast funnel and a superb flaka to move into the top three for the first time in her career.
Women's Double Elimination 2 - Winners' Final
Sarah-Quita Offringa took on Laure Treboux one more time in the last winners' final of the day and Offringa proved to be the dominant force again despite a tight battle. Laure Treboux produced an excellent display as she landed a technically perfect fully planing grubby diablo and a big super fast flaka, however she fell on the exit of her switch flaka which could have made all the difference. Offringa stepped up to the mark as she aimed to defend her unbeaten record and that's exactly what she managed to do. On her way to victory the reigning world champion landed a sick funnel as well as a perfect toad and a huge air flaka to leave the judges in no doubt about their verdict.
Sarah-Quita Offringa speaking after her victory: "I'm delighted to win the event and I also want to say thank you to Rene Egli for organizing the event, I'm really happy to be here and I love coming to Fuerteventura, both for the sailing and the people. I'd also like to thank Duncan Coombs and the PWA judges for their hard work this week, congratulation to Laure (Treboux) and Arrianne Aukes for her first podium finish."
Arrianne Aukes and Yoli De Brendt would face each other twice more before the end of the day, as Aukes defeated De Brendt to force a re-sail in order to decide third and fourth place respectively. Aukes capitalized fully on the momentum that was with her and after finishing third in the second single elimination, her confidence was sky high and this really showed in the sail off between the two ladies. De Brendt sailed well with a brilliant forward loop and a clew-first puneta, but unfortunately for her Aukes was determined to secure her first ever finish on the podium. The Dutch girl landed a fantastic flaka and a switch kono to defeat De Brendt, and in doing so she enjoyed her best result ever.