Il tradizionale appuntamento di fine ottobre a Six Fours si arricchisce della presenza di campioni di livello internazionale… una delle guest stars di ques'anno sarà  Tonky Frans!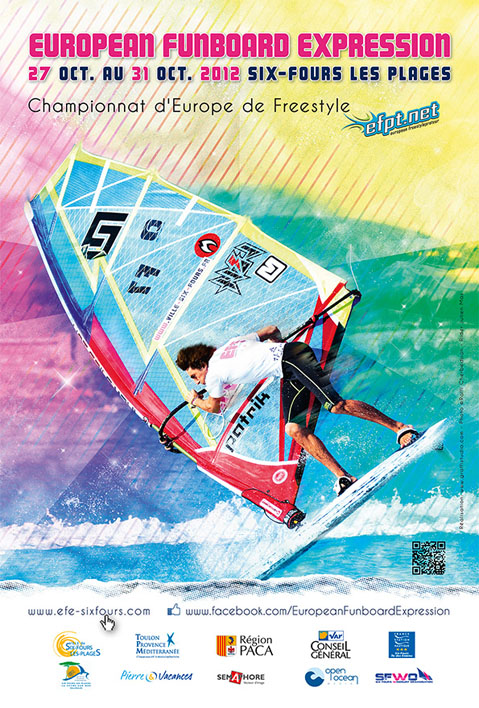 EUROPEAN FUNBOARD EXPRESSION
SIX FOURS LES PLAGES – 27 / 31 OCTOBER 2012
European Windsurf Championship –  2nd stage of the European Freestyle Pro Tour EFPT
International stars on the EFE, 11 nations represented on a live broadcast!
Tonky Frans, freestyle star, announced in Six Fours!
It's great news for the organisation of the EFPT stop in Six Fours : explosive rider from Bonaire, Tonky Frans (Gaastra/Tabou), announced he'll be part of the EFE this year! Ranked 5th on the PWA Freestyle World Tour this season, just ahead of his team mate Antony Ruenes, (ranked 7th and currently best French freestyler on the world tour), Tonky is a serious competitor. Even though he doesn't know much about France, 'despite the fact they have good sweet bakeries', the Bonairian is pretty excited about coming to Six Fours : 'I've heard from Antony that an EFPT stop was happening in South France right after Sylt. As there are no more events at this time of the year, I told myself it would be great to join as I remember I had some good times on the EFPT a few years ago. I have already had some cool sailing here in Le Brusc with Antony. It's a great spot as you can combine sailing on flat water and waves. I will be here for the show, for sure !' Tonky said.
EFE becomes international!
More than 30 riders are already pre-registered so far, representing 11 countries, amongst those are Russia, Slovenia, Israel, UK, Germany, the Netherlands, Italy, Austria, Switzerland and Belgium! There is a great bunch of top riders, featuring the EFPT top 5 with Davy Scheffers & Youp Schmit (NED), Adrian Beholz (GER), Andraz Zan (SLO) and Yakovlev Vladimir (RUS). However don't underestimate the Frenchies! Local boy Adrien Bosson and top rider from Grenoble, Julien Mas (world ranked 12th) are experienced competitors but still can be given a hard time as they will also have to face top level sailors like Dieter Van Der Eyken (world ranked 8th) from Belgium. The opening ceremony that will take part on Saturday 27th at 6pm in Le Brusc will be a colorful one as each country will have it's flag showed up by the riders representing their nation.
The event will be broadcasted live!
It took us a bit of time but we wanted to be sure that there would be an efficient broadcasting quality before we'd officially announce it, but today it is confirmed: the EFE will be live broadcasted on the web via a Dailymotion platform that can host up to 15,000 simultaneous connections! Organised by the BE2B company who already has some experience in this field, the EFE will be visible worldwide. This initiative is a first on a local sporting event. With a mobile camera plus 4 small fixed cameras placed in strategic locations, we will attempt to retransmit the ambiance of the event from time to time. The 'live' cell will also be visible on our website www.efe-sixfours.com.
The program is fixed and available online
Already completed for more than a week now, the full program of the event is available on the website in the dedicated section www.efe-sixfours.com/programme/. Press kit, official poster, promo posters, video trailer and official logo can also be downloaded on the website pages 'Press' and 'Videos'. All the backstage news of the event can be followed on our very active Facebook page:
www.facebook.com/EuropeanFunboardExpression.