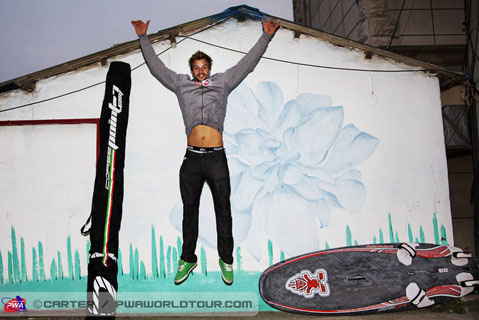 Era dai tempi che Alessandra gareggiava nel PWA, facendo dei bei mazzi a tutti persino in casa della Natalina d'oltralpe (Nathalie Lelievre) che un italiano così giovane non vinceva una tappa del PWA. Ai quei tempi Sensini di copertine dei vari magazine, tra vittorie alle olimpiadi e gare varie, se ne "guadagnava" un sacco… e allora questo è il momento di dedicare la prossima copertina di Wind News (giugno number) ad Alberto Menegatti.
Ma sarà una delle solite copertine con un foto attinta dall'immenso archivio PWA/Carter o i vostri amici di Wind News, per l'occasione, hanno in servo qualcosa di diverso?!… Come al solito, per saperlo basterà aspettare qualche giorno!
Nell'attesa beccatevi il report di gara del day 6, attinta a piene mani dalla news letters del PWA.
More info Pwaworldtour.com - Foto © Carter/Pwaworldtour.com
The 2013 Ulsan PWA World Cup Overall Standings: Men's Slalom
1st Alberto Menegatti (Starboard / Point-7)
2nd Antoine Albeau (RRD / NeilPryde)
3rd Ben Van Der Steen (Starboard / Gaastra / Mystic / Different)
4th Cyril Moussilmani (Starboard / Severne)
5th Julien Quentel (RRD / NeilPryde)
The 2013 Ulsan PWA World Cup Overall Standings: Women's Slalom
1st Karin Jaggi (Patrik / Severne)
2nd Delphine Cousin (JP / NeilPryde)
3rd Valerie Arrighetti (Tabou / Gaastra / Mystic)
4th Ayako Suzuki (Starboard / Gaastra / Mystic)
5th Mio Anayama (Starboard / NeilPryde)
ULSAN PWA WORLD CUP
Day 6: A magic day for Menegatti and Jaggi as they claim the opening victories of 2013
A promising forecast never quite materialized on the final day of racing at the Ulsan PWA World Cup as hazy skies and cooler air temperatures inhibited the local thermal effect from kicking in. With winds blowing anywhere between 3-23 knots the competitors had to wait until 5:30pm before the racing began. However, after the completion of heat nine, a combination of premature starts and fluctuating winds prevented any further heats from being finished. The sailors were released for the final time this week at 6:30pm.
With the fourth race not being completed no discards came into play, which means this week will live long in the memory of Alberto Menegatti (Starboard / Point-7) as he claims his maiden event victory on the PWA World Tour. However, the Italian was made to sweat it out for almost an hour this evening having been disqualified from heat eleven, after being a little too eager to make a good start. This presented the opportunity for Antoine Albeau (RRD / NeilPryde) to swoop in and steal Menegatti's thunder, but it wasn't to be as the wind soon deteriorated, leaving a delighted - but relieved - Menegatti to revel in his success. Today is also a big day for his sail sponsors - Point-7 - who will be celebrating in Italy tonight having finished on the podium for the first time in their history.
Alberto Menegatti speaking after his first ever event victory: "I thought I'd lost the event - even though Antoine (Albeau) would have still had to finish third or better in the winners' final - so I'm still processing it. I'm super happy, I'd like to thank my fin sponsors - Z Fins - for their help throughout the whole winter as their fins allow me to be fast in both flat water and waves. I'd also like to thank my friend from South Africa Peter Langley after he helped me a lot when I was there this winter. At the start of the season if someone would've offered me 3rd, 4th or 5th place I'd have happily taken it. To have finished in first is just a dream. I also need to thank both my sail and board sponsors as the equipment couldn't work better and I couldn't have wished for a better start."
In the women's fleet Karin Jaggi (Patrik / Severne) reaffirmed her title winning credentials after a magnificent performance over the three eliminations, which were completed. The multiple-time world champion reigned victorious in two of those races, whilst finishing second in the other to stamp her authority over the event. In doing so, the Swiss gem becomes the first woman to prevent Valerie Arrighetti (Tabou / Gaastra / Mystic) from claiming the Jinha Beach crown since 2010 - when the reigning world champion missed the event due to a shoulder injury.
Karin Jaggi speaking after winning the first event of the season:"It's always good to naturally start the season ahead. The best thing for me is that I feel really comfortable on my equipment, I still made a few mistakes, but I have such good board speed and control in pretty much all conditions. I think it can be quite a good season for me. Now I'll be traveling to Thailand for a bit for work, before going back to Australia, then heading back to train in Europe - I'll probably head to Gran Canaria early to get used to the conditions. "
Please note that there will be no racing tomorrow - the sailors will be treated to a city tour of Ulsan by the organizers, which will conclude another fantastic event at South Korea's famed Jinha Beach. Thank you for tuning into the action this week and we hope you will join us again from June 11th as the men's slalom fleet head to Costa Brava until 16th June.