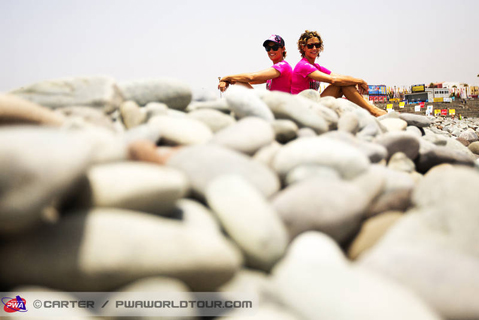 Daida and Iballa ready to rock… recita la didascalia della foto di apertura, ma Pozo continua ad essere al centro di una bolla di… cippa! Campello ha pensato bene di "rianimare" la giornata trainato dal jet ski… che sia stato il rito propiziatorio giusto per attirare un po' di vento in zona per oggi?! Come si dice… chi vivrà, vedrà ed anche stamattina vi lascio volentieri al report ufficiale che "contiene" una breve intervista a Thomas Traversa…
More info Pwaworldtour.com - Foto © Carter/Pwaworldtour.com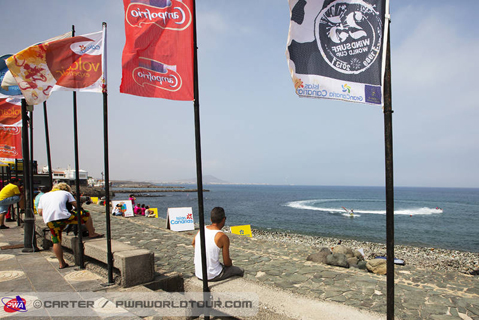 Day 2: A different side to Pozo, as the waiting game continues
The second day of the PWA Gran Canaria Wind & Waves Festival proved to be a very relaxed affair as the wind and waves refused to play ball for the second day in a row. With temperatures soaring into the thirties and a very light breeze most of the sailors took the opportunity to seek cover out of the sunshine, as the waiting game continued.
At 3pm the voice of the PWA - Ben Proffitt (Simmer) - was joined by two of the biggest names in windsurfing Alex Mussolini (Tabou / Gaastra) and Ricardo Campello (JP / NeilPryde / MFC) - who finished third and fourth respectively in 2012 - for an exclusive interview. If you missed the live interview, don't worry as it will be re-streamed at 7pm local time (GMT+1), as well as being repeated afterwards too.
Last year Thomas Traversa (Tabou / Gaastra) claimed his maiden victory on the PWA World Tour at the Cold Hawaii World Cup in Klitmoller, Denmark. We caught up with the Frenchman to see how he is feeling ahead of the first event of the season. Read the interview below:
PWA: After your first ever victory last year, are you feeling confident for the new season?
TT: "My confidence levels haven't really changed to be honest. I'm not too confident, but at the same time I believe in myself."
PWA: Where did you spend winter and how did your training go?
TT: "I spent a lot of time at home in the South of France. We had quite a good winter with plenty of wind. I also went to Cape Town, South Africa for two weeks as well as going to Chile in April, so that I can get used to the place before the event in November. All in all I was able to sail quite a lot so I'm happy."
PWA: What was your impression of Chile?
TT: "I have already been there one before, but that was along time ago. It's super, super nice, but I mainly went there not only to get used to the conditions, but more to get used to the culture and the place, so that I feel comfortable when I am there to compete rather than feeling lost. It's a beautiful place."
PWA: Was there anything in particular you were concentrating on with your training?
TT: "Not really. If anything I was trying to work more on my jumping. In South Africa I was trying to land doubles a bit more than usual, but the rest of my sailing I was keeping the same."
PWA: Finally, which gear have you brought with you for the event?
TT: "For the sails I have everything from 3.0m to 4.2m and for the boards I just have two 65l wave boards."
PWA: Thanks Thomas and good luck for the contest and the rest of the season.
The forecast for tomorrow offers more wind than today, but it looks as though we'll be hoping for some help from the local effect for the competition to begin. Thankfully the predictions for the end of the week are much more promising, so there should be plenty of action to come. The skippers' meeting for tomorrow shall be held at 10am with the first possible start at 10:30am. You'll be able to follow all the brilliant action live by tuning into the PWA TV at www.pwaworldtour.com.