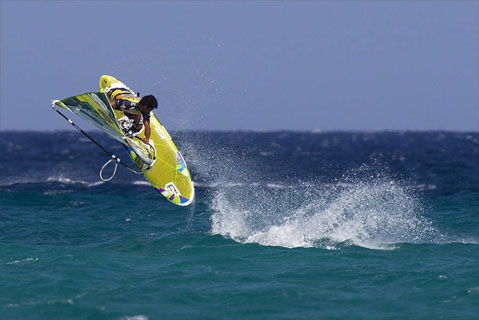 Domani inizia la seconda tappa "canara" del Pwa 2013… archiviato il "mancato" appuntamento wave di Pozo, questa volta tocca a Furteventura e ai ragazzi e le ragazze del freestyle che si giocheranno le loro carte in quel di Sotavento!
Il vento alle Canarie sembra finalmente entrato deciso ed è probabile che ci aspetti una… intense week of explosive, gravity defying freestyle!
Prima di lasciarvi all'event preview ufficiale e "postare" il benaugurante video dell'ultima giornata dell'evento di Pozo, vi segnalo qualche inquietante "rumors" sull'ultimo appuntamento canaro, quello di Tenerife deicato ai wavers, raccolto dal sito degli amici di Riw Mag.
More info Pwaworldtour.com - Foto © Carter/Pwaworldtour.com

Event Preview: Are you ready for an intense week of explosive, gravity defying freestyle?
From the 20th to the 26th July the men's freestyle fleet will be returning to action, whilst the women will be making their first appearance on the 2013 PWA Freestyle World Tour. This year marks the 28th anniversary of world cups held on the beautiful golden sands of Sotavento, Fuerteventura, and it promises to be a brilliant week packed with the most explosive freestyle on the planet.
Sotavento is located on the Southeast coast of Fuerteventura and has developed a world-class reputation over the years due to its year round sunshine, stunning golden beaches and most importantly its consistently nuclear winds, which create some of the most exhilarating conditions on the PWA World Tour. With nuclear winds peaking at around fifty knots combined with perfectly formed stunt ramps, Fuerteventura is a freestyle windsurfers paradise allowing the biggest and most powerful moves to be thrown at free will.
What's The Deal?
A seven-day freestyle extravaganza featuring the most radical contortionists in the windsurfing world. Of course the sailors will also be battling it out for those all important world tour points as they fight for the top honors.
Ones To Watch
Men's
Having won the last four successive events, five-time PWA Freestyle World Champion - Jose 'Gollito' Estredo (Fanatic / North) - is without doubt the man to beat. Confidence will be higher than it has ever been and given his performance, whilst training in Pozo, the Venezuelan looks as though he will be an extremely difficult figure to beat. Expect to see his trademark paskos, crazy air chachoos and a whole plethora of other sensational moves as he looks to cement his place at the top of the rankings.
As the last man to beat Gollito - Steven van Broeckhoven (JP / NeilPryde / Different) - perhaps represents the biggest threat to the reigning world champion. The Belgian maestro won here in 2011, whilst finishing just behind Estredo last year as he took home second place. The King of Pop excels in the howling winds and choppy waters of Fuerteventura, so you can expect to see him going bigger than ever before in his attempt to regain his world crown.
Kiri Thode (Starboard / Gaastra) has been on the cusp of major success for the past three years and has finished the past two seasons as the vice-world champion. The Bonairean will be doing everything in his power to go one better this year and he's certainly a sailor to keep a very close eye on over the coming week. Of course the rest of the Bonaire crew consisting of: - Taty Frans (Starboard / MauiSails / Mystic / Maui Ultra Fins), Tonky Frans (Tabou / Gaastra), Amado Vrieswijk (Starboard / Severne) and Bjorn Saragoza (Starboard / Hot Sails Maui) will also be a major threat.
Anthony Ruenes (Tabou / Gaastra) looks as though he is back to his brilliant best after he opened up the year with fourth place in Austria, after a hugely impressive display. Ruenes sails with an almost unrivaled style on the water and if he can show the kind of form he did at the start of the season then the Frenchman will be vying for the top five positions and above come the end of the week.
Dieter Van Der Eyken (Starboard / Severne) enjoyed his best finish to date thus far on the PWA World Tour last year in Fuerteventura - fifth - and the Belgian will be looking to at least equal that result again this year. Van Der Eyken has already demonstrated on more than one occasion that he has the talent to take down any of the biggest names in windsurfing and he'll be feared by all of his fellow riders.
The current European Freestyle Champion - Davy Scheffers - (Tabou / Gaastra) - fought his way back through the double elimination in Austria to claim fifth place overall after throwing some amazing tricks such as no-handed burners and huge air funnels. The Dutch maestro will be looking to continue his assault on the top five as he looks to transfer his success in Europe onto the world scene.
Of course the huge talent of Youp Schmit (JP / NeilPryde) will also be a major threat. The eighteen year old is one of the most exciting prospects on the PWA Freestyle World Tour and he's already finished in the top five at an event - Sylt last year - now Schmit will be looking to see if he can break into the illustrious top four. Other names to look out for are Adrian Beholz (Fanatic / Sailloft Hamburg / Maui Ultra Fins), Nicolas Akgazciyan (Starboard / Point-7 / AL360) and Philip Soltysiak (Starboard / Sailworks) if he can overcome a recent shoulder injury. The PWA Freestyle World Tour is so competitive right now that anyone could break into the top ten and beyond.
Women's
The Queen of Freestyle - Sarah-Quita Offringa (Starboard / Gaastra / Mystic / Chris Benz / Maui Ultra Fins) - represents a formidable force given the fact that she is currently unbeaten on the PWA Freestyle World Tour for the past five years. The Aruban gem has the majority of the latest power moves in her artillery and as a result looks almost unbeatable, barring disaster. Expect to see explosive culos, burners and perfect konos as she goes in search of an incredible sixth freestyle world crown, at the age of just twenty-two.
With the vice-world champion - Laure Treboux (Fanatic / Severne) - absent from the entry list the door is now open for Arrianne Aukes (RRD / Simmer / AL360 / Maui Ultra Fins) or Yoli de Brendt (Fanatic / North) to step-up and challenge Offringa. Aukes finished on the podium for the first time ever last year and she'll be looking to replicate last years result at a minimum.
Svetlana Martynova finished fifth overall last year and is reported to have improved again, so she could well be one to watch as she goes in search of a place on the heralded podium.
The week ahead promises to be one of mind-blowing freestyle, as the contortionists of the windsurfing world launch into the biggest gravity defying tricks on the planet. Make sure you don't miss any of the amazing action by tuning into www.pwaworldtour.com from the 20th July.