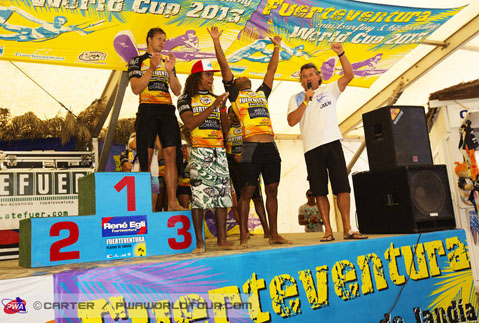 Poco da aggiungere rispetto all'aggiornamento di ieri pomeriggio, a parte un bravo a Mattia, un in bocca al lupo per oggi e il consueto report ufficiale della giornata. Oggi, a guardare le previsioni, potrebbe essere un'altra giornata buona… ma quest'anno conviene sempre aspettare per avere una conferma da Eolo!
A riguardo mi sorge però un dubbio che poco a che vedere con la gara, ma bensì, cosa molto più importante per me, con le prossime vacanze di agosto che hanno nel mirino, tra le altre mete, anche Fuerte.
Se pure a Sotavento, che è sempre stato il jolly da giocarsi sull'isola in caso di cippa, il vento non è così sicuro come al solito…. su al nord, tra Corralejo, Cotillo e compagnia bella, come butta?! Un po' di vento entra o è cippa totale?!
La penultima volta che sono stato a Fuerte in agosto… non facevo ancora surf da onda ed ho passato 20 giorni in spiaggia a giocare a Pacman, aspettando invano il vento! E di tempo ne è certamente passato tanto, i più giovani non sapranno neanche cos'è quel gioco, ma non vorrei ripetere l'esperienza… anche perchè Pac man non ce l'ho più e nel frattempo sono diventato un po' allergico ai computer in vacanza e ai telefonini… sempre! Mi tocca portarmi anche il sup?!
More info Pwaworldtour.com - Foto © Carter/Pwaworldtour.com
Results After Second Single Elimination - Men's Freestyle
1st Jose 'Gollito' Estredo (Fanatic / North)
2nd Kiri Thode (Starboard / Gaastra)
3rd Steven Van Broeckhoven (JP / NeilPryde / Different)
4th Tonky Frans (Tabou / Gaastra)
5th Dieter Van Der Eyken (Starboard / Severne)
Results After Second Single Elimination - Women's Freestyle
1st Sarah-Quita Offringa (Starboard / Gaastra / Mystic / Chris Benz / Maui Ultra Fins)
2nd Arrianne Aukes (RRD / Simmer / AL360 / Maui Ultra Fins)
3rd Yoli de Brendt (Fanatic / North)
4th Olya Raskina (JP / NeilPryde)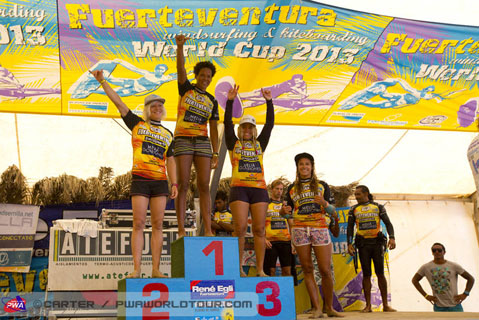 Day 5: Epic freestyle in Fuerte, but could anyone defeat Offringa and Gollito?
Day five of the PWA Fuerteventura World Cup saw the wind arrive from the word go, allowing both the men's and women's second single eliminations of the week to begin at 10:30am. With winds between 25-30 knots the day was filled with freestyle of the highest quality of the contortionists of the windsurfing world showed exactly what they are capable of. After an intensive five hours of competition Jose 'Gollito' Estredo (Fanatic / North) and Sarah-Quita Offringa (Starboard / Gaastra / Mystic / Chris Benz / Maui Ultra Fins) once again came out on top after another superb display of sailing.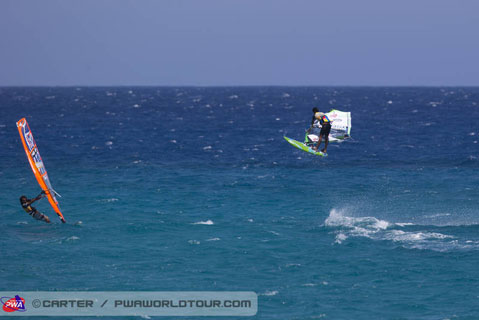 Men's Single Elimination 2- Winners' Final
The men's winners' final saw a rematch of yesterday's double elimination winner's final as Kiri Thode (Starboard / Gaastra) took on Jose 'Gollito' Estredo for the second time this week. Both sailors opened the final with explosive culos before Gollito landed a big shaka, only to see Thode go even bigger with a monstrous shaka of his own. The two men were on top of their game as they went move-for-move and blow-for-blow as they landed perfect spock-culos, huge regular konos and burners. Gollito and Thode looked almost inseparable at this point until Thode came agonizingly close to landing a pasko, this presented the reigning world champion with an opportunity to move into a clear lead and he made no mistake as he landed an amazing trademark pasko. Thode responded with a quite brilliant air flaka into shaka and a kabikuchi, but Estredo had an answer for everything as he landed a fantastic skopu and a monumental planing toad to stay in the lead. The man from Bonaire did also launch into an audacious double culo, but with a slightly wet ending it wasn't enough to prevent Gollito from claiming another victory.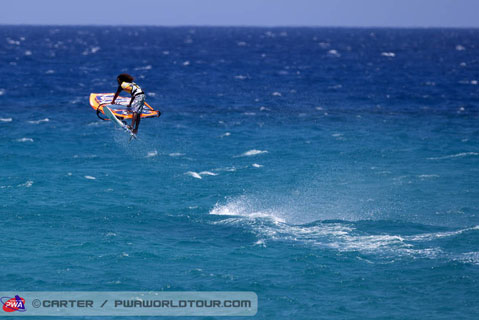 The losers' final also saw a rematch of yesterday's battle between Steven Van Broeckhoven (JP / NeilPryde / Different) and Tonky Frans (Tabou / Gaastra). On day four Frans came out on top but this time around Van Broeckhoven was able to edge to encounter. The Belgian sailed a brilliant heat consisting of some incredible moves such as paskos, kabikuchis and massive one-handed air funnels into funnels to secure third place.
Elsewhere Phil Soltysiak (Starboard / Sailworks) sailed his way into joint fifth place along with Taty Frans (Starboard / MauiSails / Mystic / Maui Ultra Fins), Dieter Van Der Eyken (Starboard / Severne) and Youp Schmit (JP / NeilPryde). Soltysiak showed his full repertoire of tricks today and was rewarded as he dispatched of Oscar Carmichael (Fanatic / North) and then Amado Vrieswijk (Starboard / Severne) in a closely fought affair, before Kiri Thode ended his run.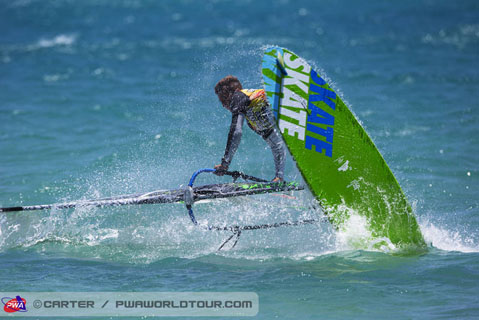 Mattia Fabrizi (Fanatic / North / MFC) fought his way into the top ten as well - joint ninth - to put the disappointment of going out in the first round of the opening double elimination firmly at the back his mind. The Italy first defeated Christofer Kalk, followed by Adam Gavriel (Patrik / Sailloft / Maui Ultra Fins) as he landed technical spock-culos and perfect konos, unfortunately for Fabrizi though he didn't have enough in his tank to see off Van Broeckhoven.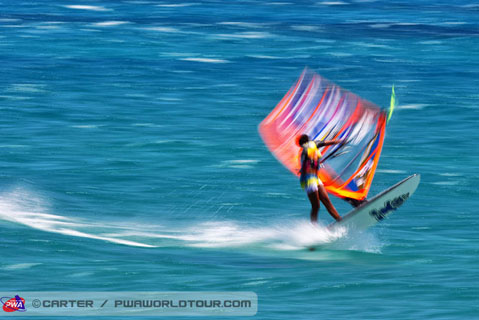 Women's Single Elimination 2 - Winners' Final
Sarah-Quita Offringa and Arrianne Aukes (RRD / Simmer / AL360 / Maui Ultra Fins) once again met in the winners' final for the third time this week. Aukes made a strong start to the final as she rotated through a stylish funnel, before later adding a forward loop and a big flaka, but Offringa showed exactly why she is the five-time PWA Freestyle world champion. The Aruban gem landed a powerful toad, a superb regular kono and a brilliant burner to leave no doubt in the judges' minds as to who had won and it wasn't long before the news was official.
Yoli de Brendt (Fanatic / North) successfully defeated Olya Raskina (JP / NeilPryde) in the women's losers' final with a combination of a stylish flaka and puneta variations. Today also proved to be a good day for Maaike Huvermann (Maui Ultra Fins) as the fifteen year old won her first ever heat on the PWA World Tour as she defeated Svetlana Martynova.
It's worth noting that the second single elimination currently only counts for fifty percent until the second double elimination is completed. The forecast for tomorrow looks promising to see yet more amazing action on the water. The skippers' meeting has been called for 10am with the first possible start at 10:30am. Don't miss a thing by tuning into www.pwaworldtour.com.