Niente di nuovo sotto il sole di Fuerte… anche il secondo double elimination va in archivio nel penultimo giorno di gara e Gollito continua a macinare il povero Kiri Thode… la decisione dei giudici di dare la vittoria a Gollito per 3 a 2 nella finalissima, conferma con la terza vittoria contro Kiri in questa settimana, la supremazia del venzuelano nel freestyle!
Tra le donne stesso copione… il regno di Sarah-Quita Offringa continua imperturbabile.
Discrete cose dai nostri ragazzi… Francesco Capuzzo ha passato un turno, prendendosi la soddisfazione di battere il campioncino inglese Oscar Carmichael, Jacopo Testa ha passato due turni battendo tra l'altro il forte francese Julien Mas, ma arrendendosi nella heat successiva al suo compaesano Adrien Bosson. Lo stesso Adrien che in una disfida tutta italo/francese ci ha "terminato" nella batteria successiva il migliore di nostri, Mattia Fabrzi, aggallato dal 9° posto rimediato nel single ed approdato alla heat dopo aver battuto Andreas Lachauer. Tra le donne Francesca Floris non è riuscita a passare lo "scoglio" Oda Johanne Brodholt, al suo primo evento PWA, ma bella tosta… tanto che che ha poi continuato la sua corsa fino al quinto posto finale.
More info Pwaworldtour.com - Foto © Carter/Pwaworldtour.com
Video on youtube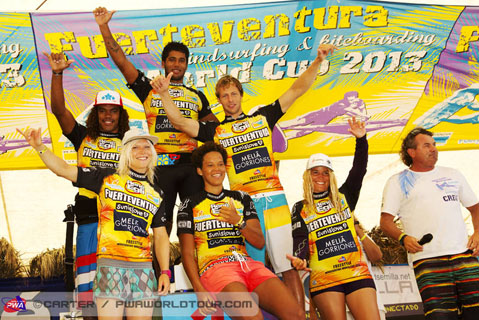 Results After The Second Double Elimination - Men's Freestyle
1st Jose 'Gollito' Estredo (Fanatic / North)
2nd Kiri Thode (Starboard / Gaastra)
3rd Steven Van Broeckhoven (JP / NeilPryde / Different)
4th Tonky Frans (Tabou / Gaastra)
5th Dieter Van Der Eyken (Starboard / Severne)
Results After The Second Double Elimination - Women's Freestyle
1st Sarah-Quita Offringa (Starboard / Gaastra / Mystic / Chris Benz / Maui Ultra Fins)
2nd Arrianne Aukes (RRD / Simmer / AL360 / Maui Ultra Fins)
3rd Yoli de Brendt (Fanatic / North)
4th Olya Raskina (JP / NeilPryde)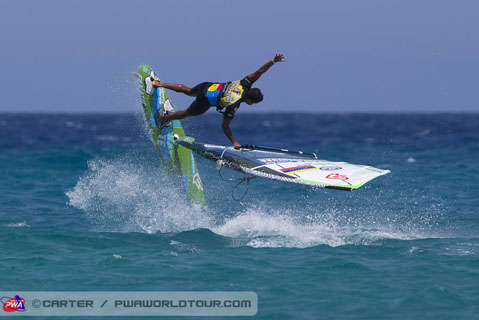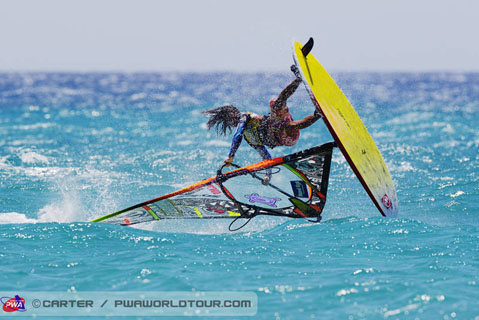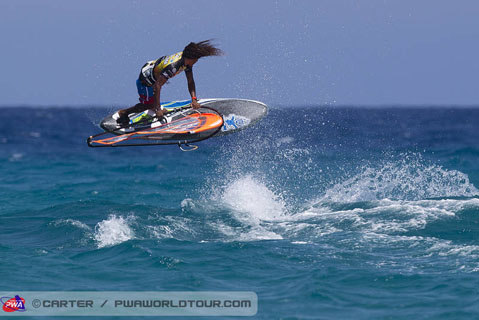 Day 6: More freestyle madness on the penultimate day
The penultimate day of the PWA Fuerteventura World Cup saw the trade winds continue to blow enabling both the men's and women's double eliminations to be completed in 25-30 knots of breeze again. After a spectacular five and a half hours of non-stop freestyle it was Sarah-Quita Offringa (Starboard / Gaastra / Mystic / Chris Benz / Maui Ultra Fins) who came out on top again in the women's, whilst Jose 'Gollito' Estredo (Fanatic / North) also defended his number one spot by the narrowest of margins over a hugely unlucky Kiri Thode (Starboard / Gaastra).
Men's Double Elimination 2 - Winners' Final
For the third time this week Jose 'Gollito' Estredo lined up against Kiri Thode in the winners' final. Gollito had been a convincing winner in the opening two battles, but this time around it was an agonizingly tight call. The reigning world champion opened the final with a huge culo, only to see Thode pop into a super smooth air funnel into funnel. The two sailors then landed paskos - with Gollito's scoring slightly higher with the judges - before the Bonairean took his performance up a notch in a bid to finally defeat Estredo, as he launched himself into some unbelievable combos such as a brilliant burner into funnel, an amazing air bob into spock and probably the pick of the bunch an outstanding kabikuchi 360. Gollito - looking slightly underpowered - dug deep once again though as he responded with a spock into culo before adding both an exquisite no-handed burner and an ankle dry backloop out of nowhere just before the end of the heat. After a painfully long wait it was revealed that Estredo had avoided a super final re-sail by the way of a 3:2 decision from the judges.
Heat of the Day
Tonky Frans (Tabou / Gaastra) produced the performance of the day in heat forty-eight against Dieter Van Der Eyken (Starboard / Severne). The Bonairean was on fire as he received several 9.5s from the judges for his outstanding display. Frans was in such form that he could have landed practically anything he wanted at will. In the jumping department Frans landed a superb pasko, a pushloop, an air chachoo and last but not least his trademark bongka. The thirty year old didn't stop there either as he launched himself into a huge, fully tweaked shuvit spock and an impressive air funnel into funnel. Unfortunately though, he couldn't quite replicate that form against Steven Van Broeckhoven (JP / NeilPryde / Different) as the Belgian advanced from the next round and more importantly the victory over Frans secures him third place for the time being due to the better last result.
Close Call
Heat thirty proved to be a tight affair on both sides as Davy Scheffers (Tabou / Gaastra) took on Adam Gavriel (Patrik / Sailloft Hamburg / Maui Ultra Fins) and Loick Spicher (JP / NeilPryde / MFC)) faced Yarden Meir (Loft Sails / Maui Ultra Fins). In the end it was Scheffers and Meir who advanced by way of a 2:1 decision, but for both of them the next round was as far as they would go in the double as Amado Vrieswijk (Starboard / Severne) and Adrian Beholz (Fanatic / Sailloft Hamburg / Maui Ultra Fins) proved too strong in heat thirty-nine.
Phil Soltysiak (Starboard / Sailworks) also produced an excellent display of sailing to finish sixth in the double elimination as he defeated Adrien Bosson (Fanatic / North / Maui Ultra Fins) and Taty Frans (Starboard / MauiSails / Mystic / Maui Ultra Fins) by landing a combination of bongkas, futures and superb spock-culos to name a few.
Women's Double Elimination 2 - Winners' Final
The winners' final saw Sarah-Quita Offringa and Arrianne Aukes (RRD / Simmer / AL360 / Maui Ultra Fins) resume their ongoing battle this week, but eventually it was Offringa who was able to come out on top again. Aukes made a solid start to the heat as she rotated her way through a super smooth clew-first puneta and a clean forward loop. At the same time Offringa opened with an e-slider and a brilliant burner to move into the lead - a position she wouldn't relinquish. Aukes also landed a big flaka on the outside, but it wasn't enough as Offringa went on to land a regular kono and a stunning shaka to keep her at the top of the podium.
Oda Johanne Brodholt (Maui Ultra Fins) - who is competing in her first ever PWA event - enjoyed a fine day as she won three heats in a row in the double elimination to fight her way into fifth place. The Norwegian firstly defeated Francesca Floris (RRD) followed by Maxime Van Gent (Fanatic / North / Maui Ultra Fins) and Maaike Huvermann (Maui Ultra Fins) as she particularly impressed with her switch konos. Olya Raskina (JP / NeilPryde) proved to strong in heat forty-eight, as the Russian claimed fourth place again as Yoli de Brendt (Fanatic / North) successfully defended her third place finish in the next round.
After the completion of two double eliminations there are several sailors who are currently tied for positions meaning that there will be sail offs in both the men and women's division if the conditions are suitable tomorrow. The skippers' meeting has been called for 10am with the action commencing from 10:30am.