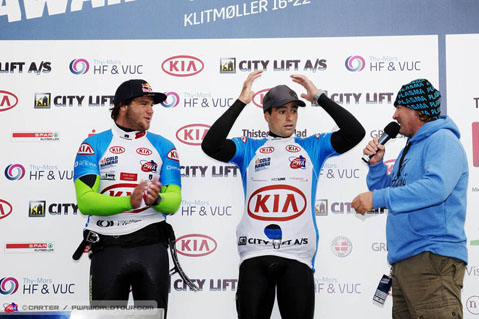 O belangi… non ha vinto Köster! E si che i ragazzi, alla fine della favola, "portano a casa" dalla settimana in Danimarca, soltanto un single elimination disputato, ma la notiziona è che Marcilio Browne si aggiunge alla schiera dei "papali" che potrebbero piazzare la zampata vincente nelle ultime due tappe che mancano alla fine del PWA Tour Wave!
Brawzinho, dopo aver fatto fuori Fernandez in semifinale, ha avuto ragione di Philip Köster in una finale incerta fino all'annuncio del verdetto da parte dei giudici. Il bello è che il brasilero ha vinto in virtù della specialità dell'avversario, come dire… chi di doppio forward ferisce, di doppio forward perisce!
Archiviata la tappa di Klitmøller, i waver si spostano di gran carriera a Sylt dove tra cinque giorni inizia la penultima tappa del tour 2013.
More info Pwaworldtour.com - Foto © Carter/Pwaworldtour
http://worldcup.coldhawaii.eu/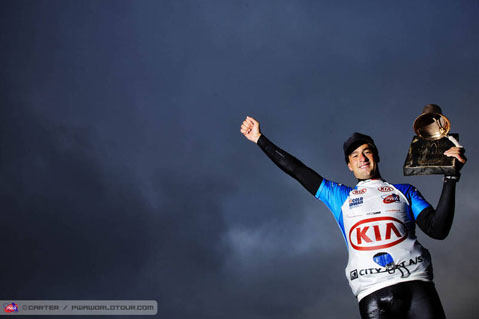 Overall Results of the KIA Cold Hawaii PWA World Cup: Men's Wave
1st Marcilio Browne (Goya Windsurfing / MFC)
2nd Philip Köster (Starboard / NeilPryde / Maui Ultra Fins)
3rd Alex Mussolini (Tabou / Gaastra)
4th Thomas Traversa (Tabou / Gaastra)
5th Robby Swift (JP / NeilPryde / Mystic / Maui Ultra Fins)
5th Leon Jamaer (Fanatic / Hot Sails Maui)
5th Victor Fernandez (Fanatic / North / MFC)
5th Jules Denel (JP / NeilPryde)
9th Klaas Voget (Fanatic / Simmer / MFC)
9th Martin ten Hoeve (Goya Windsurfing / Point-7)
9th John Skye (RRD / MFC)
9th Omar Sanchez (Loft / Patrik)
9th Ben Proffitt (Simmer)
9th Moritz Mauch (Starboard / North)
9th Adam Lewis (Patrik / Point-7)
9th Ricardo Campello (JP / NeilPryde / MFC)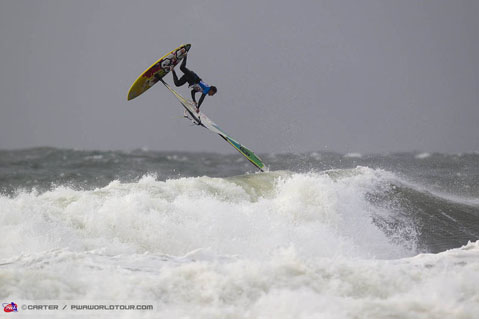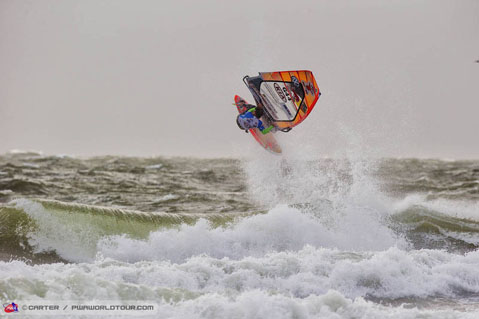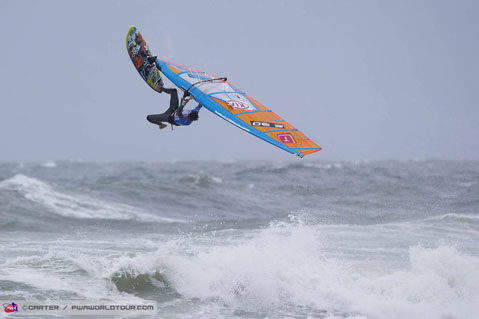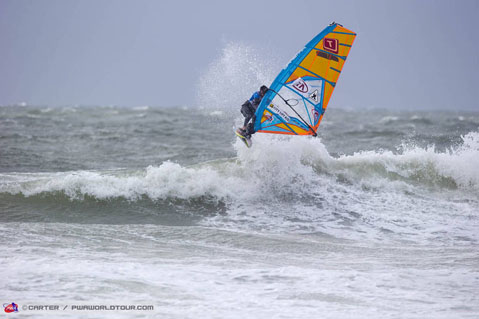 DAY 7: BRILLIANCE FROM BRAWZINHO ON SUPER SUNDAY
The final day of the KIA Cold Hawaii PWA World Cup saw an enthralling day of competition as Cold Hawaii returned to life with a vengeance, as howling winds and big, powerful waves arrived just in the nick of time to allow a result to be gained for the fourth successive year. Today will live long in the memory of Marcilio 'Brawzinho' Browne (Goya Windsurfing / MFC), who managed to tame the ferocious North Sea, in front of a packed out crowd, to secure his first ever event victory on the PWA World Tour.
Single Elimination Winners' Final
Having defeated Victor Fernandez (Fanatic / North / MFC) in the semifinals, Marcilio Browne secured his place in his first ever winners' final, where he was met by the formidable force of Philip Köster (Starboard / NeilPryde / Maui Ultra Fins). The final was contested in challenging conditions as the wind swung more onshore making both jumping and wave riding extremely tough. The reigning world champion attempted a forward loop off the lip to kick the final off, but unfortunately he couldn't quite hold on as he fell out the back of the wave. Köster then racked up his first real score of the final as he rotated through two takas in quick succession on the same wave. In the meantime, Brawzinho, launched into an amazing forward off the lip, which he backed up with a frontside slash. With one wet double forward in the bag, Koster, set about writing the record straight as he launched into an absolutely incredible stalled double forward. However, Browne didn't panic, where others may have, as the Brazilian hunted out the perfect ramp of his own to also land a superb double forward. With the duel tightly poised, Browne seized his moment to strike as he landed a one-footed backloop, before demonstrating his riding skills by linking together several fluid front and backside turns on the final wave of the heat. After an agonizing wait, which must've felt like an eternity, the result was finally revealed as Browne got to experience the taste of victory for the first time.
Marcilio 'Brawzinho' Browne speaks after his maiden victory on the PWA World Tour: "I'm so surprised, I don't really know what to say I can't believe it. Philip [Koster] is such a machine, I have so much respect for his sailing and he's been dominating so hard that for me just having the chance to win here was unbelievable. I kind of had a hard time because the conditions were really hard in the final, but I sort of figured maybe it was the same for him and I might get lucky. I just tried to focus on getting whatever points I could. I'm so happy - this has always been a childhood dream for me."
Close Calls
Jules Denel (JP / NeilPryde) recovered from the verge of a first round exit to battle his way to his best ever result on the PWA World Tour - joint fifth along with Victor Fernandez, Robby Swift (JP / NeilPryde / Mystic / Maui Ultra Fins) and Leon Jamaer (Fanatic / Hot Sails Maui). The Frenchman was involved in two, almost inseparable heats, firstly against Alessio Stillrich (Fanatic / North / AL306) in heat five. By the end of the heat the two sailors finished on exactly the same points, but Denel advanced - after a change in decision, due to Denel having the greater single wave score. Denel's greater wave scores also proved vital against Ricardo Campello (JP / NeilPryde / MFC) after the two teammates finished on equal points in heat eleven. Denel was only stopped by Alex Mussolini (Tabou / Gaastra), who eventually clinched the final place on the prestigious podium having defeated last year's champion Thomas Traversa (Tabou / Gaastra) in the losers' final.
Swift Recovery
Having broken his leg only two and a half months ago Robby Swift defied the medical odds to complete a stunning comeback. Not only did Swift manage to recover in time to compete, but he excelled as he showed no fear by repeatedly throwing himself into double forwards and powerful wave rides to finish in a sublime fifth place. The Englishman defeated Aleix Sanllehy (Goya Windsurfing / MFC) in the first round before dispatching of fellow compatriot Adam Lewis (Patrik / Point-7). Swift also pushed Traversa all the way in heat thirteen, with the Frenchman clinching a narrow victory with his final wave of the heat.
Perfect Ten
Alex Mussolini achieved the highest wave ride of the entire contest as he scored perfect tens across the board from the judges. The Spaniard was in inspired form today, and against Jules Denel he was unstoppable. On his magic wave Mussolini propelled himself into a magnificent frontside wave 360 before spinning through a smooth taka and a vertical frontside snap.
The sunset on another brilliant KIA Cold Hawaii PWA World Cup shortly before 8pm, as Klitmoller showed almost every dimension it has to offer over the duration of the week.