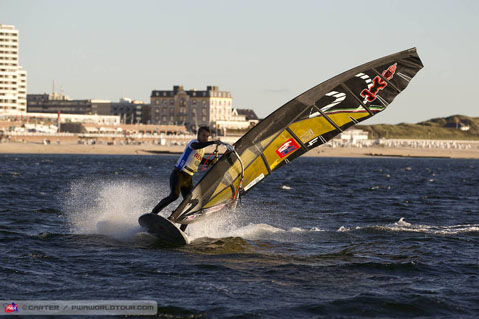 Una giornata piena di sorprese e di conferme quella del day due del GP Joule PWA Sylt World Cup!
Le sorprese sono legate al bel sole che ha allietato la giornata tanto da "regalare" uno scenario "mediteraneo" allo spot, di solito grigio… "abituati" alla sensazione di freddo delle foto della tappa danese della scorsa settimana, davvero un bel regalo per Sylt che infatti ieri ha registrato un pienone di pubblico, accorso a vedere i propri beniamini.
L'altra sorpresa… di questi tempi è l'arrivo puntuale del vento che ha permesso di dare inzio alle danze e di disputare quasi un tabellone completo di slalom… al quale mancano solo le due finale. Per chiudere con le sorprese… non accade spesso du ritrovare un freestyler a giocarsi la vittoria del primo tabellone slalom… Taty Frans è infatti ai nastri di partenza nella finale vincenti!
Per la serie conferme… i primi tre del ranking Slalom 2013 sono anche'essi in finale vincenti: Albeau, Mengatti e Quentel si giocheranno la vittoria del primo Slalom. Solo un passetto sotto, Matteo Iachino che si trova invece nella finale perdenti… ma chi comincia è a metà dell'opera, dateci dentro ragazzi!
More info Pwaworldtour.com - Foto © Carter/Pwaworldtour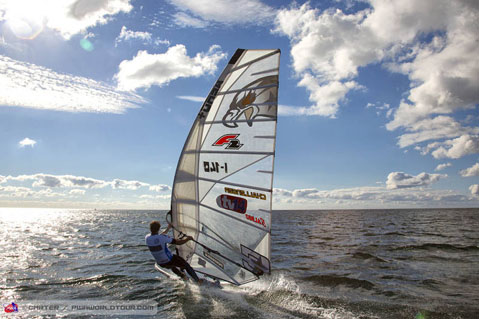 Day 2: Taty Frans on fire as the slalom begins in style in beautiful sunshine
The second day of the GP Joule PWA Sylt World Cup saw glorious sunshine and offshore winds of 15-20 knots arrive in Sylt as the competition began in front of a packed out crowd. The offshore winds created the perfect playground for the slalom sailors as they enjoyed a couple of hours of enthralling, tightly contested racing. By the end of the day the men have been narrowed down to the top sixteen, with just the winners' and losers' finals, respectively, to be sailed.
Men's Slalom Elimination One
The first heat of the day saw a brilliant battle for the final qualifying place as Peter Volwater (Fanatic / Avanti) battled it out against Tomas Malina (Fanatic / Simmer). As the two sailors headed down the home straight Malina held the lead, but Volwater turned on the afterburners to snatch the crucial fourth place, whilst leaving Malina disappointed. Also advancing from the opening heat was Gonzalo Costa Hoevel (Starboard / Loft Sails), Matteo Iachino (F2 / Challenger Sails / AL360) and Oliver-Tom Schliemann (Starboard / Point-7).
The remainder of the opening round wasn't without its drama though as Antoine Questel (Starboard / Loft Sails) - seventh in the overall rankings - surprisingly missed out on a place the quarterfinals as the Frenchman finished in fifth place in heat three, whilst fellow compatriot Cedric Bordes (Tabou / Gaastra) also failed to advance into the next round.
Into the semifinals and Alberto Menegatti (Starboard / Point-7) kept alive his world title hopes as he qualified in second place from heat thirteen. Julien Quentel (RRD / NeilPryde) - who currently sits in second place overall - continued to show his blistering speed as he blitzed his way past Menegatti to claim first place, whilst Gonzalo Costa Hoevel and Jordy Vonk (Patrik / Loft Sails) also managed to book their place in the opening winners' final of the week. However, Ross Williams (Tabou / Gaastra), will be left feeling very disappointed not to be in the winners' final having been in the qualifying positions on two occasions before the heat was subsequently cancelled on both occasions due to light winds.
The second semifinal saw Taty Frans (Starboard / MauiSails / Mystic / Maui Ultra Fins) continue his lighting quick form as he stormed to victory ahead of the defending world champion Antoine Albeau (RRD / NeilPryde), Cyril Moussilmani (Starboard / Severne) and Steve Allen (Starboard / Severne). However, Bjorn Dunkerbeck (Starboard / Severne / Dunkerbeck Eyewear / Chris Benz), had to settle for a place in the losers' final having eventually finished in seventh place. There was also no room for either Ben van der Steen (Starboard / Gaastra / Mystic / Different) or Micah Buzianis (JP / MauiSails) in the winners' final.
Bringing a little freestyle to slalom
As well as being in superb form today, Taty Frans, also demonstrated how much fun he was having whilst racing. The man from Bonaire injected a bit of his Caribbean flair into heat five today as he combined a little freestyle with his blistering slalom - as Frans approached the final buoy, with a comfortable lead, he turned on the style factor by throwing in an audacious duck gybe, much to the delight of the crowds on the beach, before taking the first of his opening three heat victories on the second day.
The finals are yet to be completed due to the deteriorating wind conditions in the early evening. The sailors were eventually released shortly after six o'clock and they will now prepare themselves for tomorrow, which should see the first race completed at a minimum with the wind that is being predicted. The skippers' meeting for the slalom and freestyle sailors will be held at 10am tomorrow morning with a first possible start at 10:30am, whilst the wave fleet shall meet at 1pm. Of course you'll be able to follow all of the fantastic action by tuning into the PWA livestream at www.pwaworldtour.com.