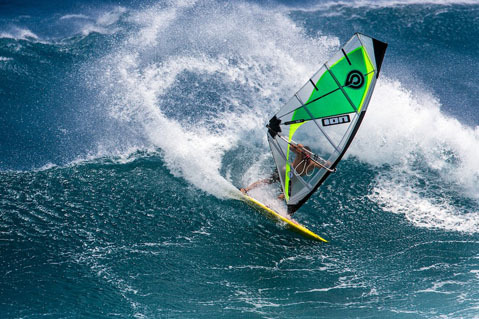 I "ragazzi" (in questo caso Brawzinho) scalpitano… la madre di tutte le disfide tra le onde sta per iniziare! La vecchia guardia  faccia a faccia con la nuova generazione… chi prevarrà?!
Beh grazie ai "potentissimi" (?!) mezzi di WN, avremo degli aggiornamenti giornalieri dai nostri inviati che, nonostante le previsioni siano così così, già ci annunciavano (8 ore fa) che forse oggi rientrava il vento. In questo momento (sono 12 ore indietro) dovrebbero aver terminato le procedure di iscrizione… e tra un po' dovrebbero arrivare le prime foto. Per ora beccatevi l'event preview ufficiale del PWA.
More info Pwaworldtour.com - Foto © Carter/Pwaworldtour
Event Preview: The old guard set to go face-to-face with the new generation - Who will prevail?
The time has finally arrived for the PWA to return to the windsurfing Mecca of Maui - in association with the American Windsurfing Tour (AWT). That's right from the 24th October to the 6th November the elite of the wave sailing world shall be once again be descending upon the wonderful shores of Maui - for the first time in seven years - as the JP Aloha Classic takes place.
Ho'okipa - meaning 'hospitality' - Beach Park, Maui, Hawaii is quintessentially the home of windsurfing. A place any windsurfer has hopes, dreams and aspirations of visiting at some point during their lifetime. What with its stunning year round weather, its lush tropical scenery and of course, its world-renowned trade winds which are so often combined with some of the best waves in the world, on its turquoise blue water, create spectacular and unbeatable windsurfing conditions for the most radical sailors in the world to show exactly what they can do.
Ones to Watch
Marcilio 'Brawzinho' Browne (Goya Windsurfing / MFC) will enter Maui as one of the favorites. Not only did the Brazilian claim his first ever victory on the PWA Wave World Tour at the PWA Cold Hawaii World Cup in September, but he is also lucky enough to be able to call Maui home and is always one of the standout sailors at his home break. Expect to see super aggressive wave rides combined with huge air takas and radical frontside wave 360s. Browne will also be major threat in the air with double forwards and insane pushloop forwards in his arsenal.
There has been much talk before the event about Philip Köster (Starboard / NeilPryde / Maui Ultra Fins), with regards as to whether the wonderkid will be able to match his spectacular port tack performances. The word on the ground is that  Köster is still absolutely ripping and he certainly can never be ruled out of clinching another event victory. Whatever happens results-wise, we are bound to see another brilliant display of sailing and - if we're lucky enough - maybe we could even see a double forward off the lip.
Occupying second in the overall rankings, just behind the reigning world champion Philip  Köster, is the hugely talented Alex Mussolini (Tabou / Gaastra), who completed the podium in Denmark. The Spanish maestro is equally at home on starboard tack as he is on port and with the emphasis likely to be on wave riding at Ho'okipa, Mussolini will no doubt fancy his chances of attacking the top of the podium again with his seamless, fluid style impressing the judges and the crowds time-and-time again. Fellow teammate and friend Thomas Traversa (Tabou / Gaastra) will also be licking his lips ahead of the event. The Frenchman excels in huge waves and he'll be hoping for a monster swell to hit Ho'okipa so that he can show his prowess again starboard tack, having won the last Red Bull Storm Chase in gnarly port and starboard tack waves in Tasmania.
When you think of starboard tack jumpers there are very few who can challenge the no fear, radicalness of Boujmaa Guilloul (Starboard / Severne / Mystic). The Moroccan narrowly escaped death in his pursuit to the push the level even higher with a triple loop attempt gone wrong, but that doesn't seem to have affected his mindset. Guilloul has moves such as his trademark blackshot. Combined with perfect double forwards and he'll also be boosting huge aerials over the critical section as he goes for broke.
Could the next two weeks ahead finally see the amazing talent of Ricardo Campello (JP / NeilPryde / MFC) end his wait for a PWA Wave event victory? Campello has been within touching difference on several occasions and he'll be hungrier than ever to win in Maui. The Brazilian is widely considered one of the most naturally gifted windsurfers ever, what with his radical, no-fear attitude and almost laser precision execution of almost any move he wants to land. Will the JP Aloha Classic truly be Ricardo's time to shine at the very top?
The JP Aloha Classic really is an event where over a handful of riders can realistically all win. Take for example the 2010 PWA Wave World Champion Victor Fernandez (Fanatic / North / MFC). The Spaniard will be looking to tear the waves apart by throwing smooth takas and radical frontside 360s. Maui is also a second home for Robby Swift (JP / NeilPryde / Mystic / Maui Ultra Fins), who will be looking to continue his miraculous comeback, which saw him claim fifth in Denmark. Swift will be looking to boost through double and pushloop forwards, before slashing the wave to pieces with radical air takas and frontside 360s thrown in for good measure too. Fellow Brit John Skye (RRD / MFC) will also be a name to watch carefully over the coming two weeks. Skyeboy is equally adept on both port and starboard tack and he'll be looking to throw perfect goiters, before sending the spray flying with powerful hacks to take down his opponents. Also in the mix will be Leon Jamaer (Fanatic / Hot Sails Maui), Jules Denel (JP / NeilPryde) - both of whom come into the event full of confidence having achieved their highest finishes to date in Denmark - and the unquestionable talent of Klaas Voget (Fanatic / Simmer / MFC).
As the first Aloha Classic in seven years, with it comes a whole host of world-class sailors reemerging onto the competition scene such as the brilliant 2009 PWA Wave World Champion Josh Angulo (Angulo / Gun Sails), who won the last Aloha Classic back in 2006. Angulo will be demonstrating his powerful cutbacks with trademark monster one-handed aerials as he looks to retain his event title. Also three time PWA World Champion Kauli Seadi (JP / Hot Sails Maui) will be making his first appearance of the year after a dream year exploring the wonderful waters of his native Brazil. Seadi's wave riding remains second to none and he will be a serious threat over the next two weeks. Of course Kevin Pritchard (Starboard / MFC) - who won the PWA Wave World Championship in 2006 - will also be fancying his chances of challenging for top honors. Perhaps the most exciting news ahead of the event is the confirmation of the legendary Robby Naish's entry into the main draw, as he makes his first appearance on the PWA World Tour for the first time since 2000. As arguably the biggest name in windsurfing history, the mere mentioning of his name will strike fear into his opponents as he looks to pit his wits against rivals that weren't even born or were still in diapers, whilst he was dominating and driving windsurfing into the magnificent sport that it is today. Will the other sailors be able to hold their nerve against the most iconic man in windsurfing history?
The form book from recent events can also be pretty much thrown out the window when you consider the likes of Levi Siver (Quatro / Goya Windsurfing), Camille Juban (Quatro / MauiSails / MFC), Graham Ezzy (Quatro) and Bernd Roediger (Quatro / Goya Windsurfing) are all expected to qualify for the main draw, all of whom excel on the world class waves of Ho'okipa and are more than capable of going all the way. The JP Aloha Classic looks set to see a plethora of potential early upsets as the top seeds could be drawn against some of the finest starboard tack wave sailors in the world, potentially creating carnage for some of biggest names in windsurfing.
The JP Aloha Classic has all the hallmarks of an amazing event that is sure to be filled with high, lows and a myriad of drama, meaning that you can't afford to miss one minute of the action. Will the old guards powerful and traditional lines on the waves be able to contend with the new school trickery? Find out by tuning into www.pwaworldtour.com from the 24th October, where you'll be able to see all of the amazing pro heats live. If you miss any of the incredible action don't worry, as you'll be able to catch up with all the footage on demand. Also be sure to check www.americanwindsurfingtour.com for even more of the latest news.