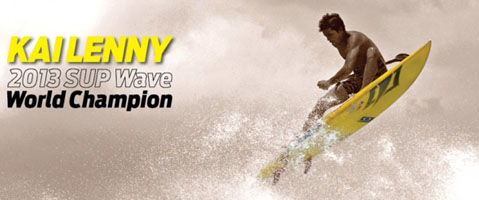 2013 Stand up Surfing Champion, 2013 Stand up Racing Champion, 2013 BOP Champion (non valida per le Stand Up World Series, ma gara di altissimo prestigio!) … che anno per Kai!
Dopo essersi aggiudicato, qualche settimana fa, con una prestazione in rimonta nella tappa di Turtle Bay il suo secondo titolo consecutivo World Stand up Paddle Racing, in questi giorni a La Torche l'asso hawaiano di casa Naish si è portato a casa il terzo titolo mondiale nello Stand up Paddle Surfing… grande Kenny, lo Zio sarà sicuramente fiero di te!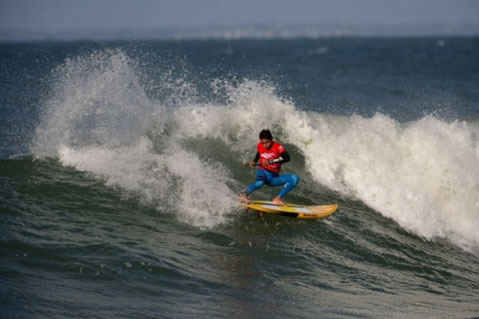 It seems like just yesterday Kai Lenny and his Naish Javelin 12'6" won his 2nd consecutive World Stand up Paddle Racing Title at Turtle Bay, and with his win at the Naish La Torche Pro, he's now earned himself his 3rd World Title in Stand up Paddle Surfing with his other partner in crime, his Naish Hokua 8'0" LE.
Kai has been looking strong all year, and, in particular at the 2013 La Torche Pro securing a 4th out of 5 possible event wins this year. But it wasn't until this final day of competition that he took things to a whole new level in conditions that could only be compared to Sunset Beach on the North Shore of Oahu, both in size and shape…except, of course for the driving rain and cold weather present for this final event of the year.
From the quarters through finals, Kai was driving radical turns in the full size surf, and even managed to find a few barrels in the wild conditions, bringing the die hard crowds, who were braving the rain and wind to watch this climactic final day of competition for the men, to their feet, over and over again.
Kai made it through his quarter against wildcard Lucas Medeiros, and then through his semi-final heat against Justin Holland, at which point he had done enough to win his 3rd surfing World Title here on the Stand Up World Tour, an incredible achievement by the young Hawaiian.
The final became a showcase of Kai Lenny's freakish ability and wave lecture, as he managed to find gold in a challenging line up, linking a barrel, with radical snaps under the lip and power carves on some of the largest sets of the day. With this incredible performance he secured the event win as well as the World Title as he was carried up the beach by teammates Kody Kerbox and Casper Steinfath.
We couldn't be more proud!