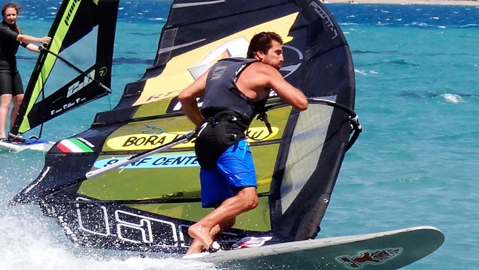 Intervista in Inglese al rider turco di Point-7, dopo l'uscita dello spot televisivo della Dacia Duster...
Tell us how you got into windsurfing?
I started windsurfing when i was 11 years old .I was a very skinny boy who hated to swim! (Well ı stıll don't swim anyway)… my father taught me how to play guitar when I was 7 and I loved it! I was playing guitar all the time but still no swimming during a summer time a German friend of my father brought a windsurf set and gave it to my father as a gift. My father was a very athletic strong guy (sure he is my father!) and he figured out surfing in a very short time but still tough times because of very heavy sail and slippery board. ı just saw him one day gliding over the sea like a seabird! And said: das ist fantastich!!!! Got my total attraction and I just shoved myself in the sea and went to him and ask " dad can I try?' ı think it was one of his happiest moments! Anyway I managed to go and come back at my first try and I was screaming and was so happy! I could feel the wind in my arms and it was the first time in my life that I felt freeeeedom!! (But not like the last scene of the brave heart movie)
Than  was surfing all days! my mother was giving me a signal by turning on and off the lights of our house so that I could figure its night time(hah? was I that stupid?) and I had to quit surfing for that day… after some time my father heard that there was a  windsurf school in our town. We went to it as a group of kids but the owner of the centre was a very snobby guy and he told me I was way too skinny to learn windsurfing and he also couldn't manage to teach any of the TURKISH people so far…and he told me he has no time for me…I was very pissed! After that I ordered windsurf magazines and read articles about techniques and ordered video cassettes of Robby Naish and Bjorn Dunkerbeck…and learned everything by watching them. I was watching the videos and before I went to sleep I was closing my eyes and imagining my self-doing all those gybes and stuff(only the moves not the guys !!) ..and next day I was jumping on my board and trying to do all!! But that time I couldn't really think of becoming a vice world champion or wining a final in PWA final in front of Bjorn or Antoine. After 3 years I became the karate kid or even like Van Damme to take my revenge!, and become 3rd in my first race when I was 15.. and champion next year…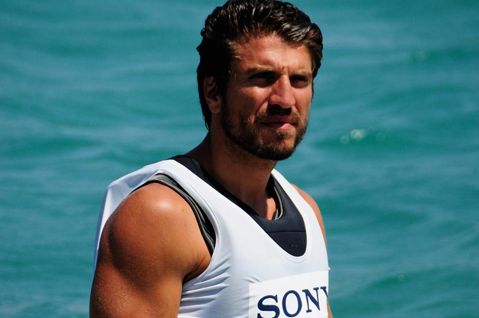 How many times did you win the Turkish championships?
I won the Turkish championship more than 30 times…ıncluding formula and freestyle.
Which was the best victory for your career or result?
The best ones were the first time I won the official Turkish championship. I was 18 years old and there were also foreign racers. The others were when i was IFCA VİCE WORLD CHAMPION in Hyeres France….we got the same points with Dan Ellis and he passed by discard and I also spritzed  Andrea Cucchi and Alberto Menegatti there AHAHAHA :P. also winning 2 finals in PWA in front of Bjorn and Antoine Albeau Pwa Alacati and Korea…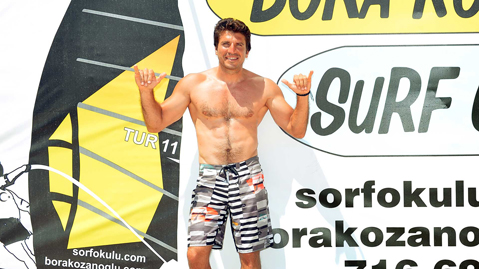 You have your own school in Alacati. How is the sport seen in Turkey?
Yes it's our 15 year and it's a family business. Both my dad and mom help me at centre, we have also boutique and hotels in Alacati. Name of my centre is Bora KOZANOGLU surf centre/club and hotels name is B house Boutique hotels… we built everything from zero to hero (aha! nice slogan found!)… BUT THE DEMAND İS AMAZİNG…TURKİSH PEOPLE REALLY LİKED windsurfing. Every year thousands of people learn in the flat water and sandy beaches of Alacati. So it's very popular and trendy.
So if we come to Alacati for a holiday what is there to do, and what you would suggest us to visit, stay and eat.
Well, surfers, if you plan to come Alacati do not if you aren't single :)) ! Well you will lose the chance to hang out with me like a kingg! Eheheheh kidding…ALACATİ İS A PARADİSE for all loved ones and no loved ones :))! It's very easy to come here from Izmir airport. With the high way only 40 minutes. The weather is warm at least 7 months and windy all year. The hotels and restaurants are amazing. Stone houses full of history and attraction (for the ones who did not come alone, the stones can be great tool be used to smash their heads chchchchch)… Many beach clubs and clean sandy beaches…Turkish food is amazing…I think the best in the world…the culture that is left from OTTOMAN EMPIRE is unique impressive…… so visit everywhere eat everything surf all the time what else you want?
Tell us about dancing with the stars? Did you have to learn to dance? Any love story with the dancer?
Yeahh dancing with stars cha cha salsaaaa !! IT WAS a great experience especially for someone like me who has no talent for dancing! Those were my brave times anyway! I really did expect because it was a social responsibility project the income of the commercials were going to homeless kids. It was a big promotion of windsurfing! I had a series relationship that time. I'm a loyal lover so no interracial salsa or cha-cha with my dance instructor..
You have been selected for different TV shows. Which kind?
I participated and still participating different TV shows and projects. I was honoured to be chosen to represent my country in Eurosport Turkey presentation movie…8 sport celebrities from turkey were chosen and I was one of them as windsurf celebrity. All of us presented a city of Turkey and it's still shown on Eurosport…the name of the programme is pass sport Turkey and presented ANTALYA with a sweet interview.
MY aunt SAHİKA TEKAND is a guru in acting and theatre. She is worldwide known with her award winning plays and I got graduated from her acting school. I also take part in Turkish TV series…so I guess it's in my blood. Acting and reacting!
How difficult was it for you to enter the world of TV stars? Was it because of your windsurfing results, or you have pushed to be part of the TV world.
I DO THE BEST LAYDOWN GYBE AND FORWARD LOOP that's why!! I think it's a bit from everywhere… The talent from God, my success from windsurfing…the media coverage I had…The championships and organizations that happened in Turkey my sponsored promoting me my celebrity girlfriends etc. etc…BUT BUTI would really love to thank TO MY FAMİLY FOR ALL THE SUPPORT and those guys who did many organizations in Turkish windsurf history KUTLU TORUNLAR and KEREM MUTLU…ıf they didn't had the passion and work time, and hadn't done those events races in the past we wouldn't be able show ourselves in the arena and media. Cheers guys!!!
How did you get in touch with Dacia for the advert? Was a no windy day chosen on purpose?
Every year ı VİSİT Mekkah Kabe for spiritual relaxation and to pray GOD Fo4rall the sake of my family friends all human nation. Last day of my visit I prayed GOD to have me a big partnership with a brand…guess what? The day I was back from Mekkah to Turkey they were waiting for me at my surf centre! Believe it or not! And the commercial was a huge step for windsurfing because millions watched it day by day but it's still so hard to explain this to windsurf distributors as they think they are the GODS…
The no wind day was just a coincidence these big companies and productions have schedule so we had to set ourselves for them… but Ihad to try really hard because there was a jet ski pulling me and the wind was blowing from the other side so I had to push the sail instead of pulling…but still it was great fun and experience. Hope next one will be 30 knots of wind and side shore conditions…
What is your future as a TV Star, as a Pro windsurfer? Next goals?
My future plans are both doing windsurf racing and acting at the same. After i become a pro actor I'll stopp for 2 years and do all slalom events…This year I'll do all the IFCA events and couple PWA events also the Turkish windsurf tour…
First event this year?
My first event this year???  Going to Tenerife this month and riding black eagles and enjoying the gift that God gave us! No drugs no alcohol but the only drug which is windsurfing unresaonablyyyyy and passionatlyyyyy!! Surf fast rock hard!!!