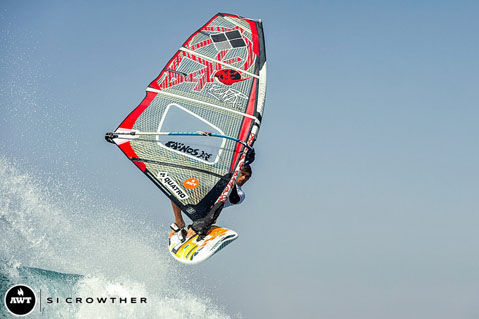 What a phenomenal event, the AWT Goya Cabo Verde Pro! With strong north easterly winds blowing again, and a dwindling swell forecast, the call was made by head judge Chris Freeman to bring the pro riders back to 'Little Ho'okipa'/'Secret Spot'. By midday, the lines of swell were starting to roll in. If a little smaller than yesterday, they still had enough power and size to send the pros back out and begin the countdown to the epic final.
And finally, it was on to the head to head of the Pro final, featuring previous world title holder Kauli Seadi and previous AWT overall champion Camille Juban. The heats were at this stage a longer duration, giving the riders a chance to wait outside for the larger set waves, and also to rake up a wave total of 10-15 waves per heat. This final was a showdown of 2 very different styles but very similar abilities. These guys are class acts and both had an arsenal of maneuvers to draw from. Kauli as usual rode his boards with his fluid, in-the-pocket tight style, and added some phenomenally technical goitres and aerials into the mix. Camille responded with his own unique power-house fluid style of wave riding with one of the highest, most critical goitres we saw all day. It was a genuine battle royale, and throughout the event it was anyone's guess as to who took the win. But ultimately it came down to Camille Juban linking some amazing turns and maneuvers to take the win, with Kauli Seadi in second place!
https://vimeo.com/121078476
Foto © AWT/Crowther
Report fotografico AWT
Champions Crowned: AWT Goya Cabo Verde Pro from American Windsurfing Tour on Vimeo.