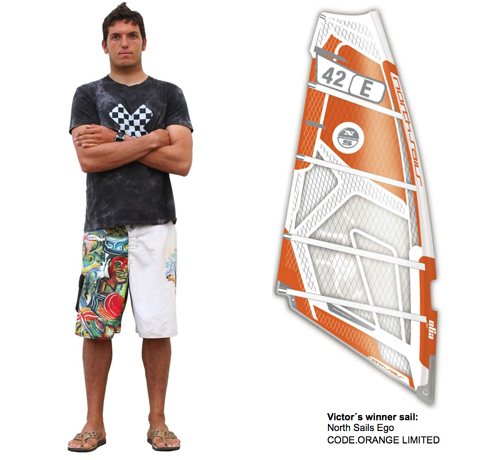 Scommessa vinta… a quanto ve lo davo?! Victor Fernández Lopez E-42, vice campione del mondo Wave 08 e vincitore, tra le altre cose, di ben 4 degli ultimi 7 PWA Wave Events ha firmato il contratto che lo lega a North Sails per la prossima stagione.
North Sails: "We are extremely happy to announce that the double PWA WAVE VICE WORLD CHAMPION Victor Fernandez and hottest aspirant for the 2009 PWA wave title will enter the international North Sails team from January 1st, 2009.
The very likeable pro wave sailor from Almeria, Spain already proved the last few seasons on the PWA wave tour that he is an exceptionaly good sailor with his own radical style. Especially in hardcore jumping conditions Victor is accepted as the most
talented and radical rider on the tour. Victor will compete for North Sails in all PWA wave events in the future. Furthermore he will strongly be involved into the development of our wave sails. He has been competing in the PWA tour since 2003 and is fully motivated to take the crown in 2009. Important to mention that he won 4 of the last 7 PWA wave world cup events".
Victor: "North gives me a great opportunity to develop the right equipment to win with. Being in the North Team motivates me a lot on my way to the wave title!!!"
Raoul Joa, North Sails Line & Product Manager: "Victor is maybe the most professional pro windsurfer I ever met. Always friendly and 100% dedicated. He is not only a brilliant wave sailor but also equipped with a lot of knowledge about windsurf sails, which will support our wave sail R&D work a lot".