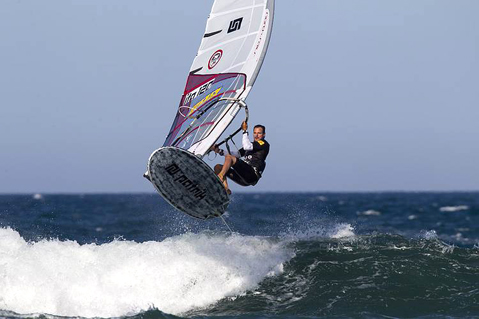 In Costa Brava arriva vento sui venti nodi nel tardo pomeriggio e mentre Karin Jaggi affianca al comando della classifica provvisoria la francese Valerie Arrighetti, tra gli ometti Bjorn con una buona dose di fortuna continua a difendere il suo primo posto dagli attacchi del cannibale Albeau, dotato anche lui di un discreto… bagaglio di buona sorte, per lo meno a leggere il puntuale report di Paul Griffiths!
Following an afternoon of being held on the beach, the wind gods blessed the Catalunyan coast with 15-20 knots of wind allowing the men to kick off proceedings with heat 7 of race 2 in the early evening. The wind played havoc for many heats, but did allow the men to get as far as the finals of race 2, and the women to complete another full elimination. Which unfortunately means we'll have to wait for another day before the men's race 2 reaches its full conclusion. Equipment choices were key as big swells and gusty winds caused chaos on the racecourse. Sailors that could get away with smaller boards had a huge advantage when the waves jacked up, but where left for dead when the wind was down.
Luck Of The Legends
Minutes after Bjorn Dunkerbeck (Starboard, Severne, Mystic) hit the water his mast was in pieces. With very little time left before his heat, many of the spectators thought he'd blown it. However, luck seemed to be very much on his side. Just as the heat before his was about to go into sequence, one of the marks broke free from its anchor and surfed its way into the shore on the pumping swell. Luckily, this bought Dunkerbeck more than enough time to get to the beach and sort out some new gear.
Antoine Albeau (JP, NeilPryde) received a similar stroke of luck during his qualifying heat for the semi finals. Throughout the race he was seen playing catch up from a terrible start. By the final leg he'd only caught up to sixth position. However, the minute he sheeted in on the new side after the gybe the wind dropped below 5 knots. The race was cancelled, and Albeau was given the chance to race again!
Both Albeau and Dunkerbeck made it through to the winner's final in the end, but the lack of wind towards the end of the evening stopped the competition from proceeding any further.
Men's Results After One Race
1st Bjorn Dunkerbeck (Starboard, Severne, Mystic) 5.2pts
2nd Antoine Albeau (JP, NeilPryde) 6.5pts
3rd Cyril Moussilmani (Starboard, North) 7.5pts
4th Micah Buzianis (JP, NeilPryde)13.5pts
5th Ross Williams (Tabou, Gaastra) 16.5pts
Women's Results After Two Races
1st Valerie Arrighetti (Tabou, Loft) 2.7pts
1st  Karin Jaggi (Patrik, Severne) 2.7pts
3rd Sarah-Quita Offringa (Starboard, Gaastra) 7pts
Photo Pwa/Carter - words PWA/Paul Griffiths
For more information on all the entrants, and to keep up to date with every piece of the action, click on http://www.pwaworldtour.com