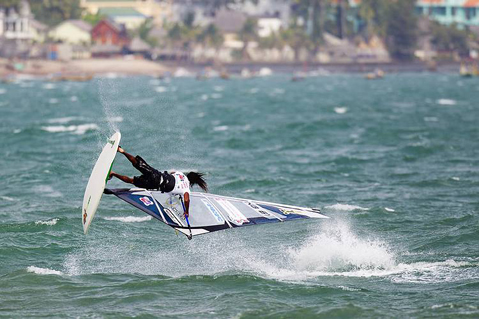 Terzo giorno al Grand Slam di Mui Ne in Vietnam e seconda single elimination completata con vento bello forte nel finale per quanto riguarda il freestyle: nulla cambia nella top 5…  Kiri Thode (Starboard/Gaastra) è sempre al comando seguito da Jose Estredo (Fanatic/North), dai fratelli Frans, Taty terzo (Starboard/ MauiSails/ Mystic) e Tonky quarto (Tabou / Gaastra), chiude un "europeo", il belga Steven Van Broeckhoven (F2/Gaastra).
Photo © PWA/Carter - text by Andrew Buchanan
Dedicated event website - http://www.pwavietnam.com
For more information - http://www.pwaworldtour.com
Day 3:  Vietnam's second full single elimination sees no change at the top, as Bonaire's Kiri Thode successfully defends his event lead from Venezuela's Jose Estredo.
Day three in Mui Ne saw the freestylers unleashed onto the South China Sea once again, to compete in the second full single elimination of the event. With a thermal wind you can quite literally set your watch by, it was business as usual when the fleet took to the water shortly after one o'clock. As the opening heats ran their course, it became obvious that all the sailors were beginning to get fully dialed into the tricky conditions that prevail in the Mui Ne bay. Cue three hours of the most progressive aerial freestyle professional competition has ever seen. The first upset of the day was the unfortunate news that Belgium's Steven Van Broeckhoven (F2 / Gaastra) would not be competing in the day's elimination, after he sustained a knee injury. With the event's fifth ranked sailor out of the running temporarily, the door was left wide open for the void to be filled by the chasing pack.
When the dust had settled after the super charged second round of heats, it was the familiar faces of Dieter Van Der Eyken (Starboard / Severne) taking on Taty Frans (Starboard / MauiSails / Mystic) and Philip Soltysiak (Starboard / Dakine) challenging Jose Estredo (Fanatic / North) in the first set of quarter finals. Underdogs Van Der Eyken and Soltysiak were always going to have their work cut out to topple their decorated rivals, but this was not to be their day, despite a super close 2-1 judging decision for Taty Frans over Van Der Eyken, and a spirited performance from Soltysiak.
In the second set of quarter finals, there was an easy ride for Tonky Frans (Tabou / Gaastra), who met little resistance from Yarden Meir (Fanatic / Simmer), an Davy Scheffers (Tabou / Gaastra) came up against a brick wall when we went head to head with the man of the moment, Kiri Thode (Starboard / Gaastra).
That meant that the semi final comprised of exactly the same competitors as the first single elimination, but this time round Taty Frans challenged Estredo, and Tonky Frans sparred with Thode.
First up was Taty Frans versus Estredo, in what was perhaps the most memorable heat of the day. Not only did Estredo pull far and away the biggest air chachoo of the event thus far, but Frans defied both gravity and convention to pull the first double forward of the event, and arguably ever in Vietnam. It was a shame to have to see one of the pair eliminated, but on a super close judging decision, Estredo advanced.
When Tonky Frans met Thode, the fire works continued to explode. Highlights include a monster shaka from Thode and a perfect tweaked pushloop from Frans. Again, the call was close, but several crashed moves from Frans allowed Thode and his near impeccable score sheet through to face Estredo, in their third show down of the event. That left yet another Frans on Frans battle for third place.
First to sail was the losers final, which saw a changing of the guard as Tonky Frans raised his game in the howling afternoon winds, and finally defeated his brother with a styled out display of new school freestyle moves. The uncharacteristically inconsistent Taty later admitted that he loathes competing against his brother.
That left the third manifestation of the Thode versus Estredo final to be run in winds that had both sailors fully powered on sub 4.5m sails. With both sailors vying for super technical moves to pad out their score sheets, it was going to be the man who could push the boundaries the furthest that would be rewarded with the victory. On the final horn, it was anyone's guess who'd won over the judges, but ultimately Thode continued his unbeaten winning steak, to firmly cement himself on the top of the event's podium.
Event Standings After Day 3
1st     Kiri Thode                      (Starboard / Gaastra)
2nd    Jose Estredo                   (Fanatic / North)
3rd    Taty Frans                      (Starboard / MauiSails / Mystic)
4th    Tonky Frans                    (Tabou / Gaastra)
5th    Steven Van Broeckhoven   (F2 / Gaastra)
Tomorrow's skippers' meeting is scheduled for 11.00am local time (GMT +7), with the second double elimination commencing shortly afterwards.