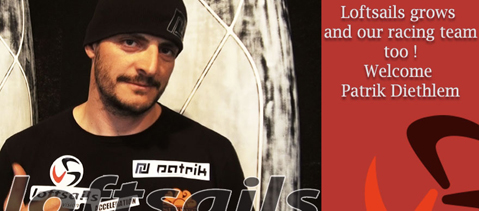 Ullallalà… per la prima volta in dieci anni Patrik Diethelm (ITA 120) cambia veleria ed entra nell'International Team di Loft Sails portando, come valore aggiunto, la sua esperienza di affermato rider di World Cup e di shaper di tavole vincenti…
Patrik Diethlem goes Loftsails from The Loft TV on Vimeo.
Loft Sails is happy to announce Patrik Diethelm (ITA 120) as a new International Team member for the next racing season, joining forces with the rest of our International Team. It is the first time in 10 years that Patrik changes his sails sponsor, surely his experience and innovative vision will be an added value for Loft Sails.
Loft Sails jumped to the 2011 PWA podium thanks to Ben Van Der Steen's great season; but also the rest of the team, Ludo Jossin, Antoine Questel and Lena Erdil, helped us finishing 3rd in the PWA Slalom sails constructor ranking.
In 2011 Loft Sails is experiencing its best season ever, not only in PWA, where Ben Van Der Steen secured for the first time ever a podium position, and the rest of the team has had their best ever performances; but also
took the European IFCA youth title, Raceboard world title in the 8,5m2 category as well as many GPS speed events where most of our riders have improved their personal best performances.
Loft Sails was founded in 1998 by Monty Spindler after designing for Neil Pryde, North Sails and finally A.R.T where his designs achieved many speed records.
With its Philosophy of maximizing the wind range while minimizing the number of sail lines presented to the market, Loft Sails designs began winning international magazine tests since the very beginning, excelling in construction, durability and performance. Then, titles started coming with national championships (France, Spain) and International events, such as ISA Speed constructor ranking.

http:/www.loftsails.com
http://vimeo.com/31188349
www.facebook.com/theloftsails
www.twitter.com/theloftsails