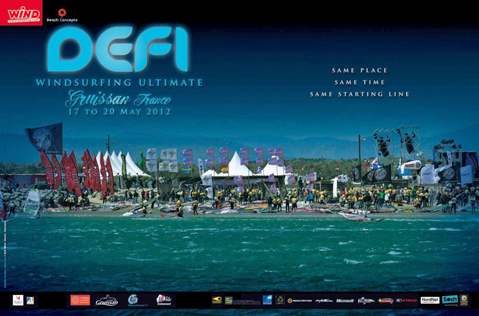 Previsioni di vento al momento poco confortanti per la dodicesima edizione della Defi Wind, ma ad un giorno dall'inizio ufficiale dell'evento… la speranza è sempre l'ultima a morire! Tanto più che in ogni caso, vento o non vento, l'azione non mancherà di sicuro…
An amazing cocktail of beach arts and activities
Who has never dreamed about the West Coast? A Beach Boys concert on the beach, a late surf session before sunset? That was 90's surf spirit. Then we entered a new millennium, and rock'n'roll attitude beat Woodstock influence. The Défi Wind is born, and it is not a joke. We already were in Gruissan to defy the Tramontana. But suddenly, came the year where there was no wind. No Tramontana. Not a single blow. But windsurfer people are extreme lovers. Soon, on the beach, the action came despite the lack of wind. Some of the riders were talking about sail adjustments, rigging and de-rigging sails, comparing fins and board shapes, while the others preferred to stand on the water at all costs. A paddle contest was set up, young guns were playing new water games. This is how we realized that the Défi was above all, a story of pleasure.
Sandbox !
From now, if no wind : no stress. The luckiest may be able to run a Stand Up Paddle race to discover news watersports sensations. Philippe Bru, as our race director, should imagine a sweet course for the défieurs. and offer you a nice ride on Gruissan's channels, for your best delight.
Big opportunity for the youngest: be coached by a windsurfing star such as Antoine Albeau, during a kid's race. Still with their windsurf board, or stand up board the kids will run an easy relay race. Each pro will take care of a ten children's team. The Kids' Cup promises to be fun and playful but keeps however a serious shadow when windsurfing champions share their spirit of competition, and push hard to lead their team to the victory!
No time out for those who stayed on the beach, with the comeback of the famous game « Bastong ». The concept is very basic: when the « gong » bells, each participant throw his flip-flops, that is 2 throws per person. Different ways are set up: a long distance throw, and precision one, with new targets to be discovered this year. Again this year, our partners will shower the winners with gifts.
Cabins on the beach !
Since the beginning of the Défi Wind, many sponsors joined the project and we saw lots of wooden cabins getting built on the beach. Inside, exposition of the newest technological products of the windsurfing industry.  Watersports brands such as RRD, Exocet, Loftsails or NeilPryde, all leaders in their field of activity,  allow windsurfers to test the equipment. Who said the Défi was just about sailing? The organization team will be using Kymco quads to get through the Défi's Village and beach. And we know it, after the effort, relaxation comes, that's why the travel agency Ultra Marina proposes its « watersports destinations » to windsurfers looking for a great spot to train harder for the next competition. No worries for those exhausted after the Défi, the agency also organizes "farniente" journeys in dreamy countries, for a recovery time after the numerous kilometers driven to join Gruissan.
A nice wetsuit isn't enough anymore by now, Soöruz dresses up some windsurfer models with their last collection before they get on stage to show off on the catwalk. For those inspired by Soöruz' style, the brand sales the entire summer 2012 collection inside their booth. After last year's success, a new theme has been created: parading in couple as the two "O" of Soöruz. Let your imagination gets you with the Soöruz Photo Contest: be wild as the french word "sauvage" which you can spell « Soövage » and offer the camera your scratches! Meanwhile, on the other side of the Village, 3 graffiti artists will express their vision of street art by coloring big white canvas with their painting bombs. This is a real graph puzzle for Wobe Johnson, Jay and Némo who will be sharing their artwork all together. It's time to mix sport, art and music to create a real beach universe.
We'll never stop telling you, on the Défi Wind there'll be some for everyone!