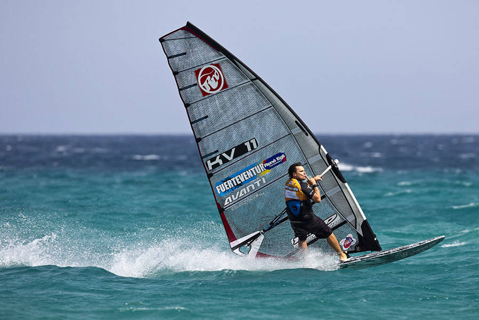 Giornatona piena di action quella di ieri, con sei ore tirate di gara, che vede rinascere uno dei mancati protagonisti di questa stagione… Finian Maynard che con due vittorie ed un terzo posto nei tre slalom disputati ieri (cone vele da 6,2 a 7,8) si proietta al comando della tappa di Fuerteventura. Albeau, ricollegandoci al discorso fatto ieri, tiene il passo con un 1°, un 7° ed 9° posto, preceduto però in classifica generale dal regolare Ben Van Der Steen (6°, 3°, 4°). Bjorn rimane in agguato a 4° posto provvisorio sperando che oggi, ultima giornata dedicata agli slalomisti,  il vento diventi più forte. Le soddisfazioni  per i nostri colori portano il nome di Cucchi che centra un 5° posto nel primo slalom disputato e di Alberto Menegatti che fa la stessa cosa nel secondo e tiene botta negli altri due. Prestazioni che lo proiettano al 14° posto provvisorio, Cucchi 20°, Iachino 24°, Rosati 30° e Ferin 37°.
Foto © PWA/Carter - More info http://www.pwaworldtour.com
Results After Elimination Four - Men's Slalom
1st Finian Maynard (RRD / Avanti)
2nd Ben Van Der Steen (Starboard / Loft / Mystic / Different)
3rd Antoine Albeau (RRD / NeilPryde)
4th Bjorn Dunkerbeck (Starboard / Severne / Mystic / Dunkerbeck Eyewear / Chris Benz)
5th Cyril Moussilmani (Starboard / Severne / Mystic)
DAY 4: MAYNARD DOMINATES AFTER A SCINTILLATING PERFORMANCE
The fourth day of the PWA Fuerteventura Grand Slam finally delivered the kind of conditions that everyone has been waiting for, as the slalom sailors reached for their smallest boards and sails from 6.2m to 7.8m. The wind blew all day, which enabled three full eliminations to be completed. As the day came to a close it was Finian Maynard (RRD / Avanti) that dominated as he finished the day with two bullets and a third place, after a simply magnificent performance. Maynard was clearly delighted by his days work and no one can blame him after what has been a largely frustrating season thus far, due to injuries and kit breakages, all of which will make today's victory all the sweeter.
Men's Elimination Two - Winners' Final
Finian Maynard made the perfect start to the winners' final as he crossed the start line in pole position, but Antoine Albeau (RRD / NeilPryde) was soon breathing down his neck and by the first mark Albeau had maneuvered himself into the lead, whilst Ben Van Der Steen (Starboard / Loft / Mystic / Different) fell at the first mark to ruin his chances of claiming back-to-back victories. The big Frenchman only extended his lead over the remainder of the course as he flew around the course at mach ten. His fellow countryman Pierre Mortefon (Fanatic / North) was his closest challenger in second place followed by Maynard, who claimed his best finish of the season so far, and Cyril Moussilmani (Starboard / Severne / Mystic). Bjorn Dunkerbeck (Starboard / Severne / Mystic / Dunkerbeck Eyewear / Chris Benz) endured a torrid time as his finished eighth, after an altercation at the second mark.
Elsewhere in race two, yesterday's third place finisher, Peter Volwater (Fanatic / Avanti), failed to escape the first round after a poor start cost him dearly. The Dutchman did his very best to fight back but in the end he couldn't quite catch Matteo Iachino (F2 / Challenger / Mystic / AL360), as he finished in fifth. The final heat of the first round saw an epic battle for fourth between Andrea Cucchi (Patrik / Point-7) and Kurosh Kiani (Fanatic / Simmer), both sailors powered down the final leg desperate to clinch the final qualifying place and in the end the Italian, Cucchi, managed to find an extra knot or two to beat Kiani to the line. For the first time in a long time Jimmy Diaz (Starboard / North) would be missing from the semi-finals as would Ross Williams (Tabou / Gaastra) and Antoine Questel (Starboard / Loft).
Men's Elimination Three - Winners' Final
Fresh from his best finish of the season Finian Maynard was in buoyant mood and he started his second winners' final with aplomb as he burst into the lead. This time around Maynard managed to hold his lead into the first mark ahead of Dunkerbeck, Van Der Steen and Angulo and he went onto win his first race of the season after leading from start to finish with a quite brilliant performance. Maynard looked blisteringly quick and super smooth in the gybes as he left his opponents in his wake. Behind him though there was still plenty of action as Severne teammates, Dunkerbeck and Cyril Moussilmani battled for second place. On this occasion Moussilmani managed to get the better of the terminator as he had a better exit to his final gybe, to claim second. Meanwhile, Van Der Steen, steam rolled down the final leg to overtake Dunkerbeck as the Dutchman finished in third place after his victory yesterday.
The opening round of the third elimination saw no upsets but Antoine Albeau can be very grateful to Antoine Questel because Albeau had snapped his fin just minutes before his heat. Thankfully for Albeau, Questel was on the ball as he sailed a new board out to him. Albeau may not have been perfectly on time for the start but he was soon in the lead as he survived a potential red herring. The most dramatic incident of the second round involved Taty Frans (Starboard / MauiSails / Mystic / Maui Ultra Fins), who was leading heat ten after flying down the final reach to pass Frederic Morin (Starboard / NeilPryde). However just fifty meters from the line disaster struck for Frans as he suffered a huge wipeout, after continuing to push himself to the limit in the choppy waters. Meanwhile, Arnon Dagan (Tabou / Gaastra), who was also in heat ten, suffered a snapped mast before the start of the race, unfortunately for the Israeli he wasn't as lucky as Albeau and he missed his heat completely
Elimination Four - Winners' Final
Having rediscovered winning ways, Finian Maynard set about achieving back-to-back victories and that's exactly what he managed to do as his brilliant day became even better. Maynard had been giving a starting master-class and his perfect timing continued in the last winners' final of the day as he crossed the line in first place yet again. Maynard repeated his superb form again in heat sixteen as he was able to hold his lead from start to finish just like in elimination three. Maynard's fantastic starts combined with his blistering straight-line speed and super fluid gybes meant that his opponents had no chance. Maynard today was in a league of his own and he was visibly delighted as he exited the water after a magnificent display. Julien Quentel (RRD / NeilPryde) tried to challenge Maynard on the final straight but Maynard stepped back on the gas to leave Quentel battling for second place with Josh Angulo. As the two sailors crossed the finish line they were almost inseparable, but the news was soon released the Angulo had just pipped Quentel to second place. The top four was completed by Ben Van Der Steen.
Taty Frans finally enjoyed some success in race four as he progressed into the semi-finals for the first time in the competition, however his run would stop there after finishing in seventh place. Bjorn Dunkerbeck made a catastrophic error as he completely missed his heat due to thinking he was sailing in heat seven and not heat six. The terminator will now be hoping to resurrect his mistake when the competition commences again tomorrow. The quarterfinals proved to be a turbulent affair for many of the big names as Steve Allen (Starboard / Severne), Ross Williams (Tabou / Gaastra) and Andrea Cucchi were all knocked out of heat nine. Williams was qualifying for the next round until Van Der Steen flew down the final leg to push the Brit out of the top four. There were further upsets as Micah Buzianis (JP / MauiSails) just missed out on fourth place in heat twelve to Jimmy Diaz. Pierre Mortefon who had finished second in race two would also be missing from the semi-finals.
After six adrenaline fueled hours of racing today, tomorrow promises to be another cracker as the final day of the slalom takes place. The skippers' meeting has been called for 10am tomorrow morning with the action commencing from 10:30. You'll be able to watch the action unfold as it happens by tuning into the live stream at www.pwaworldtour.com.