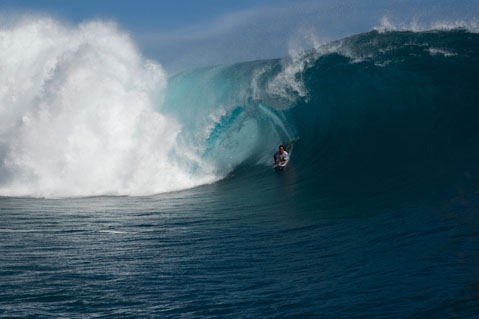 E questa ve la lascio in lingua inglese anche se è opera dell'italianissimo Andrea Cucchi perchè non ce la faccio a tempo a tradurla…  tra due ore, ciao, ciao, me ne vado in vacanza!
Si tratta di un "veloce" diario di viaggio del recente trip a Tahiti di Andrea durante the Oceania of Windsurf… le foto veramente belle sono, come al solito, del bravo Tommy della Frana.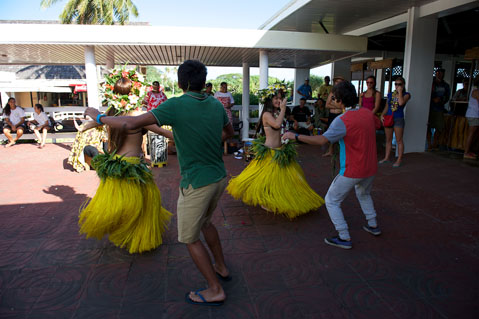 'Welcome to Paradise' is what the locals say. The truth is that the same people who say this, are those creating paradise for their guests in Tahiti. There are times that you think you have seen a lot in the world, but the smiles, the friendly people, and the warm welcome of Tahiti stays unique.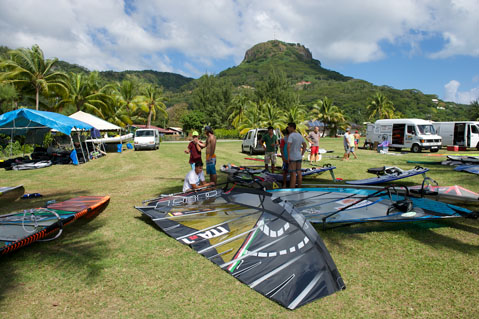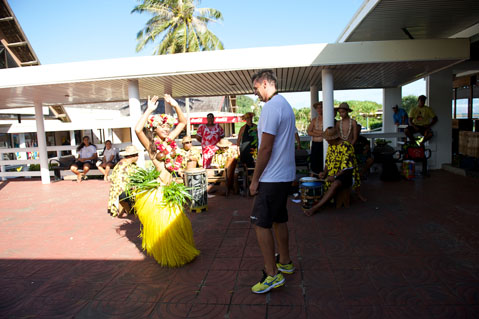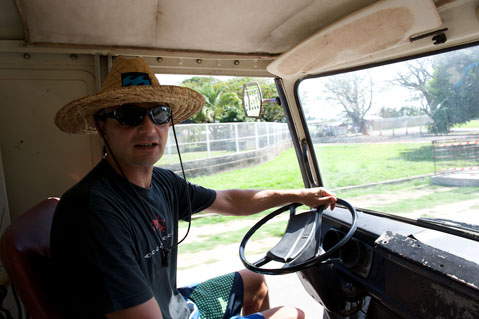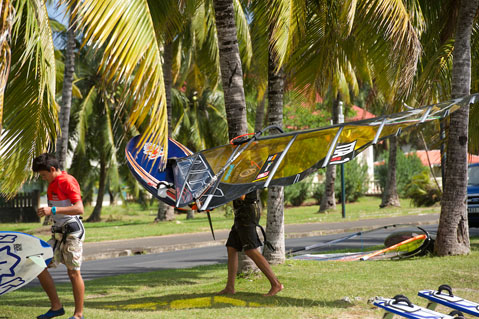 I knew Tahiti mainly for the surf myth spot of Teahupoo, but did not know that it was a great place for windsurfing as well. After being invited by the TWA (Tahiti Windsurf Association), I was excited to discover more. Waves, reef and wind was what google and YouTube offered as windsurfing images. No Tahiti trip for honey moon, but again another great windsurfing adventure.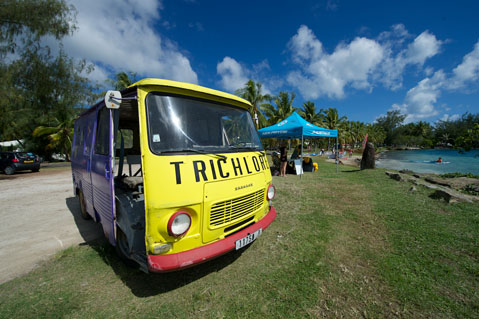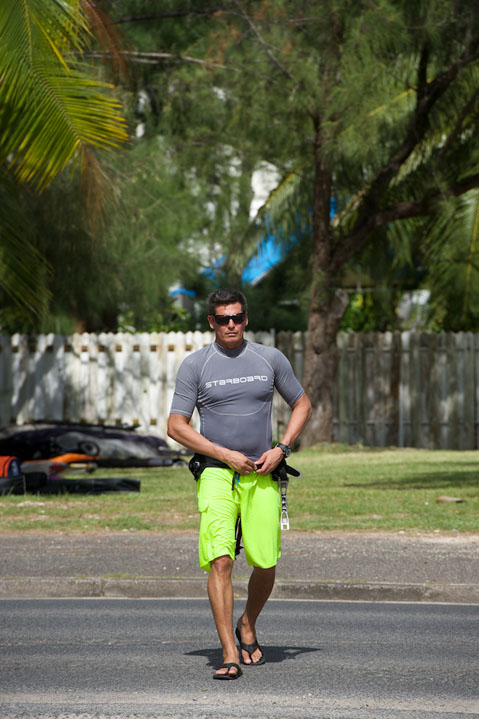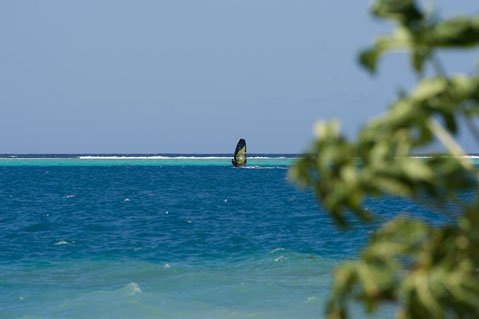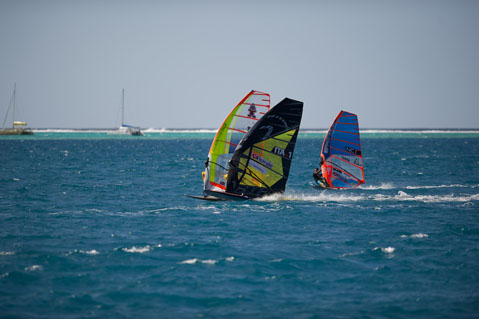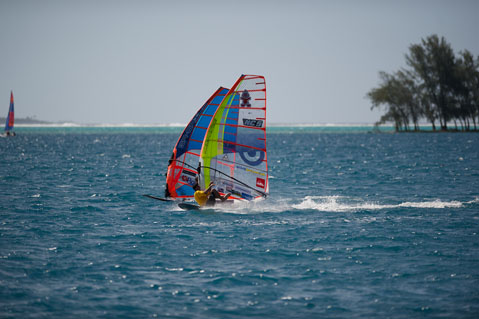 Thanks to Air Tahiti Nui, after a nice clean check in with 5 board bags, we were on our way to Tahiti, or even better Raiatea Island! I had the luck to once again be with my friend, and our official Point-7 photographer Tommy della Frana, and share the trip also with Philip Bru, organizer of the DefiWind and his son Paul. After a good 20h flight, we immediately understood that we had a touchdown in a part of the world where friendship, happiness are part of the wealth of the country. Waiting for us were all the core group of the local windsurfers. Christopher Smaniotto, organizer of the Oceania de Windsurf, Alex, owner of the Windsurf shop in Tahiti. 69 years old of pure passion for windsurfing, Moana, Nico and many others!  Never had so many flowers around my neck as symbol of hospitality.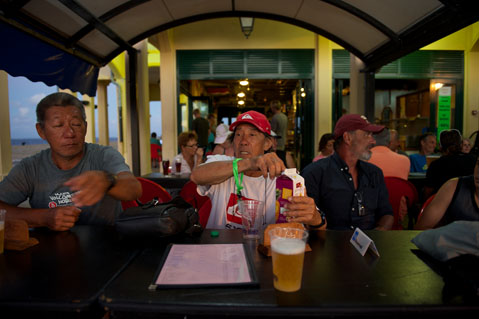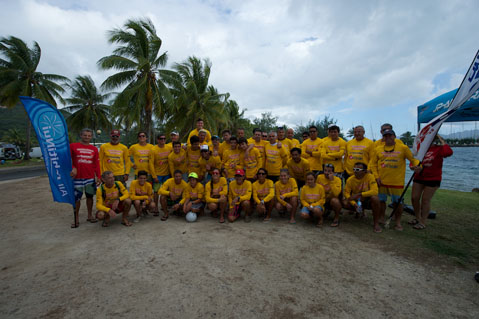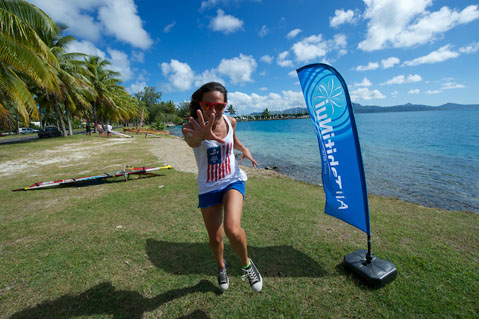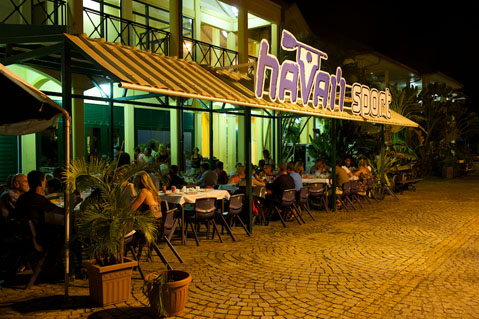 The plan was to stay one day in Tahiti, load our gear on a container into a ferry, that would have taken it to Raiatea island, and ourselves fly to Raiatea after a couple of days for the event to start.
Do you think we got bored in Tahiti even if our gear was on the ferry? Not a chance, Teahupoo was happening, so our friends organized us cars to go for a trip around Tahiti, and a taxi boat to go see this amazing surfing spot. I would have never had imagined to get to see it live. Never had the plan at least.  Together with the Bru family, and fresh arrived Sam Bittner, organizer of the American windsurfing tour we had a fantastic first day in the pacific.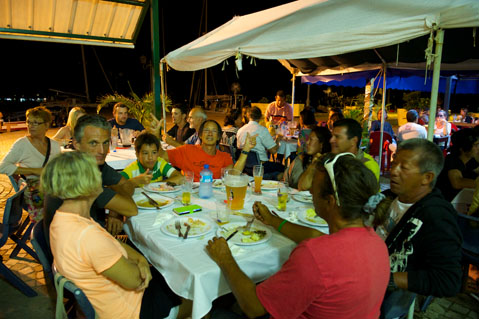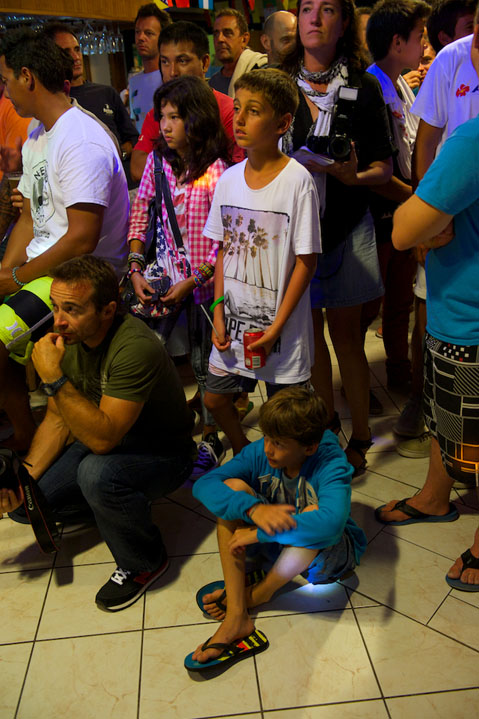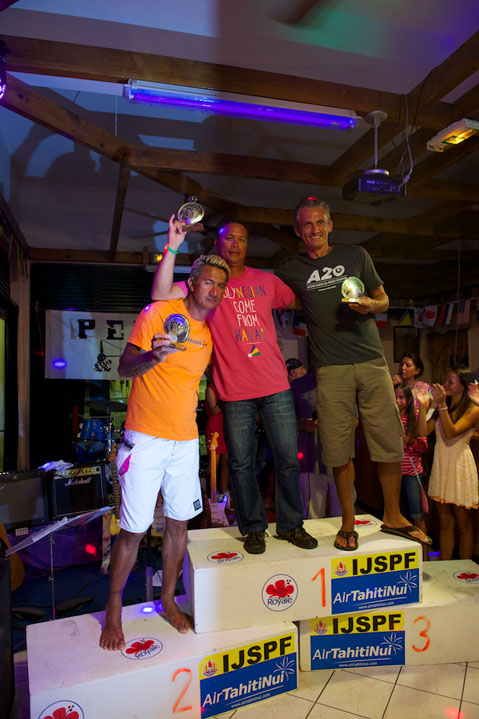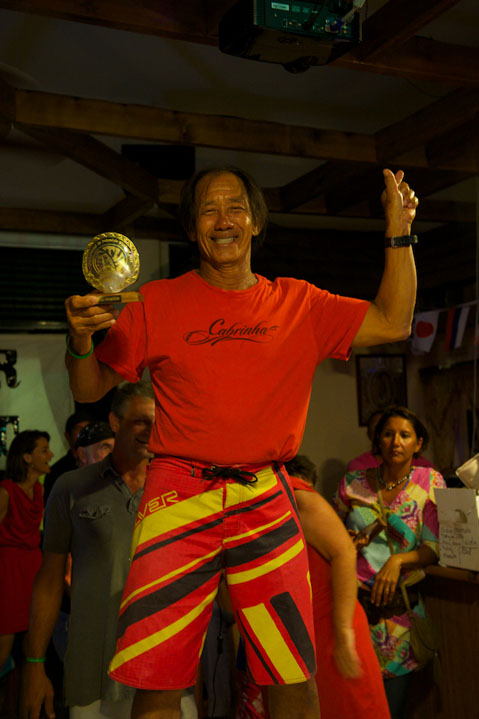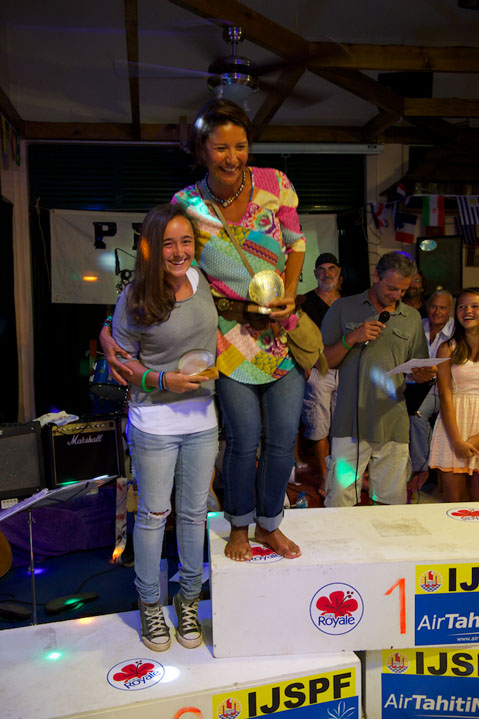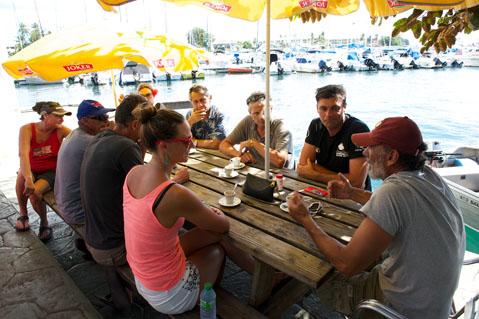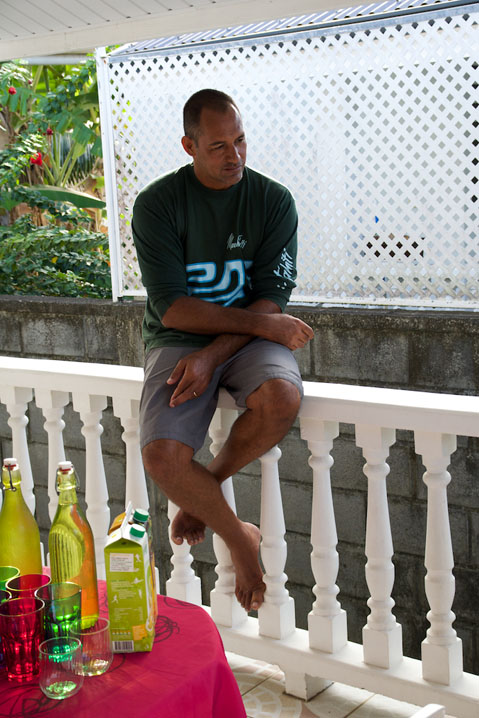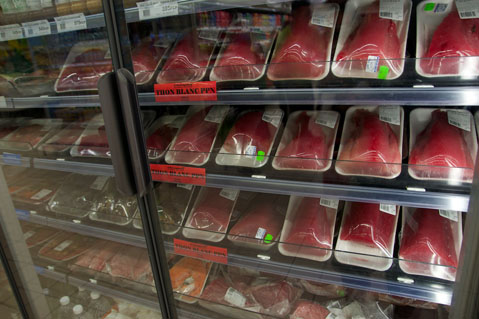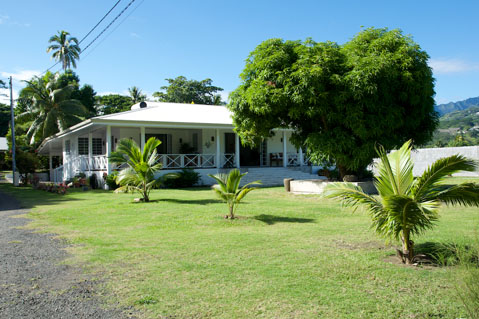 Well I guess the pictures  talk by themselves, and the best was to talk to people who would just answer, yes, of course I go surfing there sometimes…like our friend Moana…who invited us for a great dinner at his beach house with all his family and friends.  An amazing house front beach where you just need to choose in the morning if you prefer to go surfing, windsurfing, fishing, canoeing or anything which nature can offer on the water. By the way in Tahitian Moana, means Ocean!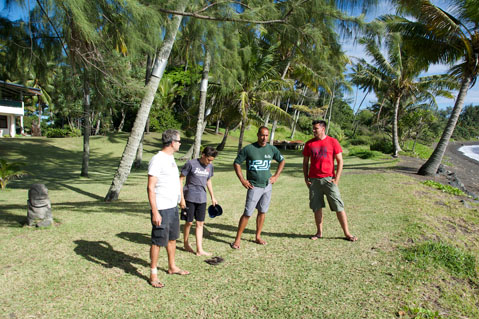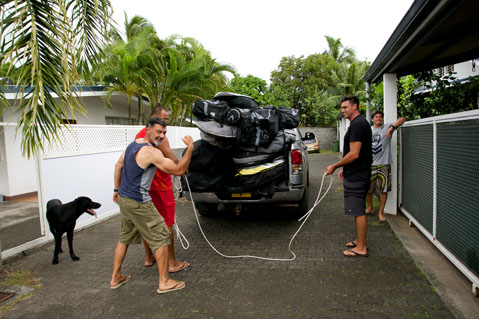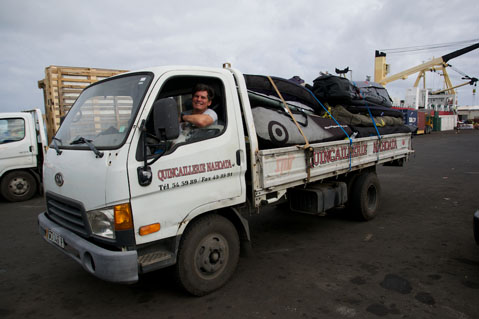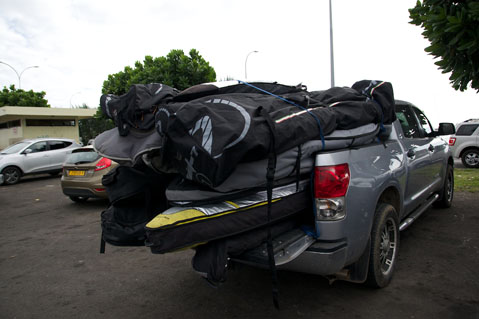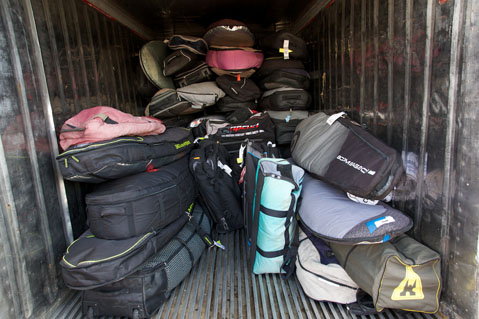 Landing in Raiatea, the warm welcoming is getting even bigger, with local dancers and music at the airport. Very friendly local windsurfers ready to meet you and help out to feel at home in their paradise.
The wind was blowing over the reef. Rigged all as fast as possible to go and feel the paradise of sailing over such an impressive reef between the small muotos. The joy to get stuck between the reefs, looking for corridors to get back.
Yes!! We went to Tahiti to compete! Well the forecast was not lucky. The wind is normally 15 to 25 knots every day during this part of the year, but the atmospherical condition had blocked the trade winds…Something very unusual! No wind from the 12th to the 16th of July.  Waiting for wind is what is great of our sport. Not everyone would see it that way, but it's part of the game, and if you can take advantage of the time with no wind, it's were our sport does give us a great lifestyle: possibilities to go for adventures, trips, sightseeing, doing other sports and on top of all share all this with people which know how to enjoy the same things we like. There was no time to get bored.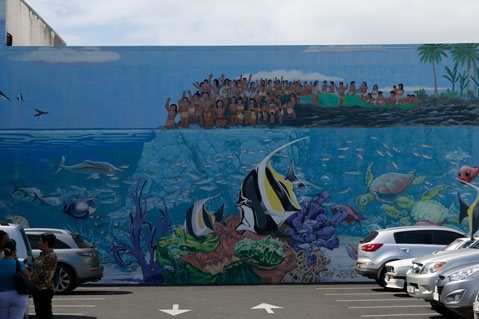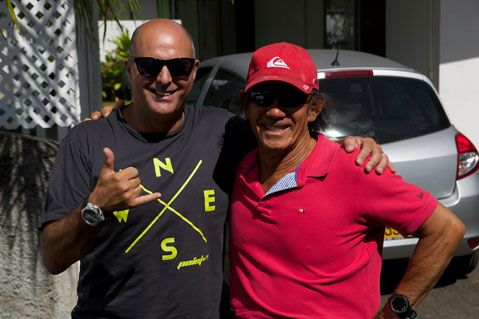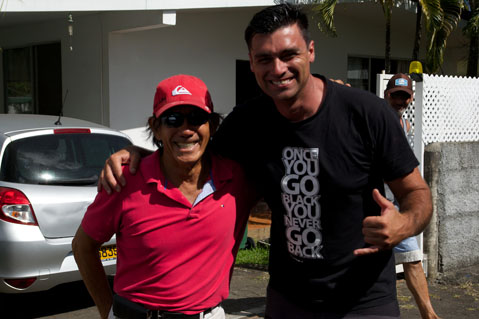 The Raiatea organizer of the event, Moeata and her family quickly transformed themselves into the best tour guides, and animators of Tahiti. Not even the best 5 star hotel could have given us so much.  Visiting by boat Taha's natural aquarium, were you had fish eating from your hands with no fear, climbing on top of the mountains to get breathless views, scootering around the island, surfing on the home reef, suping, canoeing guided by Gwuen and his centre on the island, wakeboarding, swimming and any sports that such a water paradise park offers. Sometime you might end up paying a ticket to enter a fun park, but in Tahiti, the nature does this for free.
I had the time to meet friends from New Caledonia which were present at the event. Learning that they have a great group of kids with the trainer who puts great effort and discipline to them. I'm so happy to meet them all again in Numea in November!
Guess what? I assisted at the meeting between the organizers of the different events which were present. As mentioned them before Philip Bru (Defi wind), Samantha Bitner (American Windsurfing Tour) and Christopher Smaniotto (Oceania de Windsurf). A meeting which will bring more events with great long distance formats.  I'm excited for them to know that they will be working on such an important project which will bring more people to race, travel and discover what windsurfing is also about.  Not official, but the plan  will be to have a Defi wind in Maui next July, straight after in Raiatea, and of course in Gruissan before in May. More may add in, this is in unofficial, but start keeping your holidays free for these events coming up in amazing places. These are not events, this people will give us the chance to live life experiences that we have dreamed of.
I'm also super happy that now we have Alex as our distributor in Tahiti, who will push our black sails in Polynesia with his great passion and love for windsurfing. I hope I will still be able to keep the passion he still has at 69years of age, and the energy he was putting to be first and last in the water.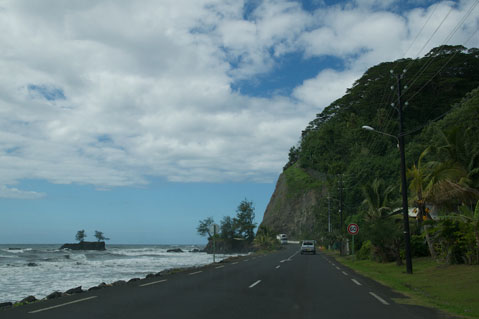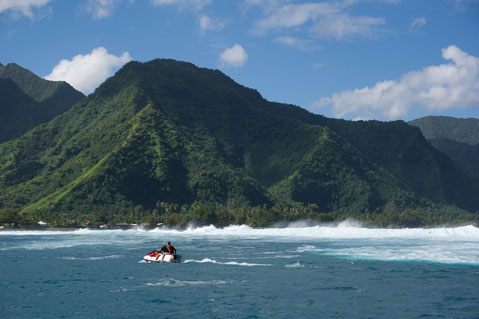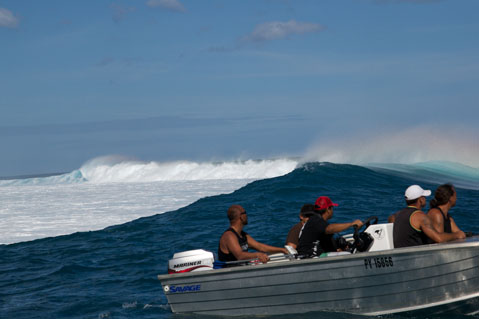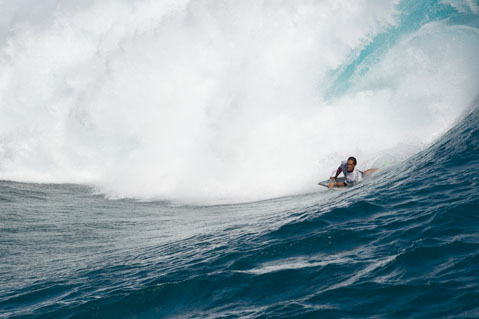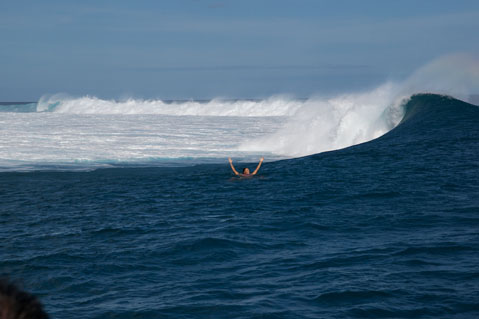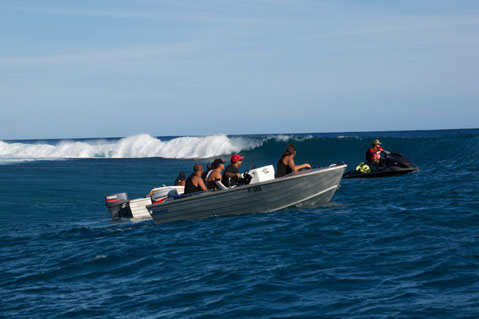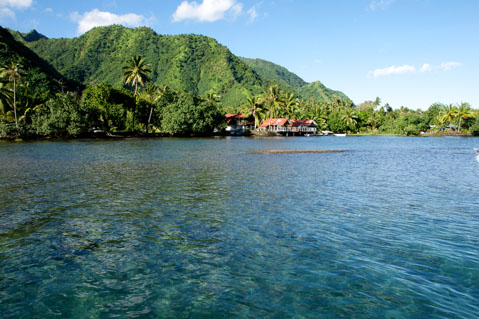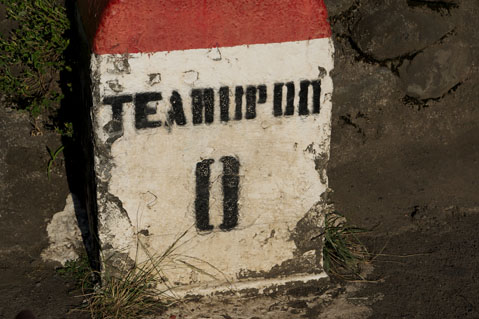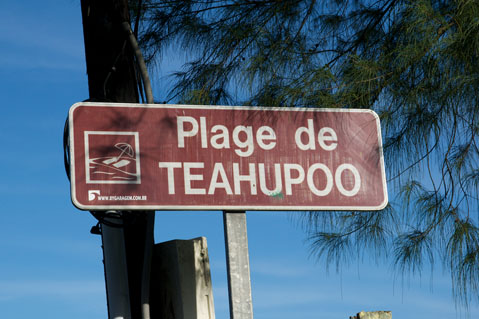 The wind turned up a bit too late on the last day, as many competitors from other countries had already packed their gear, but the Polynesians were all still present and ready to compete for their national title which took place in with 2 races of long distance in 10-12 knots. Local rider from Raiatea, Beb, took the win!
What more to say? Thanks to this trip I managed to get into the rhythm to go running every day and be more time on the water, travel and meet more windsurfers in the different part of the world. Thanks to all our new friends in Tahiti, I can't wait to meet them soon at another event or on their paradise island.
Andrea Cucchi ITA-1