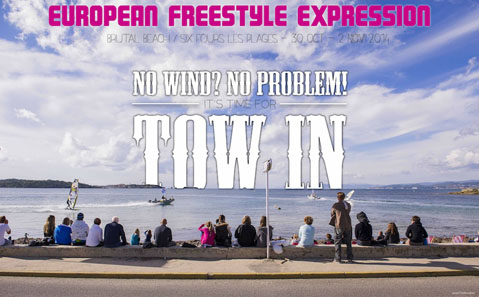 Che il buon Steve di Open Ocean Media, abbia già dato un occhio, nenache troppo distratto alle previsioni del week-end per la zona di Brutal beach?!
A focus on the riders entry list, the weather forecast and the program
In less than 2 days now the final of the European Freestyle Pro Tour (EFPT) will be held in Six-Fours for the second consecutive year. Here is an update on the weather forecast and the program of these four days. The "Tow In" and Stand Up Paddle races will be the main activities of the first days due to calm weather and bright sunshine, yet the competition could lead to amazing freestyle battles at the spot of Brutal Beach if the forecasted East wind wind remains for the last day of competition!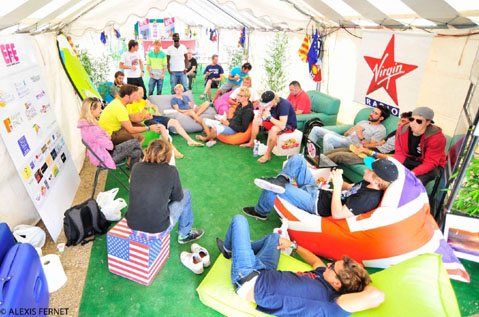 No wind, no problem: the "Tow in" will be the show to start off the event!
If there is no wind during the first days, the organization will be able to run  "Tow In" sessions. Based on an idea nearly 5 years ago at windless events, the "Tow In" is now a fully-fledged discipline that ensures a windsurfing show even if there is zero wind. Showcasing itself in the last 3 years of the EFE, the "Tow In" gained popularity with the public, especially when the event moved to Brutal Beach, with incredible moves launched almost directly onto beach. If the results do not count into the overall ranking, the riders efforts are rewarded with prizes and trophies offered by the partners and the organization. Don't miss this !!!
More information about the show and its schedules via our Facebook page.
Is there some wind happening on the weekend? It is very likely!
The organization and the riders are praying for wind to ensure official results and it is quite possible that the South East wind will deliver some conditions on the last day of competition. Here at Brutal Beach, this wind direction makes the spot sailable as it accelerates along the beach, but remains very gusty. These difficult sailing conditions for freestyle can really shake up the current EFPT ranking. Tom Hartmann, race director, says: 'Would be cool to complete one round at least, as this year the organisation managed to upgrade the price money to 10.000 Euros and accordingly also more ranking points to win, which keeps the battle for the European title wide open.' 'Since Tonky Frans and Davy Scheffers are not coming, the battle will be on for the top three positions this year ! It will be very interesting to see who will make top 3, but contenders are definitely Vrieswijk, Van Broeckhoven, Testa… but who knows - if there is wind, this can get mixed up a lot !' adds Hanna Poschinger, EFPT press officer. See EFPT ranking before the final in Six Fours.
Stand Up Paddle and Windsurf tests for the public!
Thanks to a few partner brands the EFE offers an exhibition and a test of windsurfing equipment for several years now. This year we will see the new 2015 gear of Fanatic, North Sails, Avanti, Point 7 and NoveNove, as well as accessories like Maui ultra Fins, Enemii, Ion and Sola. You'll also find some Stand Up Paddleboards that the public can test on the first days if there isn't enough wind to run the contest. The event-team will furthermore organise different challenges on inflatable models provided by Fanatic, with lots of prizes up for grabs. Times and schedules will be updated on a daily basis on the events Facebook page.
Other events and exhibitors to discover on the spot!
On the beach you can also find a stand of sunglasses, a relaxation, coaching and osteopathy corner, a lounge area and a well furnished terrace to relax, as well as a snack. Live on the beach, the speaker will launch quizzes every day so everybody can win many prizes and goodies offered by the different EFE partners.
And if the celebrations are happening during the day at Brutal Beach they will also go on in the evenings with a party at "Mafana" on Friday, an evening Paella under the EFE's tent on Saturday and certainly one or two late night sessions at "La Vague"!
Pre registered riders final entry list
Find here the program
Trailer #1 from Pertusatofilms
Trailer #2 from Pertusatofilms
EFE 2013 pics ©EFE/Alexis Fernet