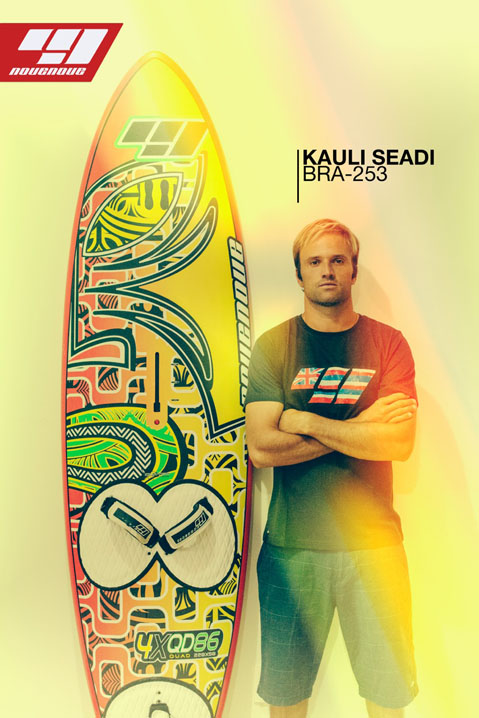 Il mercato si è chiuso ieri sera alle 11 e oggi è ufficiale un bel colpo messo a segno da una società italiana… tranquilli non siamo qui a parlare di calcio… anzi vi dirò che se in quel settore le nostre società ormai "giocano" solo al risparmio sul mercato, nel windsurf quest'anno i top player che approdano alla corte delle italiche factory non mancano davvero!
Dopo Alex Mussolini tornato in pompa magna a RRD, adesso è la volta di Kauli Seadi approdare nell'italianissima 99 family!
La notizia è ufficiale anche se a noi è arrivata da una fonte come minino… insolita!
Photo Credit Maria Fernanda Seadi.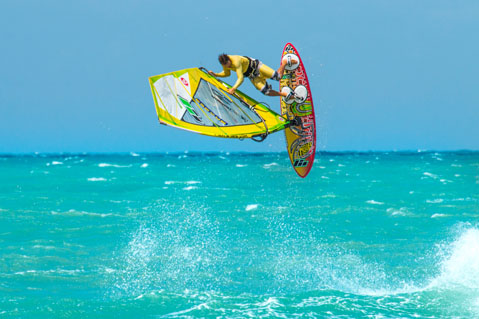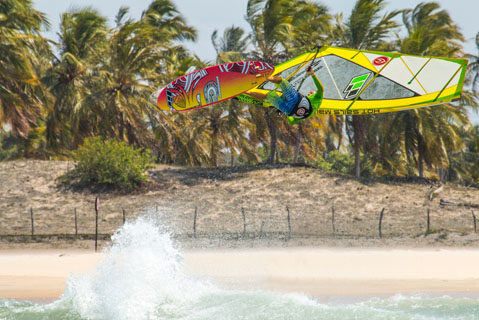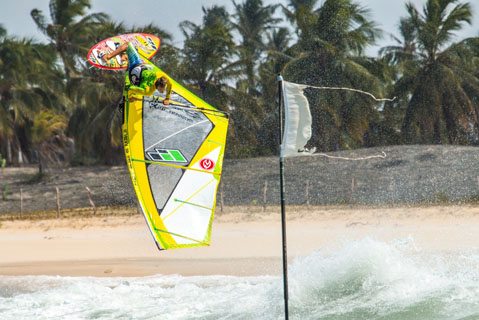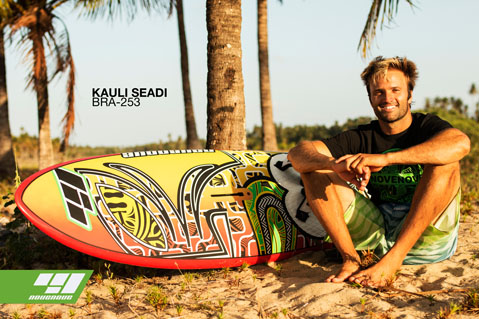 Kauli Seadi joins the 99NoveNove International Team
We announce with great excitement the signing of Kauli Seadi to the 99NoveNove International Team!
Kauli is known as one of the purest wave sailing talents on the modern world windsurfing scene and the forerunner of the multi-fins concept seen on every wave board today. A former wave and freestyle World Champion, KS is always looking to develop new concepts to be applied to all types of wave boards making this cooperation together with Cesare Cantagalli's brand (world famous windsurfer and inventor of the forward loop), a seemingly perfect match.
We are sure that this union will bring many benefits to our mission.
Kauli will not only continue to travel all around the world looking for new spots and bringing windsurfing to new levels, as he has recently done in Teahupoo, but he will also be immediately integrated into the research and development of the 99NoveNove wave board line and soon there will be his 'KS' signature board.
It is Kauli's intention to also return to competing to any wave event where conditions will be "interesting". This is an historic change in an important moment for the Brazilian's wave career.
The 99NoveNove Team is ready for this new and exciting adventure with Kauli Seadi!
We welcome you to the family.
Quote from KAULI SEADI BRA-253
Joining 99NoveNove for me is like opening a new door, with a very new and fresh road to explore.
I believe they know and love what they are doing as I believe in their many years of experience to do what it takes to grow a healthy brand. Besides that I think they have really amazing technologies to develop new shapes and great constructions for the boards that is supported by the advantage of having their own factory in Italy.
About Cesare Cantagalli, I think we all know the "Cheese Roll Man", he definitely made a mark on windsurfing history by inventing the forward rotation.
My target for the 2015 season is to participate in at least the Cabo Verde AWT and Aloha Classic PWA plus maybe an indoor event, or any other PWA event that has good waves. I will continue to travel to film for my TV show, so my wife and I plan to do some more explorations in the South Pacific by boat, so many great and beautiful islands!
Last but not least it will be awesome to start working with Gianni Valdambrini as he seems very experienced, so I'm sure we will be able to trade some productive and technical information, which will lead to developing a 'KS Pro Model' together.
Quote from CESARE CANTAGALLI  (Brand Manager/Founder)
Well, I really want to express some exciting feelings as signing Kauli closely reflects my visions and directly connects the pure passion and inspirations driven from my windsurfing career past in the 80's-90's. I first met Kauli on Maui when he was a kid and immediately felt that he would one day become wave world champion. Alongside from his great competition career, Kauli has started travelling and discovering places just like I was doing with my Glob-O-Tour trips shortly after leaving the PWA tour.
I am so proud to soon see Kauli riding a board named 99NoveNove, which represents my historical sail number and a source of unforgettable past experiences. 99NoveNove is today moving forward with the focus in mind to continue the drive, passion and emotion by creating a team of people, riders, friends that all together will contribute to build the success of the brand. We know Kauli as being a hard worker and I trust he will be a key to our world-wide exposure and will greatly contribute to the developments of all our Windsurfing and SUP Wave boards powered up by Giannni's experience.
Super honoured to have him choosing 99NoveNove… on behalf of the whole company a big welcome.
Quote from GIANNI VALDAMBRNI  (Shaper/Product Manager/Founder)
When I think about who are the most important figures that have influenced the history of wavesailing, only a few sailors come to mind… Robby Naish, Jason Polakow and Kauli Seadi and why not Cesare Cantagalli.
We had negotiations with several different potential wave team-riders during the last 5 months, but when Kauli's name came up we were sure this was our guy.
I consider Kauli the best innovator our sport has ever seen in terms of his slashing style, radical maneuvers and unique boards. Many concepts like the twin fin and the quad have been transformed and re-adapted by Kauli to fit the style of the current generation of wavesailors, all the while introducing some freestyle moves into classic down the line wave riding.
I'm totally enthusiastic of this choice we have made because the performance of the final product has been my priority since we started this business, despite seeing how most other brands are only focused on marketing. With Kauli I finally have a super reliable tester whereby we can develop some dream wave boards together for those customers who ask for a very radical product with no compromises. The plan for Kauli to travel the world promoting 99 instead of simply fulfilling a commercial compromise by sailing in the normally average world cup conditions, is exactly what we were looking for.
We have in the past few weeks already started our relationship by comparing the shapes he has had from the past several years with our archive of rocker lines and shapes to see how much we were apart. I have just designed some new prototypes that he will test in the next weeks with the clear goal of trying to mix his concepts with the vision I have for the wave boards of the future.
Kauli Seadi is exactly what we needed to help our brand take off and we will together invest the right amount of time in terms of R&D and technology processing to produce the finest windsurfing wave boards plus a full range of performance SUP and surfboards.