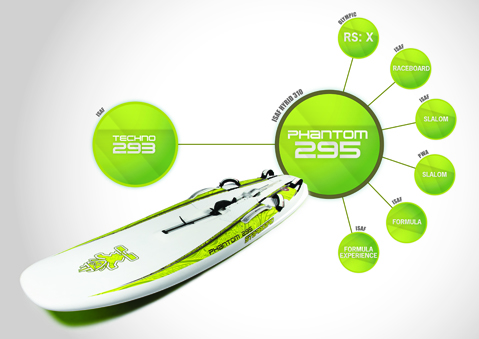 La nuova tavola di Classe "tutto in uno" by Starboard… the Phantom 295 is the new all-in-one international windsurfing class supported by Starboard, with events held around clubs, centres, schools and championship events, coordinated by Starboard international and a global network of national distributors and partners. The class positions itself as a feeder to many established classes: social and competitive on one hand, and affordable plus practical on the other. One board and three sails are available: 6.5, 7.5 and 8.5
Technical innovations like its Bat Wings for high-wind planing and light-wind streamlining or its flex-tip daggerboard make the Phantom 295 truly standout.
So look forward to seeing it officially in action at future events in 2012:
11-19 August Youth & Masters Raceboard World Championships in Medemblik, Netherlands
11-16 June Raceboard World Championships in Yteri, Finland
Charter equipment will also be available for these events – for more info contact info@star-board.com, with "Phantom 295″ as the subject line.