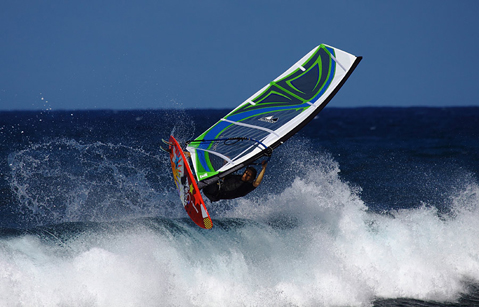 Maui Sails veramente attivissima in questo inizio d'anno: dopo essersi "accaparrata" alcuni ottimi elementi, tipo Camile Juban, per rinforzare il team wave, ora tira fuori dal cilindro una nuova vela wave a 4 stecce. Stiamo parlando della nuova Mutant, nata da un progetto con una lunga storia…
For more information go to www.mauisails.com
Scarica mutate_now_presentation.pdf
Mutate now, avoid the rush!
MauiSails is excited to introduce the Mutant, our most progressive wave sail, reaching beyond conventional thinking with ultra-low aspect ratio and a wind range previously unheard of in four-batten sails. In keeping with MauiSails history of innovation and "NotNormal" ideas that often drove long term trends in the sport, Artur Szpunar is now creating another radical step in the evolution of high performance wave sailing on the latest boards. The Mutant combines softness, light handling, and playful maneuverability with balanced power and stability. The shaping and body tension are refined around the extra short outline, keeping the sail stable and composed throughout a huge range of conditions. The structure is super technical materials for light weight and durability. Generous use of our ultra-light and strong Technora™ scrim in the upper sail body, bomber 5-mil X-Ply™ along the leech and foot, and an oversize optical X-ply window ensure maximum durability. The name and graphic of the Mutant are inspired by the idea the sail should feel so light and natural it is like an evolved wing which is actually part of you.
Artur Szpunar had this to say, "Beginning in Spring of 2011, our motivation for the first prototype was to test the shortest possible luff length that could be used for a 4.7, in the hopes it would help pull off cleaner wave 360's by reducing rotational inertia and avoiding the dreaded 'mast tip caught in the lip' scenario. As it turned out, this first prototype not only possessed the desired maneuverability and clearance, but the very compact outline and low center of effort gave it tremendous wind range. We were planing early while remaining very balanced, light, and controllable even when seriously powered. Starting from the first radical effort, it took several re-cuts and new prototypes to get the tension and outline perfectly balanced, but the result is magic. The new concept has proven itself in daily wave sessions in everything from rough, monster waves with howling, gusty winds to glassy surf with wind so light and offshore that you shouldn't be able to sail (but you still do). Feedback has been tremendous from everyone who tested the sails. The great thing is, not only do the light and middle weight wave rippers like it, but big guys like Micah are in love with a four-batten for the first time too."
The Mutant theme has a long history at MauiSails, spanning back 30 years to the "Custom Genetic Mutation" T-shirts of the 80's to some more recent art work and "dragon wing" sail concept drawings that Artur has been creating for the past 15 years. Revolution brings evolution. Mutate now, avoid the rush!