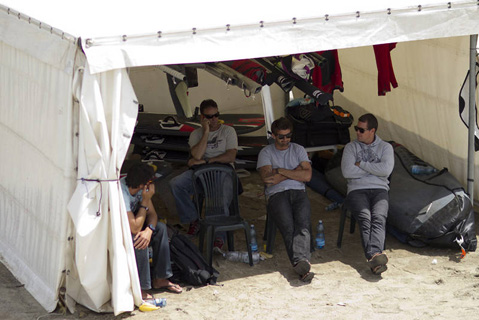 Una sola heat delle donne completata nel periodo in cui non siamo stati "collegati". Poco vento purtroppo a Reggio con tutte le speranze riposte negli ultime due giorni di gara.
E anche oggi a sentire Roberto… «Dopo aver passato 4 giorni ad aspettare il vento anche la giornata odierna sembra la fotocopia di quella di ieri, ma con le nuvole, vento debole e dalla direzione sbagliata… che posto strano fino a sabato c'era vento ovunque anche a 10 km da qui… le giornate sono lunghissime…»
Foto © PWA - More info: http://www.pwaworldtour.com
Dedicated event website http://www.pwaworldtourrc.com/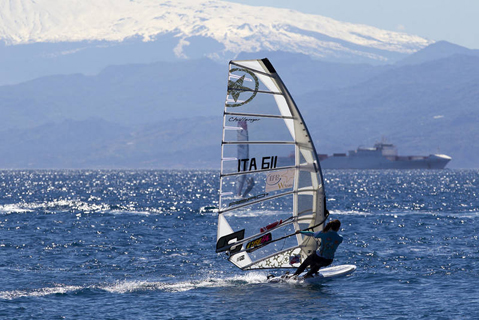 The fourth day of the event was blessed with roasting hot sunshine but sadly not the wind to match. Patience proved to be key, as the competitors were once again held for the whole day on the beautiful beach of Reggio Calabria.
After extremely light winds in the morning, the afternoon did see the wind did begin to build, with gusts of up to 12 knots being recorded. This saw a flurry of sailors head out on to the water to test the conditions, but the wind remained too gusty for any racing action to take place.
During the long holding period we took the opportunity to talk to the multi talented Brit Ross Williams (Tabou / Gaastra), who competes on both the slalom and wave tours.
PWA: Is there a lot of difference between your kit this year, compared to last year?
Ross Williams: "We've done a lot of development on the sails this year, I've been working a lot with Peter Munzlinger. Right now I'm feeling very happy with them. I just need to get out on the water and do some racing and see where we are at."
PWA: With your winter training, was there anything in particular you were concentrating on?
Ross Williams: "My wave sailing! I went out to South Africa, I was training slalom with Alberto one of the team guys, and I was training waves with a couple of the other guys from the wave team. I just did a lot of sailing whether it was, wave, slalom or formula to get used to my new gear."
PWA: When you are at an event where you spend a lot of time on standby, is there anything you try and do?
Ross Williams: "I try to look at all my equipment with our sail designer, who is out here to check if we have any problems. We also try to outline what we feel our weak points are, so when we leave the event we can work on them. We just try and constantly develop our gear."
We also spoke to Chris Pressler (Starboard / Severne) about endurance training for windsurfing, here's what he had to say: " When it's not windy you need to try and keep fit, but this winter I injured my back so it wasn't possible for me to run, so I trained a lot on my bike in Austria. I also mixed in some fast walking for variation. Alongside these I do yoga/pilates. Of course if it's windy I just go windsurfing"
With the wind failing to strengthen sailors were eventually released at 18:00. The skippers meeting will be at 10am tomorrow morning and the first possible start will be 10:30.