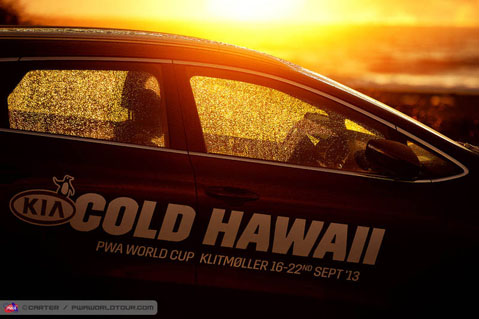 Come raccontato ieri, gli organizzatori dell'evento danese apparivano un po' allarmati dalle previsioni del vento per questa settimana (anche oggi siamo a rischio!), tanto da far alzare tutti gli atleti con il buio per poter essere puntuali allo skipper meeting fissato alle 6,45!
Certo non è che si sono dovuti svegliare presto per andare in miniera, ma… è stata comunque una levataccia inutile!
Onde spettacolari aspettavano gli "invitati", ma il vento troppo offshore non ha consentito di iniziare la gara fino a pomeriggio inoltrato.
A quel punto Eolo ha deciso di collaborare lasciando andare… un vento leggero, messo però bene ed accompagnato da barre perfette di due metrozzi buoni.
Sono partiti così i trials e subito dopo la prima heat del single elimination… purtroppo tra una cosa e l'altra è presto arrivata ora di cena e la seconda heat non è stata completata.
Uomo del giorno sicuramente il diciassettenne Moritz Mauch che dopo aver agevolmente passato le selezioni, si è tolto la soddisfazione di battere Dany Bruch grazie ai suoi cut backs stilosi e radicali e ad una scelta delle onde migliori degna di un veterano.
Ora lo aspetta Browne nei sedicesimi di finale, ma le previsioni di oggi non sono molto confortanti per andare avanti con il tabellone…
More info Pwaworldtour.com - Foto © Carter/Pwaworldtour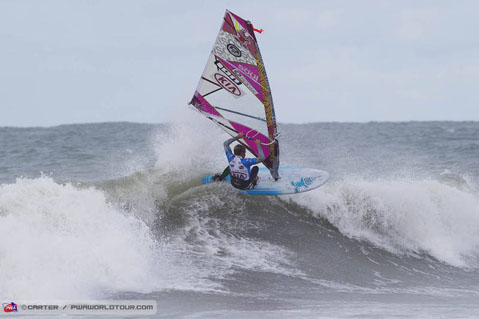 Day 2: Big waves and down the line riding as the contest begins
Day two of the KIA Cold Hawaii PWA World Cup started in the pitch black as the competitors and race crew congregated at the Cold Hawaii club house at 6am. The early start, however, didn't pay off as the forecast that promised wind from first light failed to materialize due to the offshore direction. After seven and a half painstaking hours the wind finally followed forecast as it swung cross-off shore allowing the competition to begin shortly afterwards, in perfect, peeling down the line waves - half mast to logo high - and light to medium winds, which saw two waves to count over the duration of eighteen minute heats.
Men's Trials
Heat A of the trials witnessed Moritz Mauch (Starboard / North), Lars Gobisch (RRD / NeilPryde), Tuomo Naalisvaara (Starboard / Severne) and Christopher Friis (Simmer) all battling it out against each other for the top two positions to qualify for the main draw. After two cancellations the heat was finally completed on the third attempt as Mauch came out on top followed by Gobisch, with Mauch in particular impressing with his dynamic wave riding.
Heat B saw only three sailors competing after Stefan Gobisch (JP / NeilPryde) had to withdraw through injury. Albert Pijoan (Starboard / Severne / Maui Ultra Fins) showed excellent wave selection and execution to win the heat ahead of Markus Rydberg (Hot Sails Maui) and Fabian Weber (Fanatic / North / Maui Ultra Fins) was left disappointed.
In the final qualifying heat Peter Volwater (Fanatic / Avanti) comfortably qualified for the main draw as the Dutchman demonstrated why he finished ninth overall here last year. Grabbing the final qualifying spot in the draw was Robert Baldyga (Quatro / MFC), who linked together several aggressive frontside hacks to see off the competition of Michael Kleingarn (Starboard / NeilPryde).
Single Elimination
Marcilio 'Brawzinho' Browne (Goya Windsurfing / MFC) looked in superb form today after he confidently dispatched of Mads Bjornaa (Fanatic / Simmer) in the opening round. The Brazilian showed his class as he consistently connected aggressive frontside gauges to progress. On the B-side of the panel Moritz Mauch achieved the biggest win of his career so far as he managed to defeat Dany Bruch (Starboard / Severne / AL360). The seventeen year old showed maturity beyond his years as he picked out the best waves on offer, before taking full advantage of them as he delivered fluid, aggressive cut backs to advance by 0.75 points. Mauch will now face Browne in the last sixteen.
Heat two did begin for the second time shortly before 7pm as a squall approached, but unfortunately the wind didn't last long enough in order to be completed, meaning that John Skye (RRD / MFC), Antoine Martin (JP / NeilPryde), Victor Fernandez (Fanatic / North / MFC) and Lars Gobisch will be the first heat to be sailed when the contest resumes. Martin will be a little disappointed that the suitable conditions didn't last after the Frenchman pulled off a fantastic goiter.
Tomorrow's forecast doesn't look particularly brilliant on paper, but as everyone is well aware anything can happen, especially with a few sacrifices to the wind and waves gods. Tomorrow's forecast has been called for 10am tomorrow morning with the action commencing from 10:30am, if conditions allow. Don't miss a thing by tuning into the PWA live steam @ www.pwaworldtour.com.