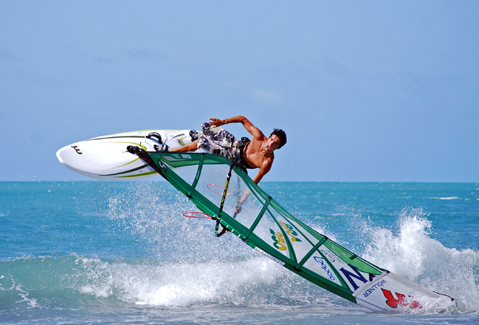 Sono un po' restio a togliere la bella gn… figliola svizzera dalla home page visto che gli accessi al sito hanno avuto un'impennata nella serata di ieri, superando i 400 al giorno, ma… due nuovi assi brasiliani entrano a far parte del MISTRAL INTERNATIONAL WINDSURF TEAM. La nostra vecchia conoscenza Edwan Souza (era già forte nel 2003 quando lo abbiamo visto all'opera in occasione del primo "brasil tour" del team di WN) ora ventenne, local di Jericocoara, vice campione 2007 del circuito Brasil Freestyle ha deciso di partecipare nel 2008 a tutti i PWA Freestyle Events.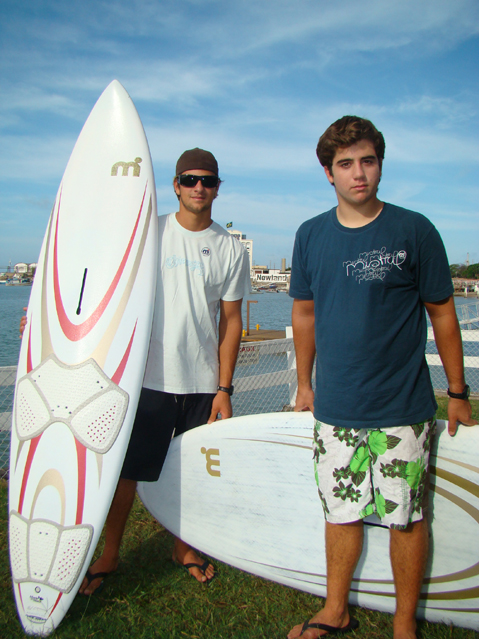 La seconda new entry è Gabriel Browne, fratellino quindicenne del fresco PWA World Champion Marcilio Browne…. a differenza del fratello per ora la sua specialità è lo Slalom dato che appena vinto i campionati Brasil Slalom Nationals.
YOUNG GUNS from Brasil… sulle orme di Kauli and Marcilio!
Visit us: www.mistral.com
The BRASIL MISTRAL INTERNATIONAL WINDSURF TEAM is getting bigger
The Brasil Soccer Team has won 5 FIFA World Champion Soccer Title over the last years and with Marcilio Browne, winning the first title already 9month after joining Mistral, we all could see which potential, skills and talent these riders have. We have searched a lot for new talents and now we are very proud to present another two outstanding YOUNG GUNS from Brasil, which we will also push to the Top of Windsurfing:
Gabriel Browne, 15year old Brother of acting PWA World Champion MarcilioBrowne, is the new Slalom Future from Fortaleza and has won already the Brasil Slalom Nationals
Edvan Souza, 20year old from Jeri (Brasil) –2nd Brasil Freestyle Championship 2007, will join the 2008 PWA Freestyle Events and show the world that Brasil has more Champion riders like Kauli and Marcilio.