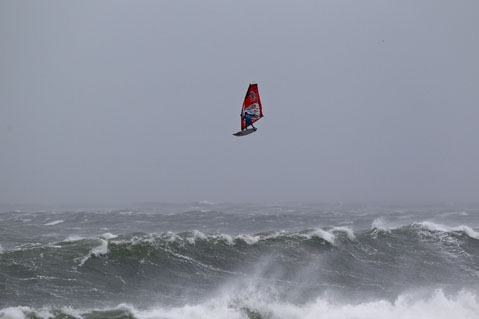 10 of the world's best windsurfers from eight countries completed a demanding competition in Kerry, Ireland during the first mission of the Red Bull Storm Chase - the most-challenging windsurfing contest of all time.
Despite recorded storm-force gusts of up to 74 knots (137kmh) and fierce 20-ft waves, the sailors completed three rounds of competition in two locations on the Maharees peninsular.
After possibly the most radical day in windsurfing history, Marcilio Browne, Dany Bruch, Victor Fernandez, Robby
Swift, Julien Taboulet and Thomas Traversa advance to the second Mission of Red Bull Storm Chase.
Red Bull Storm Chase, Results First Mission, Brandon Bay, Ireland:
1. Thomas Traversa (France)
2. Dany Bruch (Germany)
3. Julien Taboulet (Spain)
4. Marcilio Browne (Brazil)
5. Victor Fernandez (Spain)
6. Robby Swift (Great Britain)
7. Boujmaa Guilloul (Morocco)
8. Josh Angulo (Cape Verde)
9. Leon Jamaer (Germany)
10. Kenneth Danielsen (Denmark)
The top six sailors from the first mission will compete in the second mission.