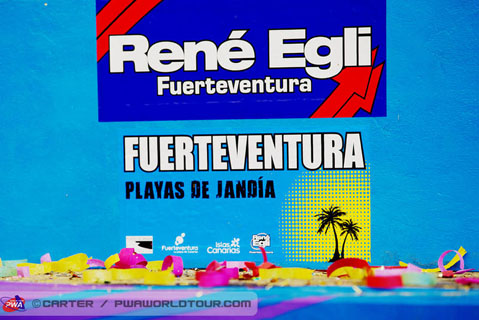 Terminato, senza ulteriori colpi di scena il PWA Freestyle di Fuerteventura (l'ultimo giorno di gara il vento è non è stato abbastanza collaborativo…) con due tabelloni double eliminations completati e con l'incoronazione di Jose 'Gollito' Estredo e Sarah-Quita Offringa… è venuto il momento di pensare al prossimo evento wave di Tenerife in programma dal 3 al 9 agosto.
Dopo la debaclè di Pozo, la seconda tappa wave assume un valore doppio, perchè mai come quest'anno tra le onde i "giochi", ultimamente in mano ai "canari", potrebbero rimanere aperti fino all'ultima tappa!
Per questa ragione i vostri amici di Wind News hanno accreditato alla tappa due inviati d'eccezione, Paolo, esperto waver e collabo fisso del nostro magazine e Laura, una delle migliori fotografe in circolazione… ne vedrete e leggerete delle belle!
Speriamo che El Medano, chiamato al difficile compito di far dimenticare la cippa di Pozo, si presenti sin dal 3 agosto in tutta la sua bellezza (?!)… vento ed onde parlando, naturalmente!
Now vi lascio al Fuerte Event Summary…
more info Pwaworldtour.com - Foto © Carter/Pwaworldtour.com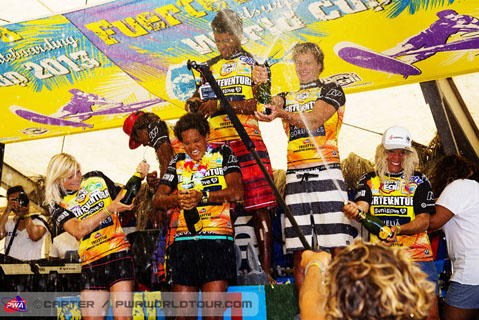 Jose 'Gollito' Estredo and Sarah-Quita Offringa reign supreme in Fuerteventura
Fuerteventura once again showed why it is one of the world's most renowned locations as it produced six out of seven days of wind. Over the duration of the week winds between 20-30 knots greeted the competitors allowing two double eliminations to be completed, as some of the most radical moves in the world were thrown left, right and centre. By the end of the PWA Fuerteventura World Cup Jose 'Gollito' Estredo (Fanatic / North) and Sarah-Quita Offringa (Starboard / Gaastra / Mystic / Maui Ultra Fins) were crowned the King and Queen of Sotavento, as they finished the week unbeaten after delivering an outstanding display of sailing.
Men's Freestyle
In the opening elimination of the week Tonky Frans (Tabou / Gaastra) fought his way into the first winners' final of the week where he met the reigning world champion - Jose 'Gollito' Estredo. The first final saw terrific conditions as small stunt ramps rolled into the event area combined with strong winds to ensure an amazing spectacle took place. Frans landed an amazing pasko as well as an exquisite air chachoo, but Estredo had an answer for everything as he produced an even bigger and more radical pasko and air chachoo of his own, whilst also launching into an amazing spock into culo and an astonishing backloop to take the opening victory.
Steven Van Broeckhoven (JP / NeilPryde / Different) finished the single elimination in third place as he successfully defeated Kiri Thode (Starboard / Gaastra) in the losers' final. Meanwhile, Adrien Bosson (Fanatic / North / Maui Ultra Fins) achieved his best ever finish in an elimination - as did Rick Jendrusch (Starboard / Severne / Mystic) as they finished joint fifth and ninth respectively in the first single elimination.
In the opening double elimination Gollito came out on top again, but this time against a different opponent in the form of Kiri Thode, who fought his way back from fourth place in the single elimination by first holding off the challenge of Dieter Van Der Eyken (Starboard / Severne) and then defeating Van Broeckhoven and Tonky Frans. However, despite his best efforts - which saw Thode land skopu 360s and a ridiculous culo into spock - Estredo proved a step too far on this occasion as the judges opted for the greater power and height from Gollito.
Elsewhere in double elimination one seventeen-year-old Amado Vrieswijk (Starboard / Severne) achieved his best finish to date after finishing joint seventh with Youp Schmit (JP / NeilPryde). Vrieswijk took his biggest scalp so far as he overcame fellow Bonaire man Taty Frans (Starboard / MauiSails / Mystic / Maui Ultra Fins) in heat forty-five. Vrieswijk demonstrated exactly what he can do as he landed stunning kabikuchis and skopus and massive air flakas. The young Bonairean also finished seventh overall - his first top ten finish - to cap an impressive week.
Day five of the event saw the second single elimination completed in 25-30 knots of wind, but the outcome didn't change with Jose 'Gollito' Estredo extending his unbeaten run with another victory over Kiri Thode. The two sailors went blow-for-blow with each other in the final once more as they landed perfect spock-culos, huge regular konos and burners. The heat was in the balance until Thode flamed a pasko, this presented the reigning world champion with an opportunity to move into a clear lead and he made no mistake as he landed an amazing trademark pasko. The Bonairean did respond with an amazing kabikuchi, but Gollito had an answer for everything has he rotated his way through a super quick skopu and a huge toad to secure another victory.
The second, and final, double elimination of the week was completed on the penultimate day of the contest as Jose 'Gollito' Estredo completed the event with a perfect record of four victories from four. The reigning world champion's unbeaten record now stretches back to April 2012 when he won in Austria to prove his is the undoubted King of Freestyle. The winners' final this time around though was agonizingly close, with Thode pushing Gollito to the verge of defeat. As he so often does though Estredo dug deep and pulled out an amazing no-handed burner and an incredible backloop to take the final victory of the week - and more importantly the event title - by way of a 3:2 decision from the judges, leaving Thode to settle for second place overall.
Steven Van Broeckhoven successfully secured his spot on the podium as he defeated Tonky Frans once more. The Belgian maestro landed amazing paskos, shuvit spocks and massive burners to claim his place in the illustrious top three and Frans narrowly missed out in fourth place. Dieter Van Der (Starboard / Severne) showed his full repertoire of moves through the week and this combined with his amazing consistency saw him finish fifth overall with Phil Soltysiak (Starboard / Sailworks) just behind him in sixth place.
Women's
Five-time PWA Freestyle World Champion Sarah-Quita Offringa also completed the week unbeaten - just like Gollito - as she marched to another impressive victory on the PWA World Tour. The Aruban gem faced Arrianne Aukes (RRD / Simmer / Maui Ultra Fins) in each of the four winners' finals and each time Offringa produced the goods to claim her familiar place at the top of the podium. Offringa demonstrated her amazingly high level time and time again as she landed perfect burners and regular konos combined with powerful shakas and air funnels, to win the judges' approval. Aukes also landed some excellent moves such as smooth funnels and big flakas, but she couldn't quite do enough to defeat Offringa. Aukes will leave the event extremely happy though as she achieved her best ever result as she finished in second place overall.
Yoli de Brendt (Fanatic / North) won the battle for third place after she came out on top of her relentless battle with Olya Raskina (JP / NeilPryde). de Brendt landed superb shakas, flakas and punetas to see off the Russian, who finished in fourth place.
Oda Johanne Brodholt (Maui Ultra Fins) - who was making her debut on the PWA World Tour - finished in equal fifth place with Maxime Van Gent (Fanatic / North / Maui Ultra Fins). The Norwegian impressed particularly with her stylish switch konos.
Where's Next on the PWA World Tour
From the 3rd until the 9th of August the wave sailors will be returning to action as they head to the rocky shores of Tenerife. Make sure you tune into www.pwaworldtour.com to follow the action live and to see who will come out on top.
Overall Results of the PWA Fuerteventura World Cup - Men's Freestyle
1st Jose 'Gollito' Estredo (Fanatic / North)
2nd Kiri Thode (Starboard / Gaastra)
3rd Steven Van Broeckhoven (JP / NeilPryde / Different)
4th Tonky Frans (Tabou / Gaastra)
5th Dieter Van Der Eyken (Starboard / Severne)
6th Phil Soltysiak (Starboard / Sailworks)
7th Taty Frans (Starboard / MauiSails / Mystic / Maui Ultra Fins)
7th Youp Schmit (JP / NeilPryde)
7th Amado Vrieswijk (Starboard / Severne)
10th Anthony Ruenes (Tabou / Gaastra)
Overall Results of the PWA Fuerteventura World Cup - Women's Freestyle
1st Sarah-Quita Offringa (Starboard / Gaastra / Mystic / Chris Benz / Maui Ultra Fins)
2nd Arrianne Aukes (RRD / Simmer / Maui Ultra Fins)
3rd Yoli de Brendt (Fanatic / North)
4th Olya Raskina (JP / NeilPryde)
5th Maxime Van Gent (Fanatic / North / Maui Ultra Fins)
5th Oda Johanne Brodholt (Maui Ultra Fins)