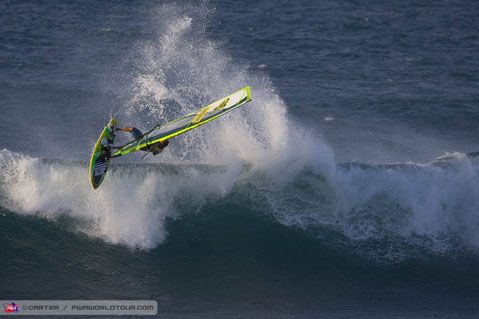 Relax man… giornata di pausa! Meno male perchè, come al solito, mi ero "addormentato" dopo Crozza… condizioni non al meglio ieri ad Hookipa ed anche in virtù delle previsioni particolarmente sukkose per i prossimi giorni, gli organizzatori hanno deciso di rinviare l'inizio del double elimination!
Beccatevi il consueto report del Pwa, che annovera anche 4 chiacchiere con Kauli Seadi e Marcilio 'Brawzinho' Browne!
More info Pwaworldtour.com - Foto © Carter/Pwaworldtour
Day 6: the sailors warm up for what is set to be an enthralling PWA double elimination.
The sixth day of the JP Aloha Classic saw the AWT resume after the PWA fleet were released at 10am, due to the wave quality not living up to yesterday's high standards and with an epic forecast for the remainder of the week the decision was made to delay the start of the double elimination.
With plenty of downtime we caught up with Kauli Seadi (JP / Hot Sails Maui / MFC) - who finished second in the single elimination in his first event of the year - and also had a quick chat with Marcilio 'Brawzinho' Browne (Goya Windsurfing / MFC):
PWA: This was your first PWA event of the year, how did you find it competing again?
KS: "It was awesome to be able to compete in real wave riding conditions again, especially on Maui which is the Mecca of windsurfing!"
PWA: You finished second in the single with some amazing sailing, how are you feeling after yesterday?
KS: "Definitely super happy with my result, especially since the last 5 months I was on a boat before this event, and I was not windsurfing that much because the wind at most of the spots we went to once we passed Joao Pessoa was lighter and more onshore, so it was more SUP and kitesurfing conditions."
PWA: What equipment were you on?
KS: "I was using my JP Quad 82L and also my Hot Sails Maui KS3 4.9m. It was good all the way through the day."
PWA: If you had to pick someone who could back through the double, who would you guess?
KS: "I would hope for Brawzinho and Ricardo, but really, there are so many good guys that it is so hard to say."
Marcilio 'Brawzinho' Browne reflects on his performance yesterday:
MB: "In the first heat I was just having fun and on the second one I think I was thinking a bit too much and got stressed out. I am looking forward to reset and start fresh for the double."
The forecast for tomorrow looks excellent with a slightly longer swell period and similar winds to today - around 20 knots. The skippers' meeting will be held at 10am tomorrow morning with a first possible start of 10:30am. Will the title contenders be able to fight back? Find out by watching the incredible action as it happens via the livestream at www.pwaworldtour.com.