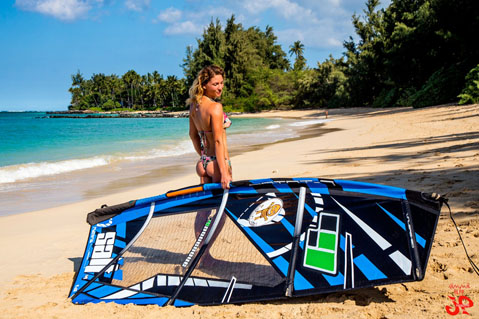 Welcome to the Dark Side of Windsurfing Amanda!
E aggiungo io che la foto ce l'ho in alta risoluzione… se non c'è lo zampino di photoshop… complimenti alla mamma!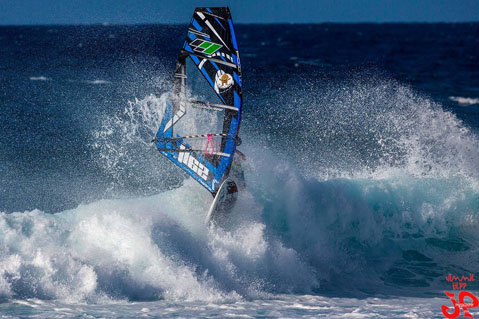 Amanda Beenen chooses Black!
Escaping to Maui and Canaries from the Netherlands. One mind set: Improving her wave riding skills and aim for the podium in the waves. Amanda Beenen, has left aside her passion for horse riding after a bad accident, and decided to ride the 'safer' waves. Now choosing Point-7 and the support of Intersurf Sneek to continue her dream, here is a quick first interview from Amanda.
Where are you from? I am from Holland
Do you windsurf a lot on the Dutch coast? No, to be honest I have sailed there once in the past 2 years. I do really like it; I just don't have the time.
Where do you spend most of the time?
The summers I spend in Tenerife and the winters in Cape Town or in Maui.
Port tack or Starboard tack?
Port tack but maybe after these three months in Maui I will change my mind.
Jumping or riding?
What is easier for the girls to learn? I love riding but since I learned better jumping, I also really enjoy this! As for girls, I think it is easier to learn riding – it's a mental thing.
Where did you learn windsurfing, how and why?
I learned it at the Dutch lakes about 10 years ago. I had a pretty bad horse riding accident and after it, I started windsurfing.
How did you get addicted to it, and why did you decide to compete?
I guess I got addicted quick after I started! I had a fun group of windsurf friends! At one point, I went to Pozo and learned some wave sailing. I absolutely loved it and It was in 2009 I did my first national competition. In 2011, I joined the PWA World tour.
What is your goal for the next 2 years?
For the next two years, I hope to get on that stage in the wave tour and I want to develop myself into riding some bigger waves!
What takes out more energy?
A 2-hour session training or one heat? Where do you think you push yourself over the limits more? A heat really makes me tired. However, I think that sailing with friends pushes me more to do new stuff.
Do you do anything else apart from pro windsurfing?
I love to surf and be active in general. I love hiking into the nature. Snorkelling, swimming, you name it I love it all!
You joined the black team. Seems like the Black Team has a strong Dutch team. Martin Ten Hoeve, Jordy Vonk, Esther de Gues. Where can you find the Point-7 products in the Benelux? The Black Team definitely is well represented by some very talented sailors in Holland. You can get all the P7 products at Intersurf Sneek.
Does Rob support you together with Point-7?
Yes! Rob helped out big time and I am happy he stepped up to get me into the team!
What are your plans in the next 2 months?
For the next few months I will train in Maui. I hope to improve my port tack side and get myself used to bigger and more powerful waves! In addition, I intend to also have as much fun as possible!
Your first event?
Will be, Pozo gran Canarias – around half July?
Single, engaged or married?
Single
Pro windsurfer, windsurfer or non-windsurfer partner. What do you think is better for a pro windsurfing girl?
I would say a non-windsurfer – because than they cannot interfere with your windsurfing! And since they don't have to be cool for their "windsurf friends," you can teach them to caddy! – Because they have no clue!
What is the most difficult part of being a girl pro windsurfer? What is the easiest part of your job?
The most difficult is I guess, making a living off it – But I get so much in return that I do it for the love! Of course, the easiest is that I can do what I truly love!
Your fb page where we can follow more about you?
www.facebook.com/AmandaBeenen – yes everyone, like me & follow me!
You will be part of the windsurfing girl project of Point-7. What will be your role and any secrets about this new plan? Yes! I am so stoked about this! I have already seen some cool development. I can tell you all that it looks like the girls are in for a treat next year!
"As we were building up the #point7girl team Amanda came to us at the right time, proposing a lot of exploding ideas. So we made space on our team page to make her fit. She is living the dream, by working her way to achieve as much time on the water possible, and we will support her to get there to the top rankings." Andrea Cucchi