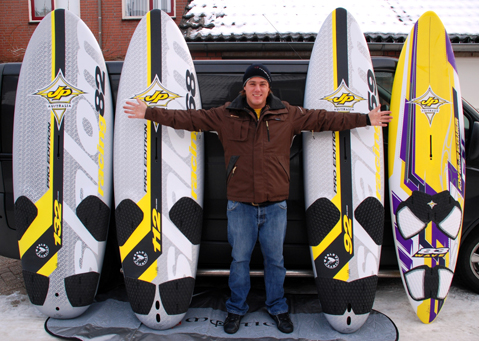 Uno dei più forti talenti europei per quanto riguarda slalom e speed entra a far parte del team JP. Stiamo parlando del campione olandese Ben van der Steen che ha appena ricevuto il set delle sue nuove tavole slalom a Cape Town in Sud Africa, località che quest'anno sembra essere diventata il fulcro dell'operazioni di "testing" delle più importanti factory internazionali. Ben si è subito messo al "lavoro in acqua" insieme allo shaper JP Werner Gnigler, e per allenamento ha partecipato, il week-end scorso, ad una tappa locale del SA Championship, vincendo ben 7 prove su 7.
JP is proud to announce the signing of one of the biggest European Slalom and Speed talents - Ben van der Steen – NED 57.
Ben, who won several Dutch Speed and Slalom Championships as well as the 2008 ICFA Slalom Championship,  has just received his new JP quiver and is practicing and fine tuning the boards in Cape Town now. He spends some time testing together with  JP shaper Werner Gnigler.
Ben quickly realized that his new Slalom-VI boards are fast very fast. One week ago he won a local race of the Windsurfing Club on Rietvlei, the small freshwater lake next to Table View. And this weekend he totally dominated the Slalom event at the Langebaan lagoon, the last leg of the SA Championship, by wining all of the 7 races.
Ben states, "Just had some racing practice to try the new gear and all seems to go very well. We did 7 races and I got 7 bullets with some races were I was almost a leg ahead. I sailed the 68 with 7.8 and a 40 and a 38 fin. The winds were between 10 and 25 knots for the racing. The board was really flying especially now as I am getting dialed-in a little after a few days of sailing on it now."
Ben is focused on Slalom and Speed events for the near future. 2009 he finished 11th in the PWA Slalom ranking his plan is to enter the top-5 in  2010.