Qualche informazioni al volo riguardo la Defi Wind di quest'anno che tenta di stabilire un nuovo record con 1111 iscritti… l'evento è ormai alle porte, dal 2 al 5 giugno e gli organizzatori, nonostante la concomitanza con la tappa del PWA Catalunya in Costa Brava, in programma dal 31 maggio al 5 giugno, non disperano di vedere a Gruissan, i protagonisti della scorsa edizione. Ci sarà la rivincita tra Mortefon (vincitore della Defi lo scorso anno) e Toselli (l'anno scorso secondo)?! O il giovane Pierre, attualmente ben piazzato nella tappa Pwa in Vietnam, e altri importanti atleti dello slalom, andranno a "difendere" la loro classifica generale in Spagna?! Certo che piazzare una tappa slalom proprio negli stessi giorni della Defi, una delle più famose regate al mondo, che quest'anno conta della rappresentanza di ben 20 nazioni… beh, come minimo, si manca di tempismo! Se poi scatteranno le ritorsioni, tipo quelle viste recentemente anche in Italia, per chi deciderà di partecipare all'evento francese, senza il permesso… mah! Comunque chi non mancherà di sicuro è Roberto Ricci, quest'anno al nastro di partenza, pronto a confrontarsi con altri "heroes" di world cup degli anni a cavallo tra '80 e '90, che poi hanno fatto del windsurf la loro vita, fondando i loro brand… gente come il sail designer Loft Sails, Monty Spindler o Patrice Belbéoc'h, creatore del brand Exocet.
E le ragazze non stanno a guardare… l'unione fa la forza e nasce un Girl Power group powered by Naish composto da nomi altosonanti come Karin Jaggi, Sarah Hebert, Valerie Ghibaudo-Arrighetti, Fanny Aubet, Marion Raisi, Delphine Cousin e Marion Mortefon che oltre a gareggiare, faranno un po' come da chioccie o coaches per tutte le tante altre ragazze che si schiereranno alla partenza…
More Infos on website http://www.defiwind.com o sulla pagina "dedicata" di Facebook https://www.facebook.com/LeDefi
Alcune belle foto ©Jean Souville della Défi Wind 2010.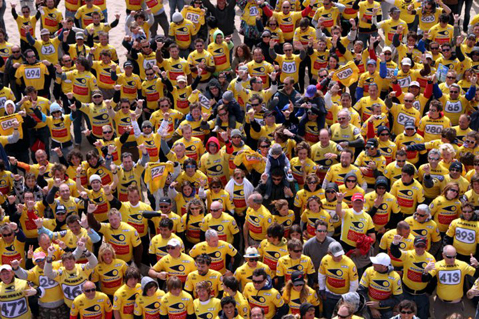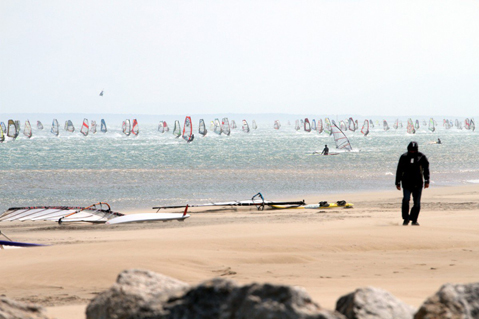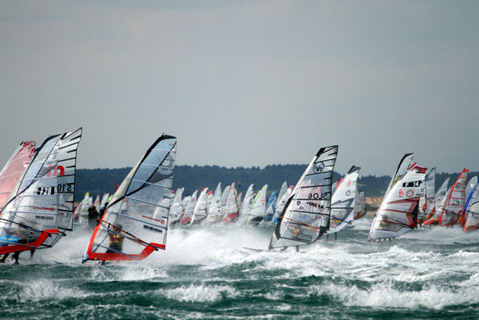 A "Girl Power" group…  
Powered by Naish, an initiative was set up by women pro riders to the attention of other girls who take part in the competition. Thus, champions such as Karin Jaggi, Sarah Hebert, Valerie Ghibaudo-Arrighetti, Fanny Aubet, Marion Raisi, Delphine Cousin or Marion Mortefon will officiate as "coaches" to provide the best advices and settings for all other competing women. Marion Raisi said: « The purpose of this initiative is to involve the girls in a competitive situation, to recreate a close relationship between pro and amateur riders by providing our expertise and expérience ». A good news for all "sisters of the wind": enjoy this unique opportunity and join this women's gathering, like Christine Couturier who is one of the few women to have competed in every edition of the Défi for 10 years. She is still in the race this year!
More than 20 nations represented on the Défi!
Incredible edition this year with more than 20 countries represented! Germany, England, Argentina, Armenia, Austria, Brazil, Canada, Czech Republic, Estonia, Greece, Holland, Luxembourg, New Caledonia, New Zealand, Norway, Poland, Portugal, Russia, Switzerland, Senegal as well as Tahiti and the USA. Most represented are Belgium and Italy with over 25 participants for each of these two countries! There will even be a woman representing Peru!
Nice fights in perspective…  
If it remains difficult this year for many professional riders who must join the World Cup Slalom in Costa Brava that happens in the same time as the Défi, the fact remains that there will certainly be some big fights to expect between some other participating pros. Will we see again a new dual between Mortefon (winner last year) and Toselli (2nd)? Bieuzy Mauffret (3rd in 2010) is again on the favorites list this year while Slovenian Tine Slabe (6th) will certainly be fighting against Gerald Pelleau (8th). We wish the best to Nicolas Warembourg (9th) and top speed rider David Garrel while we welcome again the "old" fans who never missed an edition of the Défi: David Lledos - hot local from Gruissan, Fabrice Couturier, Franck Malmasson, Ponrouch brothers, Olivier Alard and all other teamriders … They will still be there, ready to defy the strong Tramontana!
Manufacturers ready to take the challenge…    
He's been a challenger on many stages of the World Cup in the 80's before launching his own Windsurfing brand, RRD. For the fun, Roberto Ricci will be on the Défi this year and will be back on the competition by aligning the starting line alongside other great names such as Monty Spindler, Loft Sails designer, or Patrice Belbéoc'h, creator of the brand of Exocet. Simmer and Neil Pryde will also be presenting their latest gear on the site.
Windsurf amateur film festival…  
There is still time for fans to send their best windsurfing production on DVD (6 min max) to be selected for the "windsurf amateur film festival" sponsored by Oxbow this year, which will be held on the evening of June 3rd, in Gruissan. Best producers can win goodies offered by Microsoft, some Oxbow wetsuits and a VIP place for the Wind & Snow Trophy in Chamrousse ! Oxbow will also introduce an exclusive preview of the new great movie « Walls of perception » with the presence of Jason Polakow and Levi Siver!
Next release on May 25 for more crunchy news, at just one week before the event!