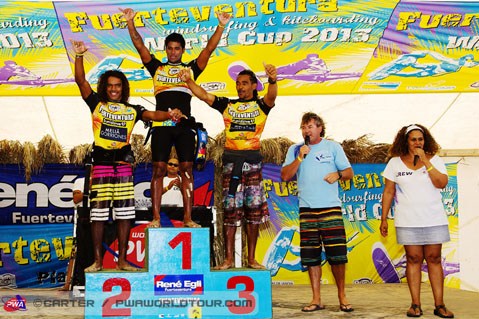 News in abbondante ritardo today, ma se il buon giorno si vede dal mattino… appena entrato a lavorare si è rotto un pezzo di una macchina da stampa che ho dovuto rifare al tornio e l'esperienza maturata nel restaurare mezzi d'epoca direi che alla fine paga, visto che al piano di sotto stanno di nuovo, allegramente, stampando!
Comunque bando alle… rotture, ieri a Fuerte il vento è rimasto ancora una volta non molto "consono" al periodo, ma non così tanto da non permettere di chiudere il double elimination… disfida che ha visto nuovamente trionfare Gollito, ma non così nettamente come ci aveva ormai abituato. Il suo avversario in finale, Kiri Thode si è ben difeso, tanto da guadagnarsi l'onore delle armi e per molti forse anche la chance di una super finale.
Così non è stato e il podio finale di questo double elimination… rispecchia con qualche posizione invertita, a parte il primo posto di Gollito, quello finale dell'evento di Fuerte dello scorso anno… tanto per dire che i protagonisti di primo piano, ormai anche nel freestyle, sono sempre gli stessi!
Avete bisogno di una conferma?! Secondo voi che ha vinto il double elimination tra le ragazze… dai, che è facile: andate a leggere la vincitrice della gara dello scorso anno… vi aiuto, Sarah-Quita Offringa!
Oggi si dovrebbe ripartire con il nuovo single elimination… vediamo se cambia qualcosa e se i nostri ragazzi, Mattia, Jacopo, Francesco e Francesca, si attestano sul Piave, dopo la debacle dei giorni scorsi ed iniziano una riscossa! Chi potrebbe dire la sua sembra il francesino Anthony Ruenes che dopo un inizio così cosi, sembra aver ingranato la quinta!
More info Pwaworldtour.com - Foto © Carter/Pwaworldtour.com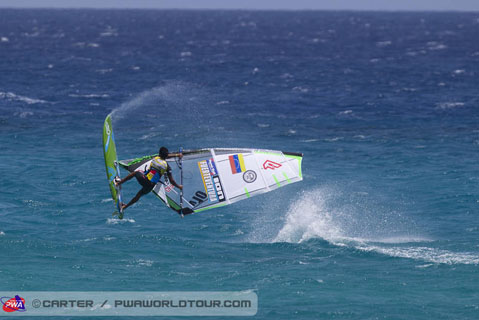 Results After Double Elimination - Men's Freestyle
1st Jose 'Gollito' Estredo (Fanatic / North)
2nd Kiri Thode (Starboard / Gaastra)
3rd Tonky Frans (Tabou / Gaastra)
4th Steven Van Broeckhoven (JP / NeilPryde / Different)
5th Dieter Van Der Eyken (Starboard / Severne)
Results After Double Elimination - Women's Freestyle
1st Sarah-Quita Offringa (Starboard / Gaastra / Mystic / Chris Benz / Maui Ultra Fins)
2nd Arrianne Aukes (RRD / Simmer / AL360 / Maui Ultra Fins)
3rd Yoli de Brendt (Fanatic / North)
4th Olya Raskina (JP / NeilPryde)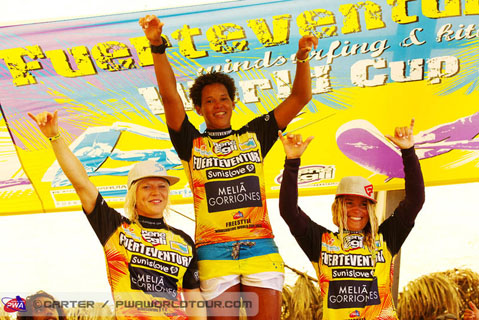 Day 4: Jose 'Gollito' Estredo and Sarah-Quita Offringa successfully defend their single elimination crowns
From the outset of day four the conditions looked much more promising and this is exactly how the day played out as the men's double elimination was resumed at 11:30am. By quarter to three both the men's and women's double eliminations had been completed as Jose 'Gollito' Estredo (Fanatic / North) and Sarah-Quita Offringa (Starboard / Gaastra / Mystic / Chris Benz / Maui Ultra Fins) successfully managed to defend their single elimination crowns
Men's Double Elimination - Winners' Final
Kiri Thode (Starboard / Gaastra) fought his way back through the double elimination to earn his place in the winners' final. The Bonairean first successfully defended his fourth place finish in the single elimination by holding off Dieter Van Der Eyken (Starboard / Severne), before going on to defeat both the 2011 PWA Freestyle World Champion - Steven Van Broeckhoven (JP / NeilPryde / Different) - and Tonky Frans (Tabou / Gaastra). Waiting for him in the final was the formidable figure of Jose 'Gollito' Estred0 - who remains unbeaten since the start of the 2012 season. Both sailors showcased their world-class abilities as they landed almost their full repertoire of tricks in a closely contested final. Thode made a strong start as he launched himself into a big shaka, whilst Gollito opened with a perfect high burner. The Bonairean then upped his technical difficulty with an exquisite culo into spock and a super quick skopu 360. At this point it looks as though Thode may be edging the tie, but the five-time world champion dug deep to show his title winning credentials by landing a brilliant spock culo before launching into a massive skopu seconds before the end of the heat, which may have proved pivotal in swinging the decision in his favor.
Seventeen-year-old Amado Vrieswijk (Starboard / Severne) enjoyed an excellent day of competition as he achieved his best finish to date after finishing the double elimination in joint seventh with Youp Schmit (JP / NeilPryde). Vrieswijk took his biggest scalp so far as he overcame fellow Bonaire man Taty Frans (Starboard / MauiSails / Mystic / Maui Ultra Fins) in heat forty-five. Vrieswijk demonstrated exactly what he can do today as he landed stunning kabikuchis and skopus and massive air flakas.
Dieter Van Der Eyken also excelled today - particularly in heat forty-seven - the Belgian maestro linked together a superb set of moves consisting of fully planing air flakas, a perfect spock-culo, an air bob and a quick skopu to defeat Anthony Ruenes (Tabou / Gaastra)
Women's Double Elimination - Winners' Final
Sarah-Quita Offringa faced Arrianne Aukes (RRD / Simmer / AL360 / Maui Ultra Fins) in the winners' final once more after the Dutch woman edged the dual in heat fifty against Yoli de Brendt (Fanatic / North). Offringa made a strong start to the final as she quickly landed a textbook e-slider and a radical air flaka. Aukes responded with a spock 540 on the outside of the course, but unfortunately couldn't quite repeat her high level of performance that she showed against de Brendt. Meanwhile, Offringa went on to land an excellent shaka and puneta, which proved to be enough to defend her crown.
Olya Raskina (JP / NeilPryde) staged an excellent come back in the double elimination as she won four successive heats to fight her way into fourth place. The Russian defeated - Francesca Floris, Svetlana Martynova, Karin Jaggi (Patrik / Severne) and Maxime Van Gent (Fanatic / North) - as she landed perfect clew-first and regular punetas, grubbys along with great shuvits and sick flakas.
Elsewhere Martynova dispatched Maaike Huvermann (Maui Ultra Fins) in the opening round, whilst Karin Jaggi was able to defeat Heleen Muijsers (Challenger Sails).
Tomorrow's forecast looks good meaning we should see the start of both the men's and women's second single eliminations. The skippers' meeting has once again been called for 10am with the action commencing from 10:30am. Make sure you stay up to date with all of the action by tuning into www.pwaworldtour.com.