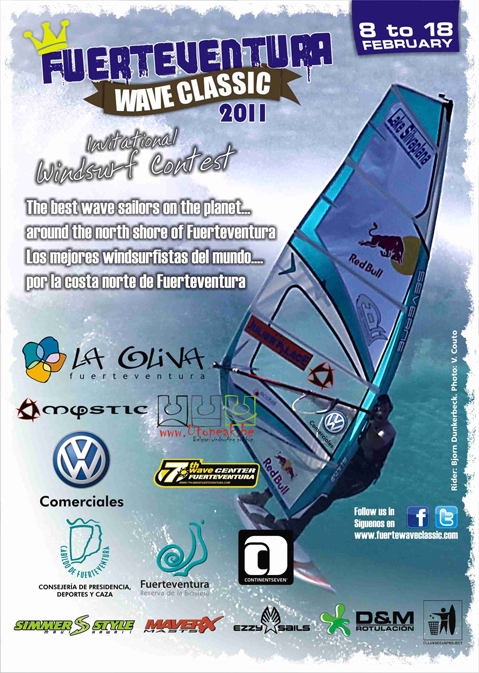 … e, se la matematica non è un'opinione, vi rimangono meno di otto giorni per votare i rider che alla fine, secondo voi, vinceranno l'evento. Ci sono diversi bei premi (una Black Tip 2011 Simmer Sails, una Generator 3/2 Wetsuit Simmer, un trapezio Mayhem Simmer…) che saranno sorteggiati tra chi avrà azzeccato il pronostico: basta cliccare sul sito http://www.fuertewaveclassic.com/ e digitare le vostre preferenze. In attesa dell'inizio delle ostilità godetevi il video di presentazione e leggetevi la breve intervista con Nayra Alonso (in Inglese).
Eventwebsite: http://www.fuertewaveclassic.com/
Fuerteventura Wave Classic Facebook account:
http://www.facebook.com/pages/fuerte-wave-classic/191128601325
FWC on Twitter: http://twitter.com/FWC2011
Interview with Nayra Alonso
FWC: Where are you right now?
Nayra: I am in South Africa right now, as John had to come for some testing I thought I would join and get some winter sailing.
FWC: The FWC will start on the 8th of February! How did you prepare and what are you expecting from the event?
Nayra: Well, I have not really prepared specially. I just have been sailing, whenever it has been good. I hope that's enough!! From the event I expect to get some good fun sailing sessions!
FWC: It´s the second FWC with a girls fleet. But this year the girls will have an independent ranking. Are you in favour of this new rule?
Nayra: I do not know what to think to be honest. I think I liked more the idea of been all part of the same competition like last year to be honest. I do not really know, how it is going to work this year… We'll see soon.
FWC: But you are still judging yourself. Is that a cool rule?
Nayra: It is a really cool rule, but judging is also complicated and tricky. But I think everyone is fair and judge just right, without bias points of view. At the end of the day, it is a fun competition and nothing very important is in play.
FWC: Now you have the chance to win the event. Which conditions would you prefer and which spot is your favourite one on the North Shore of Fuerteventura?
Nayra: Well, I think everyone has the chance to win the event to be honest. I would prefer riding conditions… I do not know what spot I prefer, there are a lot of really good ones. I dont really know very well any of them, but it will be fun for sure.
FWC: Do you see yourself as a favourite? The conditions are more less suited for waveriding only!
Nayra: As a favourite not at all. I have not even thought about it. Sure the conditions can be only riding, but I think all the girls, who are coming to the event, are super good wave riders. I think we all have the same chances.
FWC: Did you have conditions on the North shore in your life so far, which were too extreme to enter the water?
Nayra: Once in el Puertito with John, Nicole and Steffan. It was light and stormy and only the guys decided to go out (and they had to come back in pretty quick straight away!). The conditions they had in the FWC two years ago there in el Puertito were totally insane, and if it is like that, I can tell you right now, I do not think I will go out. That was properly nuts.
FWC: How dangerous are the rocky spots out of your view. Iballa recently crashed with her head on a rock while a SUP session?
Nayra: Like I said, el Puertito for example is pretty dangerous. Yes, there are quite a few dangerous places there. I didn't know about Iballa! I hope she is ok!
FWC: Will you arrive some days before the event to train a bit?
Nayra: I dont really have time. I come back to Gran Canaria from South Africa on the 4th and I need to sort out my life a bit over there before heading off to Fuerte. Maybe I can get there on the 7th! But I still do not know exactly.
FWC: What gear will you pack in your van?
Nayra:  As much as I can! Fanatics: Twin 72, Quad 72 and a smaller proto I have. All my Severne quiver, Fanatic SUP and surfboards…
FWC: Would you like to add anything?
Nayra: I hope we have some good fun over there!!!