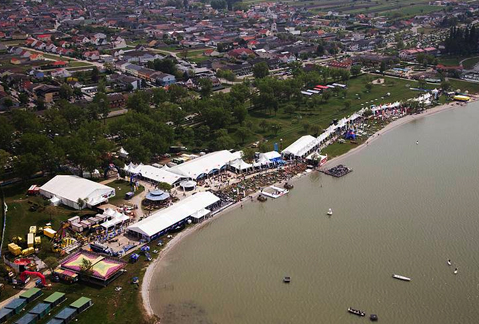 Dalla quasi estate del mattino al quasi inverno del pomeriggio… il sole del mattino ha lasciato spazio ad una pioggia torrenziale che ha però finalmente portato un po' di vento. Le prime tre heats dell'evento austriaco sono cosi andate "in onda"… prima che il vento di questa turbolenta giornata si spegnesse chiudendo i giochi, sì è messo in luce con una buona performance con il vento leggero il nostro portacolori  Mattia Fabrizi (Fanatic / North).
Photo © PWA/Carter - text by Andrew Buchanan
Dedicated event website http://www.surfworldcup.at
For more information http://www.pwaworldtour.com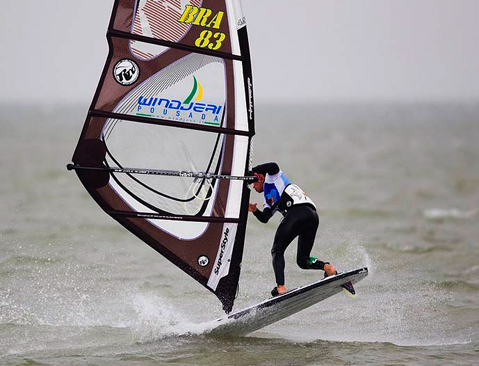 Day 3: Sun, rain, thunder and lightening mark a turbulent start to the opening heats of competition in Austria.
The saying 'four seasons in one day' couldn't be a more apt way to describe competition's third day in Austria. Opening proceedings, competitors were greeted with wall-to-wall blue sky, and warm temperatures, setting the scene for another relaxed morning on the competition site.
Roll on the afternoon, and in literally a minute the scene transformed from hoards of people sunbathing, to a torrential downpour and crowds scrabbling to get under shelter. Unlike the previous days, this wasn't to be a short lived affair, and the driving rain finally brought a sustained period of much needed wind to the shores of lake Neusiedler, allowing competition to finally get underway.
Christening the event were the first three heats of the single elimination, before the squally weather finally subsided and gave way to more settled, but ultimately windless conditions.
In those heats, we witnessed Thijs Westbroek (JP / NeilPryde) and Mattia Fabrizi (Fanatic / North) advance from heat one thanks to tactical performances in the super light, and gusty conditions.
In heat two, Remko de Zeeuw (Gaastra) impressively took down Danilo Menezes da Silva (RRD / RRD) in a shock result, and Julien Mas (Hot Sails / Patrik) carved his own route to victory when he toppled Germany's Tilo Eber (JP / NeilPryde).
Conditions were definitely proving to favor the lightweight sailors, as the wind teetered on the edge of the competition minimum. Unfortunately, the much hoped for afternoon of competition was brought to a premature end when the wind finally shut off, leaving time only to run heat three, which saw both Yarden Meir (Fanatic / Simmer) and Adrian Beholz (Hot Sails) move into the second round in the dwindling breeze of the passing storm. That marked the end of the third day in Austria. At this halfway point in the competition, there's an optimistic forecast for the remaining three days. Let's hope for more action tomorrow.