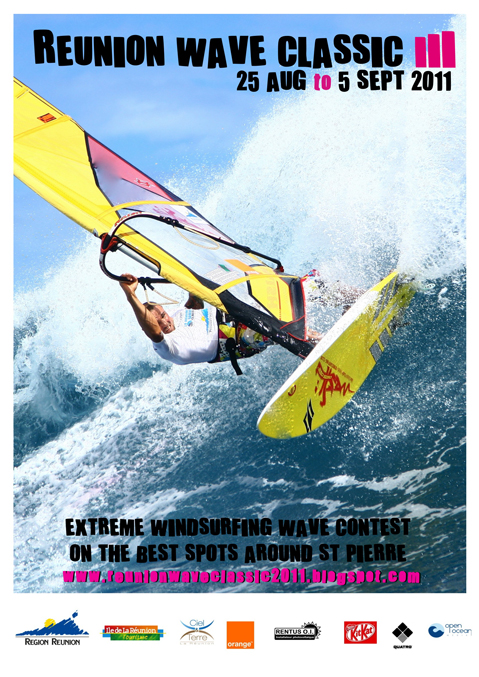 After the success of the past two editions, the  extreme windsurfing competition "Reunion Wave Classic" will take place again this year from August 25 to September 5 on the best spots around St Pierre.
This time, the association "Reunion Windsurf" and the local rider Pierre Godet will be in charge of the organization.The company Open Ocean Media, who hosted the previous circuit "Wave Classic Invitational", will be solely in charge of the communication on this legendary event.
So far, 6 international riders have answered the call to challenge the powerful waves of the Indian Ocean: young Leon Jamaer (21/Germany), Camille Juban (21/Guadeloupe) and Jules Denel (21/France ), Tom Hartmann (31/Autriche), Julien Taboulet (31/France) and Colin Sifferlen (26/New Caledonia). Remains to be confirmed the locals that will join this year, all led by Pierre Godet (voted best local rider in 2010).
10 days of competition, free choice of the spots depending on the conditions, riders judging themselves… Time for extreme and radical moves, under the watchful eye of a video team and a professional photographer who will be there to capture their achievements. The goal is simple: have fun, push the limits of waveriding, providing a real show and promote the Reunion island through the images taken.
The show will start on August 25th. In the meantime, keep in touch via our website http://www.reunionwaveclassic2011.blogspot.com recently established (already 1500 visits) as well as our Facebook page or our Twitter account.